Disclosure: For your convenience, this post of ideas to celebrate Earth Day contains affiliate links from which I make a small commission at no additional cost to you.
There are a lot of basic ideas that most of us have heard in order to celebrate Earth Day. Typically we hear about planting a tree, recycling, or carpooling. But what else can we do to really make a long-lasting impact that extends beyond Earth Day?
I have been passionate about the environment since I was a kid. Even back then, TV channels like Nickelodeon and Disney were teaching kids about the importance of the environment, and the idea of helping the Earth just stuck with me. It is something that has become part of my everyday life, and I hope this post encourages you to make it a part of your life too.
If you're not to that point yet, I'm here to help you out with this list of several simple, unique, and low-cost ideas that you can do to celebrate Earth Day every day! A lot of these eco-friendly suggestions will not only help the environment, but they will benefit your wallet, too! Cha-ching!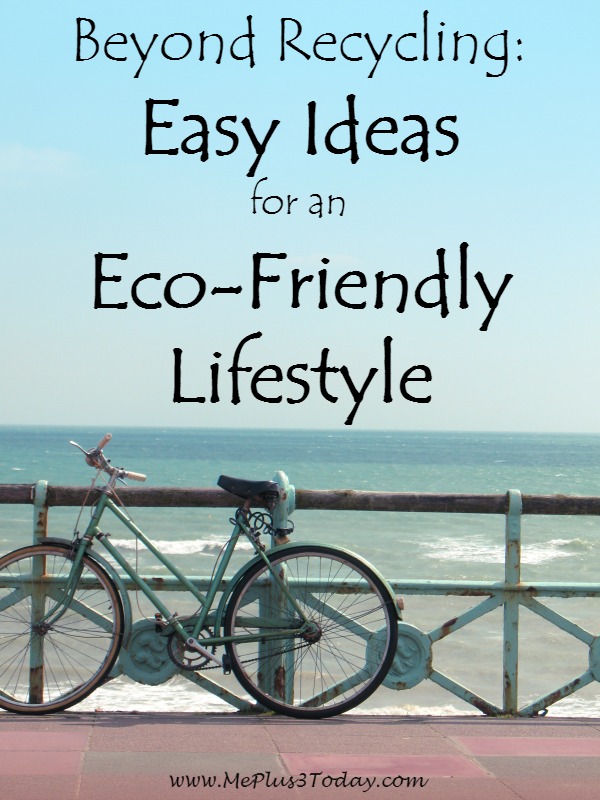 8 Easy Ideas to Celebrate Earth Day Every Day
We started buying "Green Power" from our electric company back in 2008. This means that each month we are funding the production and growth of renewable energy generation for a measly 1-cent premium per kilowatt hour (premiums may vary buy suppliers). You can learn more about Green Power from the U.S. Department of Energy by clicking here.
The following short video also explains more about Renewable Energy Certificates.
I just looked at the past 12-month history of our energy usage, and the highest month was last July, with 531 kWh. So for only an additional $5.31 that month, 100% of our home's energy use came from renewable energy sources. Other months it has been less than $4. In my opinion, this small premium is totally worth it to help benefit the planet.
So celebrate Earth Day by contacting your energy company to see if they have a Green Power program to start powering your home through renewable energy sources. You can also find more information by visiting green-e.org, the U.S. Department of Energy, or the United States Environmental Protection Agency.
2) Replace an incandescent light bulb with an Energy Star Certified CFL bulb or LED bulb.
These bulbs are a more expensive investment up front, but in the long run, they will end up saving you money! They use less energy, and they last A LOT longer.
We moved in to our home in July of 2007 and immediately replaced every single incandescent with a CFL light bulb. UPDATE 2017: In almost 10 years, we've only had to replace about 12 bulbs out of over 50 bulbs in the house! I am currently sitting in my kitchen, which is obviously a high use area, under 3 light bulbs that have yet to burn out since being installed back in 2007! (I hope I didn't just jinx myself!)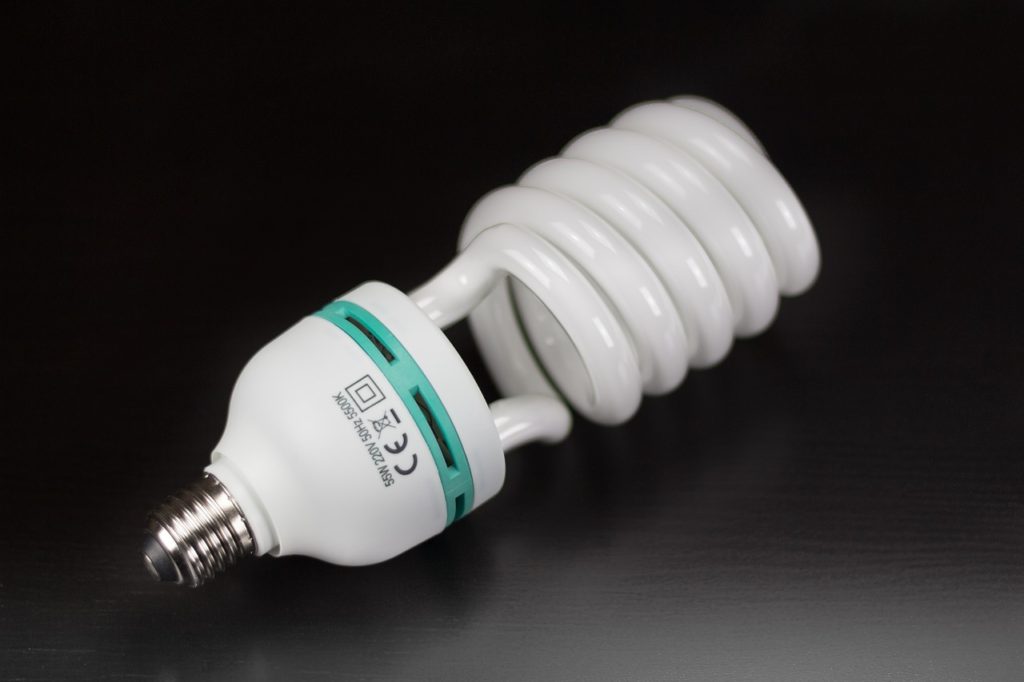 A helpful tip regarding CFLs: To get the maximum life out of the bulb, it is best not to turn them off and on too quickly. In other words, when my kids discovered the light switches and began flipping them up and down 30 times in a row, it was horrible for the bulbs. So if you turn them on, it is actually more cost effective to leave them on for several minutes before turning them off again.
If your home is like ours and already equipped with these types of bulbs, celebrate Earth Day by giving one as a special gift to a friend, family member, or neighbor! It would be like a double Act of Kindness!
NOTE: Don't forget to properly dispose of your burnt out CFL and LED bulbs. Call your local hardware store to see if they accept bulbs for recycling.
With a television, cable box or streaming device, video game consoles, and more, this is an area that drains a significant amount of power, even when not in use. Since these items are usually clustered together, it is a great place to use a power strip. Simply turn off the power strip when you are not using any of these items to prevent the constant use of energy.
If this area is already using a power strip, think of another area that would benefit, like a home office, phone charging station, or small appliances that you might always have plugged in (coffee maker, microwave, toaster, etc.).
A power strip is another investment that will end up saving you money in the long run. You'll be using less kilowatt hours (kWh) each month, and this should reflect on your electric bill!
In fact, with data like this from Standby Power, you could experience a return on investment of the power strip in less than a year! Once again, helping the environment and helping your wallet go hand-in-hand.


According to GreaterGood.org, just on the Indonesian island of Sumatra, an area of rainforest the size of 5 football fields is cleared EVERY MINUTE! Because of this, 2 different tiger species have become completely extinct and there are only 400 total tigers left of the last remaining species on the island.
The organization has teamed up to protect and conserve over 200,000 acres of rainforest. For a donation of less than $4, you can fund the protection of 1 acre of Sumatran rainforest, preventing poaching and habitat destruction for these critically endangered tigers, as well as elephants and orangutans.
You can find many other areas and animals to protect by clicking here. Consider letting each member of you family choose a cause to donate to!
In about 10 to 15 minutes, you can calculate your home's carbon footprint using this calculator from the US EPA. To make sure you are getting accurate results, make sure you have your electric, gas, and other energy bills on hand. As you enter the information, it will provide a pretty good estimate of annual CO2 usage.
At the end of the survey, it will provide suggestions of what you can do to lower your carbon footprint. By entering values, you will be able to see how much your carbon footprint will decrease if you take certain actions.
Set a goal to lower your environmental impact over the next year and make a plan of what you will do to accomplish this. When you celebrate Earth Day next year, update your calculations and hopefully you will have made some improvements!
6) Buy Stuff Second-Hand
If there is something you need, buy it second-hand. It's easier than ever to find exactly what you need, even second-hand, online. Clothes, toys, household items, home decor, jewelry, and even appliances can be purchased second-hand through sites like Craigslist, eBay, Facebook sale groups, or even ThredUp.
This is always my go-to for shopping because it saves me money, it prevents something from possibly ending up in the trash, and reduces the need for new products to be created.
I recently purchased some of my kids' clothes from ThredUp and I was thrilled with what we recieved. The items were in great condition and I paid a fraction of what I might have spent buying them new in the store. If you want to try ThredUp, use my referral link here to get a free $10 to spend!
According to ThredUp's website, "If 1 in 100 American households shopped resale, it would save 1.1 billion pounds of CO2 emissions every year. That is the equivalent of planting 24 million trees per year."
Buying items second-hand is a small and easy change to make. Even just a few items can make a big difference.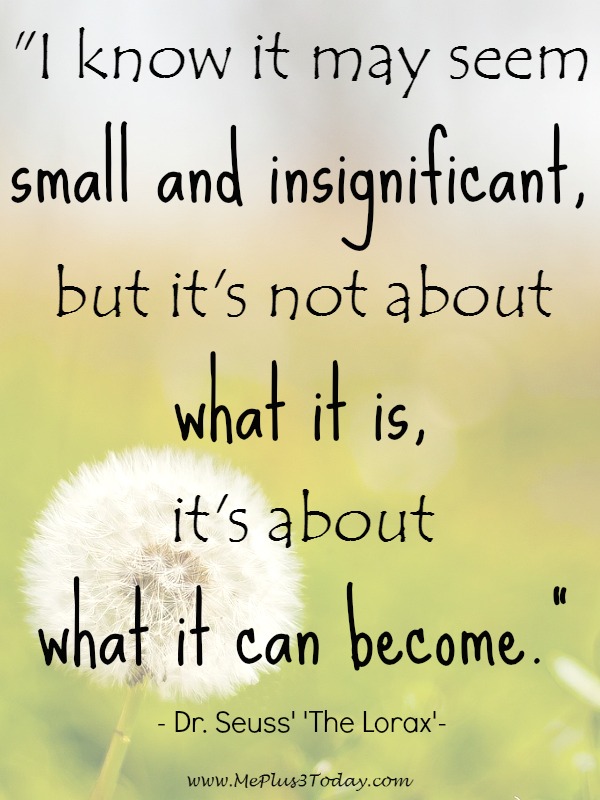 If you want to know more about Earth Hour, I wrote about a few times, for Earth Hour 2014, another one for Earth Hour 2014, and Earth Hour 2015! Just click those links to learn about my experience with Earth Hour and why I think you should celebrate Earth Day early by joining in.
8) Eat only Earth-friendly foods on one day (or every day)!
Celebrate Earth Day with eco-conscious foods. For example, choose organic produce or buy from a local farmers market. You could also consider going without meat for one day each week. This Buzzfeed post has a lot of tasty looking meatless crockpot recipes. Making this a habit will allow you to celebrate Earth Day all year long!
***************
I hope you consider trying at least one, or even all, of these ideas to celebrate Earth Day every day. I'll leave you with this quote, which has many different origins.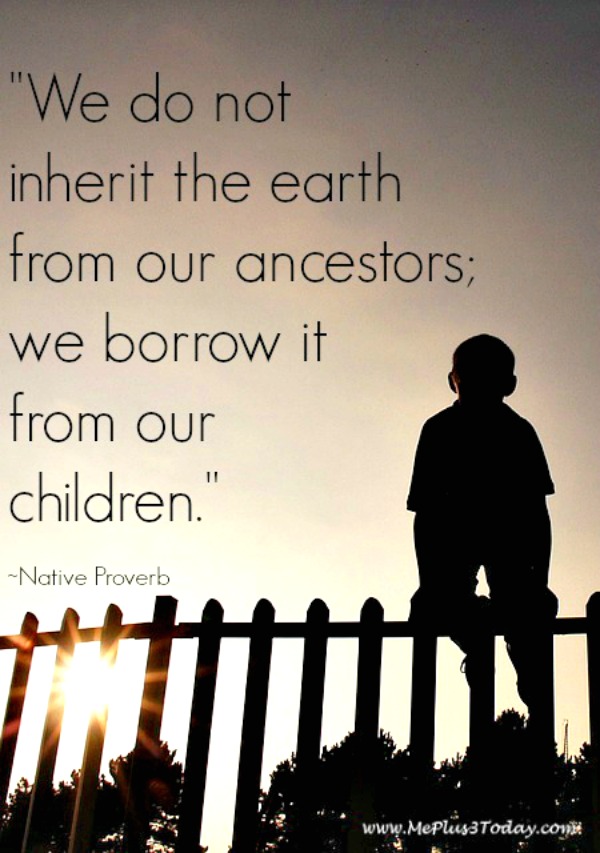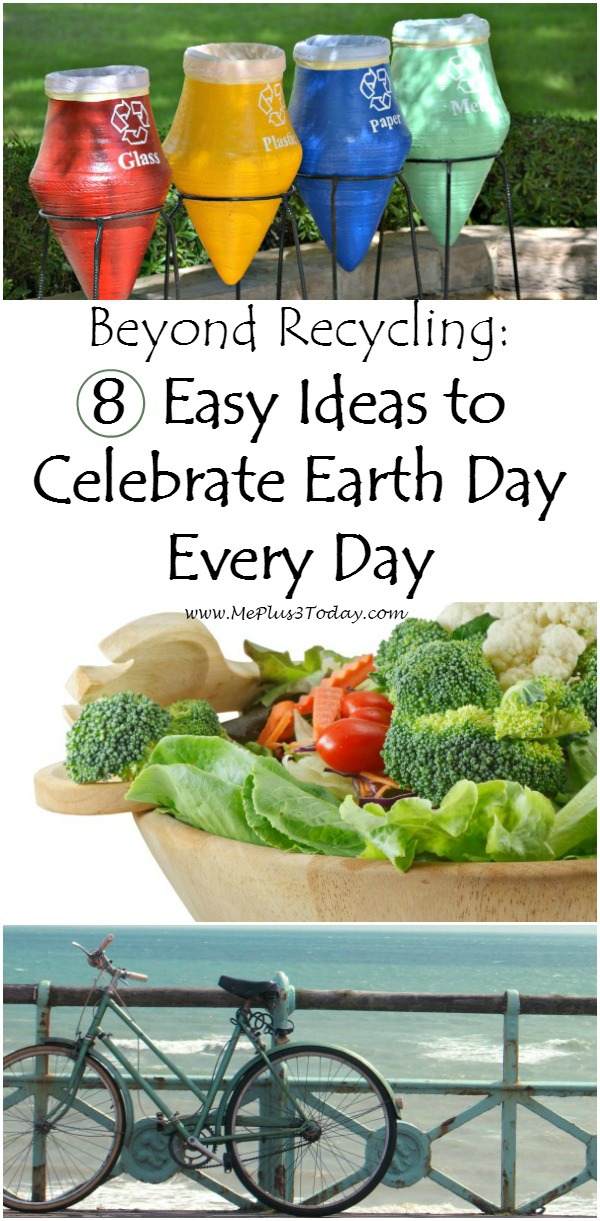 Now let's get to the Make a Difference Monday Link Up.

Make a Difference Mondays is a weekly link-up designed to encourage and inspire us to live each day on purpose—making a meaningful difference in someone's life in even the smallest of ways. There will be five women regularly co-hosting this link-up that will appear on all five of our blogs and we also have three wonderful co-hosts who will fill in as guest hosts on the occasional day that a regular co-host is not able to post. Read on to learn more about our vision, mission, and how to link up!
Our mission is to provide a consistent gathering place for like-minded women to build online connections, share inspiration, and provide mutual encouragement and accountability as we seek to live intentionally and make a difference in the lives of those around us.
Every Monday we will invite bloggers to link-up any blog posts that encourage women to live life on purpose. This could include testimonies or goals from your own life, small acts of kindness or service, creative tips or ideas for showing consideration to others — the possibilities are endless. Our objective is to use our God-given time and resources to His glory!