Another Monday, and another idea on how you can make a difference! One of my earliest posts last year was about Earth Hour, and I'm hear to tell you all about it again! Earth Hour 2015 is coming up on Saturday, March 28 from 8:30pm to 9:30pm local time.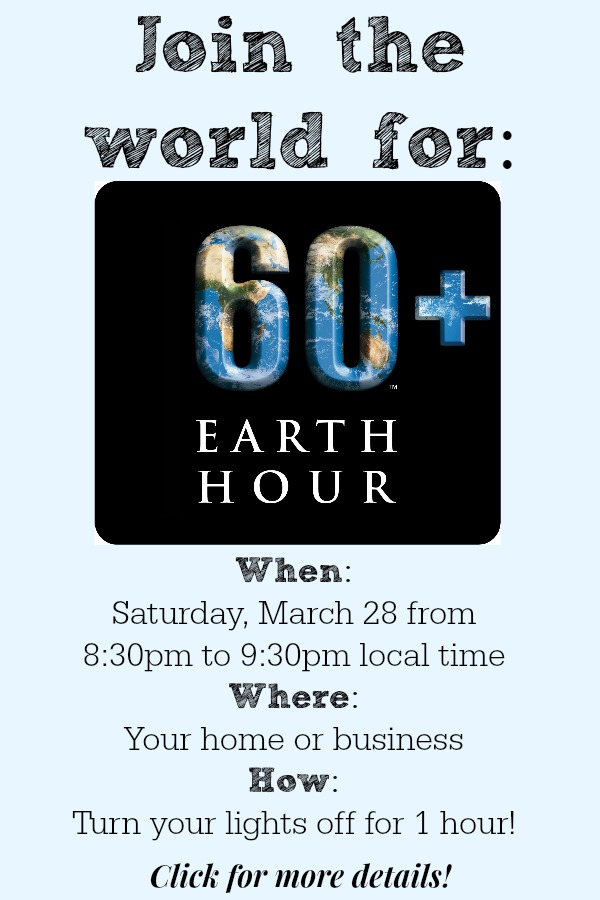 What is Earth Hour 2015?
Earth Hour is a worldwide movement organized by WWF. During the event, individuals, households, businesses, and communities turn off all non-essential lights for one hour to show their commitment to help the planet. It is used to raise awareness about taking accountability for our ecological footprint. The hope is that participants will go beyond that one hour and do even more to create a sustainable world. You can visit the Earth Hour FAQ site to learn what else you can do to benefit the planet.
According to the Earth Hour website, this is the 9th year of the event. It began in 2007 in a lights-off event in Sydney, Australia. Earth Hour 2015 will be my 3rd year participating in the global movement. I'm hoping all of you decide to join in too!
Before checking out the rest of the Make a Difference Monday Linkup posts, watch this incredible video of Earth Hour events around the world. Isn't it amazing to see the lights go off at such iconic landmarks?
Now let's get to this week's Make a Difference Monday Linkup!

Make a Difference Mondays is a weekly link-up designed to encourage and inspire us to live each day on purpose—making a meaningful difference in someone's life in even the smallest of ways. There will be five women regularly co-hosting this link-up that will appear on all five of our blogs and we also have three wonderful co-hosts who will fill in as guest hosts on the occasional day that a regular co-host is not able to post. Read on to learn more about our vision, mission, and how to link up!
Our mission is to provide a consistent gathering place for like-minded women to build online connections, share inspiration, and provide mutual encouragement and accountability as we seek to live intentionally and make a difference in the lives of those around us.
Every Monday we will invite bloggers to link-up any blog posts that encourage women to live life on purpose. This could include testimonies or goals from your own life, small acts of kindness or service, creative tips or ideas for showing consideration to others — the possibilities are endless. Our objective is to use our God-given time and resources to His glory!