Just last week, I was reminding my mom to throw something, maybe a glass jar, into the recycling bin.
She said, "You know, you've always been that way."
I asked, "What way?" thinking it was about something bad.
She replied, "Into recycling and saving the earth. I remember telling my co-workers about things you were doing when you were just a little girl."
Oh… Yeah, it's true. I have always been passionate about the environment. When I was a little girl, maybe 7 years old, my friends and I had a "Save the Earth" club. We would pick up trash around the neighborhood, and we made our parents plant a baby tree in each of our yards.
As I grew older, I continued to recycle and re-purpose. I always have a hard time throwing anything away because I know it is just going to sit in a landfill somewhere. I'm always sure that I can find another way to use it. That can be a bad thing for me though, because my house tends to always be full of clutter, just waiting for it's next use.
I have a lot of little projects that I want to share that are environmentally related, but today I want to talk about Earth Hour 2014 .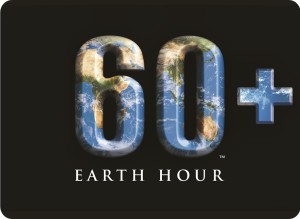 I first learned about Earth Hour a few years back through my employer. Fortunately, I work for a company that tries to be a good steward to the environment, so they will promote events like this.
Earth Hour is basically about committing to turn off all the lights in your home or business for 1 hour, from 8:30pm to 9:30pm local time. This year, the event falls on Saturday, March 29, 2014.
Here are a few tidbits of information to provide a quick explanation from the Earth Hour FAQ page:
What is Earth Hour?
Earth Hour is a worldwide grassroots movement uniting people to protect the planet, and is organised by WWF. Engaging a massive mainstream community on a broad range of environmental issues, Earth Hour was famously started as a lights-off event in Sydney, Australia in 2007. Since then it has grown to engage more than 7000 cities and towns worldwide, and the one-hour event continues to remain the key driver of the now larger movement.
When does Earth Hour take place?
Earth Hour 2014 will be held on Saturday 29 March between 8.30PM and 9.30PM in your local time zone. The event is held worldwide towards the end of March annually, encouraging individuals, communities households and businesses to turn off their non-essential lights for one hour as a symbol for their commitment to the planet. Earth Hour 2015 will take place on Saturday, 28 of March at 8:30PM to 9:30PM in your local timezone.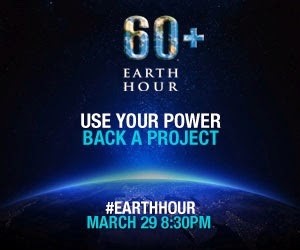 You can read even more details at the FAQ section of www.earthhour.org.
Obviously, I'm not a scientist and I haven't done any research on this, but I can only imagine what kind of impact on the world's energy consumption it would make if EVERYONE turned off their lights for just 1 hour. What do you think?
I've participated for the last 2 years, and I will definitely be doing it again. Seriously, I am ALL about this event. It is just right up my alley! I mean, it's free and so easy! Why wouldn't I want to do this? Heck, maybe I'll just keep my lights off for the entire night. I'll light a few candles, and read a book. I think it will end up being a pretty relaxing Saturday night.
Just look how cool it looks when the lights go out in this video! AMAZING!
So, what do you say? Are you in? Will join me for Earth Hour 2014, and turn off your lights for just 1 hour?
Leave a comment pledging your commitment, or come back after Saturday and tell me how you spent your hour!
For more environmentally friendly ideas, follow my Reduce Reuse Recycle board on Pinterest!
Follow Sarah @ Me Plus 3 TODAY's board Reduce Reuse Recycle on Pinterest.