It's amazing what a few words of encouragement can do to brighten my day and lift my mood. Even reading an article that is not written by anyone that I know and is in no way directed at me can have such an empowering effect on me. It's that feeling of, "Yes! Somebody out there gets it! I am not alone in my struggles! I'm not crazy!" I especially enjoy words of encouragement for mothers since that is typically what I need most.
Being a mom isn't always what I had imagined it to be. The days can seem very long, toddlers can be incredibly frustrating, and there are a lot of times where I end up feeling horrible about not doing a "better job" when dealing with it all. When I'm going through exceptionally tough times like this, I always appreciate reading articles filled with words of encouragement for mothers. I'll scour my favorite parenting blogs and Pinterest to find a post that will help me get through it.
And there are plenty of articles out there. I am so glad that there are moms out there that are willing to share their experiences while providing words of encouragement for mothers at the same time. I don't know what I'd do without them!
As I mentioned in last week's post about my High 5 Today campaign, I had planned on specifically encouraging and empowering moms. So I have an entire stockpile of amazing posts full of words of encouragement for mothers. And I want to share a few of them with you today. Consider this a High 5 for all the momma's out there that are having a rough day! Read one or read them all, and then keep pushing through the rest of the day.
Remember, you are awesome at being you!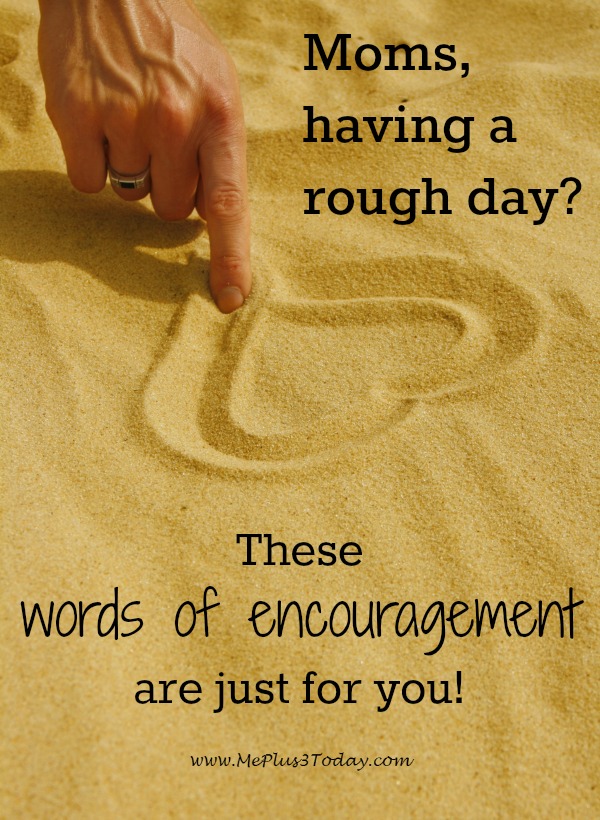 5 Posts with Words of Encouragement for Mothers
1) How a Did-Do List can Change Your Life from Cutting Tiny Bites. Remember, you've done A LOT!
2) All You can Do is Your Best from The Pleasantest Thing. Yup, we've all been there!
3) Never have Another Bad Day from Sunny Day Family. I know what you're thinking… Yeah, right! But this post resonates deeply with me and what I've been through.
4) 10 Things Good Moms Do NOT have in Common from Beauty Through Imperfection. Clearly, there is not an exact formula for being a good mom!
5) Enjoy Being a Good-Enough Mother from Bits of Positivity. Words of encouragement from a mother whose kids are all grown up!
In general, moms can be pretty hard on themselves. While that is part of what makes us great at what we do, let's also take a few minutes to sit back, take a deep breath, and remember what it's all about.
I hope you enjoy these words of encouragement for mothers and they make you feel empowered today. Follow the Me Plus 3 Today Facebook Page and my Tips for Moms board on Pinterest to find even more inspiring posts like these!
Now it's time for the Make a Difference Monday Linkup.

Make a Difference Mondays is a weekly link-up designed to encourage and inspire us to live each day on purpose—making a meaningful difference in someone's life in even the smallest of ways. There will be five women regularly co-hosting this link-up that will appear on all five of our blogs and we also have three wonderful co-hosts who will fill in as guest hosts on the occasional day that a regular co-host is not able to post. Read on to learn more about our vision, mission, and how to link up!
Our mission is to provide a consistent gathering place for like-minded women to build online connections, share inspiration, and provide mutual encouragement and accountability as we seek to live intentionally and make a difference in the lives of those around us.
Every Monday we will invite bloggers to link-up any blog posts that encourage women to live life on purpose. This could include testimonies or goals from your own life, small acts of kindness or service, creative tips or ideas for showing consideration to others — the possibilities are endless. Our objective is to use our God-given time and resources to His glory!