Disclosure: For your convenience, this post may contain affiliate links.
After a lot of snow and record low temperatures this winter, I am definitely ready for spring and summer! Now that I am home full-time with the kids, I am hoping to try some fun outdoor learning activities with them when the warmer weather finally arrives. It is much more fun for all of us to have them learn through play!
And as cabin fever sets in, I can't help but dream of spending more time outside with the kids! We spent a lot of time outdoors last spring and summer, but I wasn't very creative with how we spent our time. We typically either played in the sprinklers or with sidewalk chalk. As the kids get older, I think they'd enjoy a little more variety! I probably would too!
So I decided to compile and share this list of creative outdoor learning activities that I'm hoping we'll be able to do soon! A girl can dream, right?
If you liked my toddler clothespin activity post, Halloween party game post, and New Year's Eve with kids post, then you'll enjoy this round up of fun outdoor learning activities for toddlers and preschoolers from amazing Kid Blogger Network blogs! I'm sure a lot of you are getting antsy and ready for warmer weather, so I'm hoping these ideas will give you a little something to look forward to.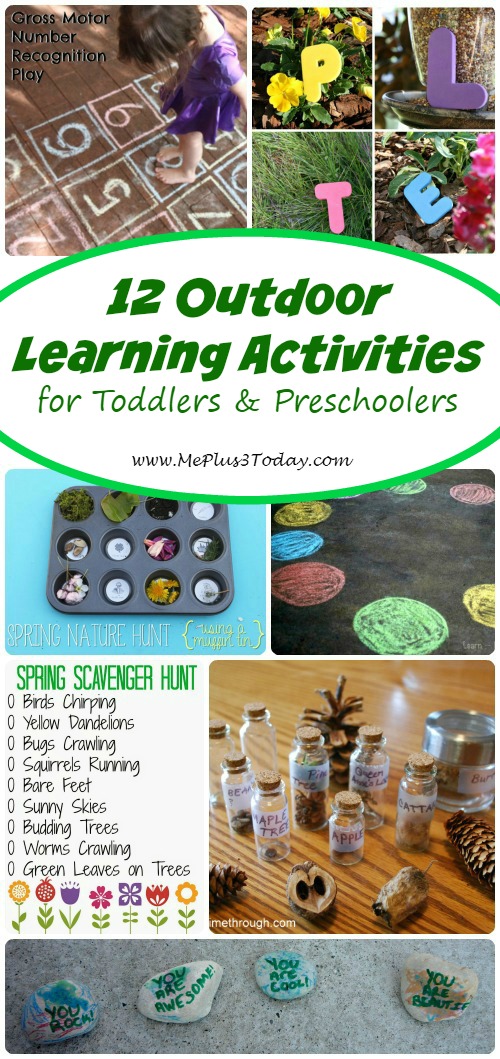 12 Outdoor Learning Activities for Preschoolers & Toddlers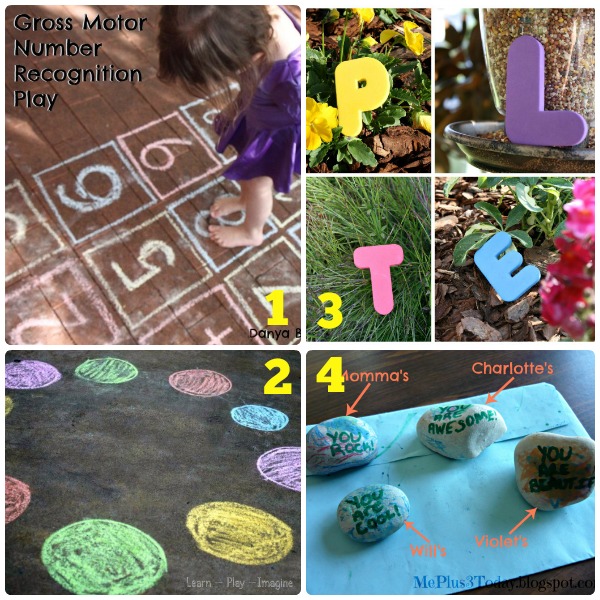 1) Gross Motor: Number Recognition Play – A fun and active way to work on number recognition and counting.
2) Color Hop Recognition Game for Toddlers – Learn colors along with developing gross motor skills.
3) Garden ABC Letter Hunt – A great way to get kids moving while learning the letters of the alphabet. Find foam letters for your hunt here.
4) Rock Message Act of Kindness – Teach children about Random Acts of Kindness with this idea that I posted last spring.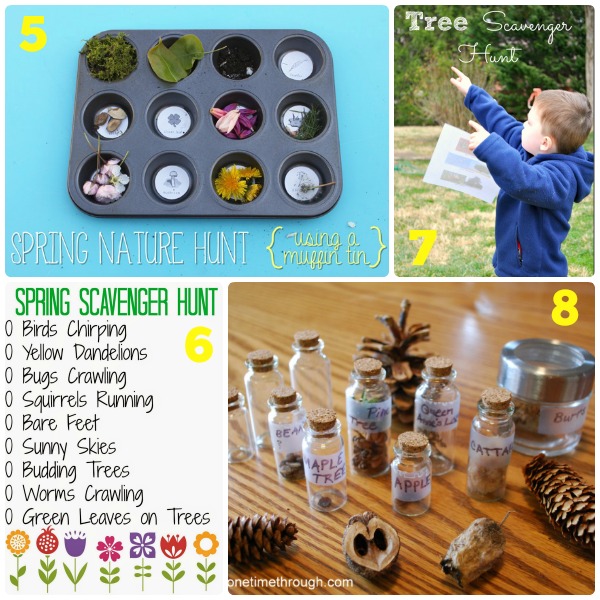 5) Muffin Tin Spring Nature Hunt – This nature hunt will teach kids about more elements of the outdoors.
6) Spring Scavenger Hunt – The printable makes this activity low prep!
7) Tree Scavenger Hunt – This is a great way for kids (and even parents!) to learn about the trees in your own yard or a local park.
8) Springtime Seed Hunt – This activity can help teach kids about how plants grow, as well as make them more observant of their surroundings. Find the mini-jars with a cork top here.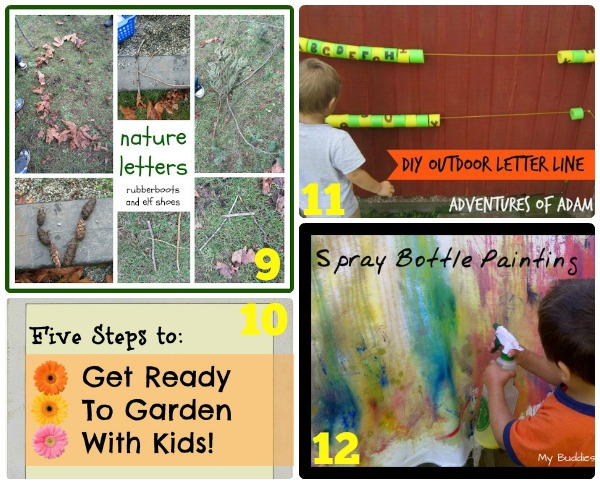 9) Nature Letters – Another hands-on method to learn the letters of the alphabet. Using all your senses is a great way to learn.
10) DIY Outdoor Letter Line – Not only does this activity include letter recognition, but it also helps children learn the order of the alphabet.
11) Getting Ready to Garden with Kids – I am not much of a gardener, but I like the idea of trying to grow something with the kids. We attempted something last summer that didn't turn out too well, but we'll try again this year!
12) Spray Bottle Painting – This activity is a fun way to work on fine motor skills, which are important when learning to write. Get spray bottles here.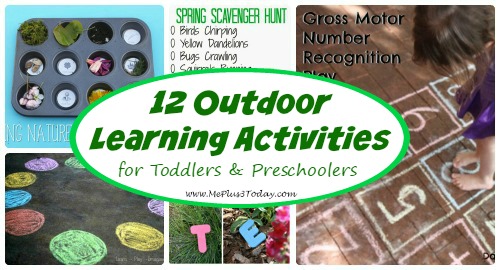 I can't wait to try these ideas! Spring can't come soon enough for me!
So tell me, how do you bring learning outdoors for your children?