Just so you know, I LOVE Halloween! Whether it's playing a game at a Halloween party, dressing up (like these 26 costume ideas for twins or siblings), carving pumpkins, or eating candy, I enjoy it all! So, I'm super excited to bring you this round up of over 14 fun Halloween Party Game Ideas!
One of the reasons I love Halloween so much is because it has always had a special meaning for my late-husband, Chaz, and me since our sophomore year of college (14 years ago! Yowza!). It was at a Halloween party that I started to like him as more than just a friend. 🙂
But now that I'm a mommy, these Halloween party game ideas are geared towards kids and not so much the college crowd! Although, who knows, college students might enjoy these too…
14+ Halloween Party Game Ideas

For your convenience, this post contains affiliate links from which I receive a small commission at no additional cost to you. Thanks!
PUMPKIN THEME HALLOWEEN PARTY GAME IDEAS: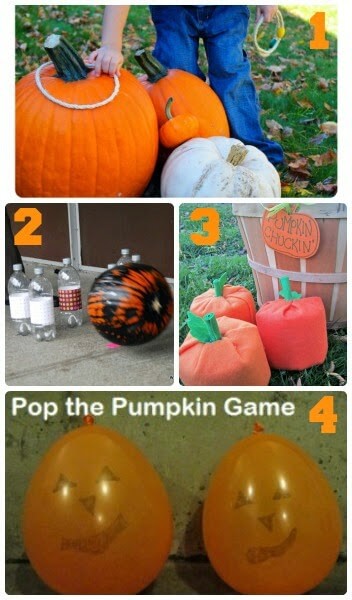 1. Try this Pumpkin Ring Toss from Fireflies & Mud Pies. There are also 4 more family Halloween game ideas in her post, so make sure you check it out!
2. Pumpkin Bowling shown on Meaningful Mama's blog looks like a ton of fun! This post is chock full of Harvest Party game and food ideas for you!
3. Pumpkin Chuckin' is just an awesome name for a game. And you definitely need to see what B-Inspired Mama made those little pumpkins out of!
4. Who wouldn't have an absolute blast playing this Pop the Pumpkin game with orange balloons
? Not only does There's Just One Mommy describe how to set up this game, she also includes 3 more kids' Halloween party games for you to check out!
MONSTER THEME HALLOWEEN PARTY GAME IDEAS: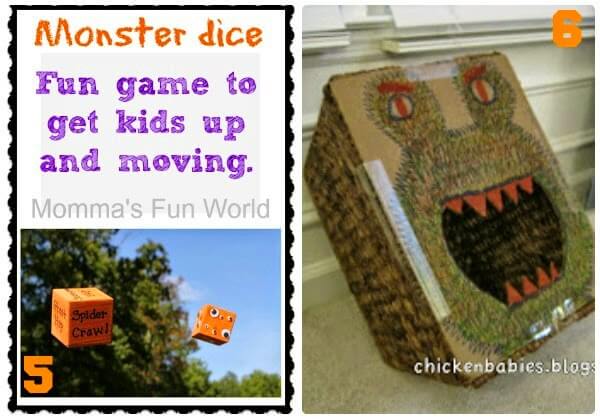 5. Monster Dice from Momma's Fun World looks like a great game to burn off any access energy, and would probably be really entertaining to watch too!
6. The Hungry Monster People Toss from chicken babies is hilarious! Check it out, there's more to it than you think!
SPIDER THEME HALLOWEEN PARTY GAME IDEAS: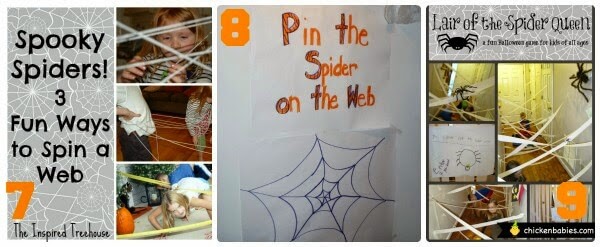 7. There are 3 different Spooky Spider games described on The Inspired Treehouse. Check out the details of each game, because they promote a different development skill for kids too!
8. Pin the Spider on the Web is a unique spin on a traditional game. Homegrown Friends actually has a whole slew of creative Halloween party ideas in this post that you need to check out!
9. Lair of the Spider Queen is another idea from chicken babies. It another great use for party supplies
and it will definitely inspire imaginative thinking!
MISCELLANEOUS HALLOWEEN PARTY GAME IDEAS: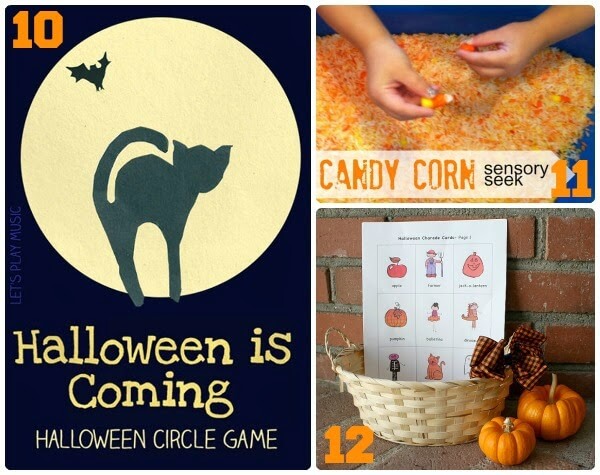 10. Halloween is Coming is a musical and active circle game. Let's Play Music provides everything you need to play!
11. Setting up Candy Corn Sensory Seek from Tutus and Tea Parties as a station at a Halloween party would be a great way to make sure there is entertainment during down times.
12. Halloween Charades is a simple game that has the potential to be absolutely hilarious. Buggy and Buddy even provides a free printable so there is hardly any prep work required to set this game up.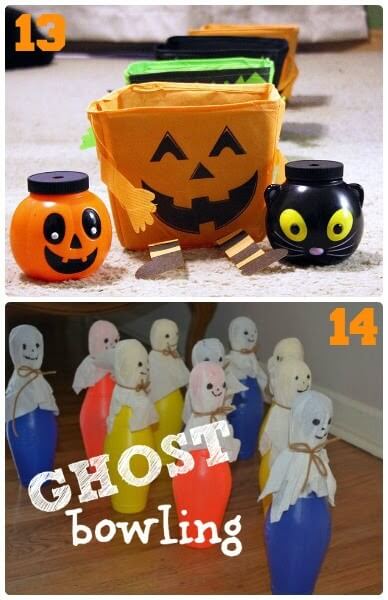 13. The Halloween Toss Game from We Made That is another variation of a classic game. But I really liked the materials used, and how the prizes were won.
14. Kids are sure to love using their toy bowling set
to play Ghost Bowling from The Pleasantest Thing. I'd recommend having the Ghostbusters Theme Song
playing during this game too!
Don't forget to save this post so you can find these fun Halloween Party Game Ideas any time you need them!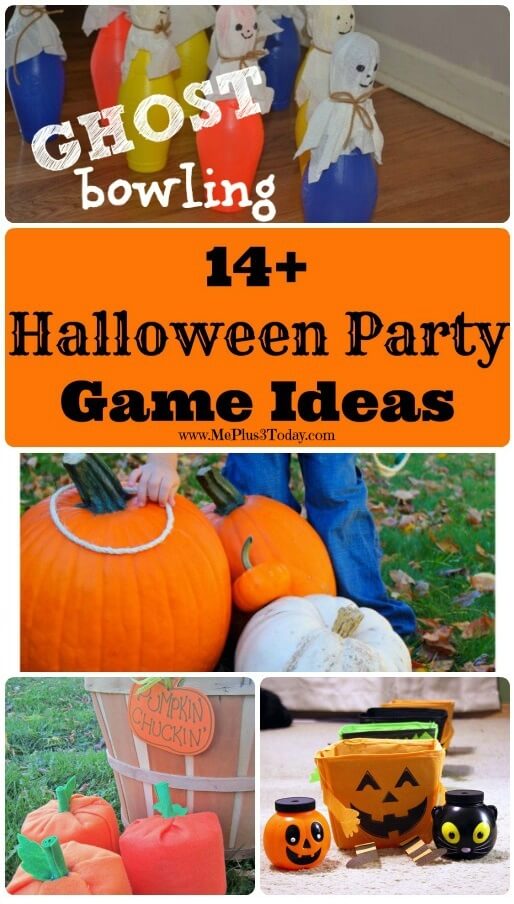 If you're looking for more Halloween ideas, check out this collection of 26 Unique Costumes for Twins or Siblings! They really are incredibly clever, original, and funny!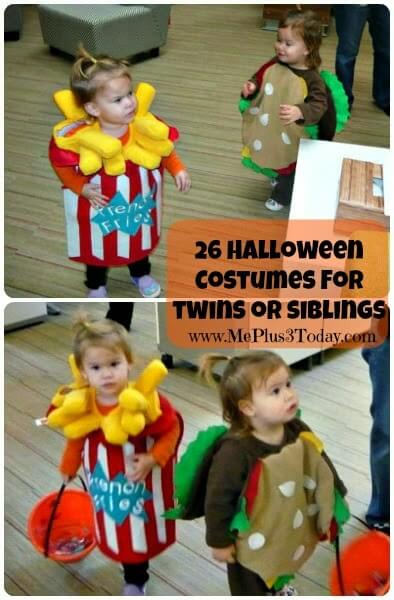 Or visit this link-up to see other great bloggers posts: An InLinkz Link-up