Disclosure: This post of Ideas & Activities for New Year's Eve with Kids contains affiliate links that support Me Plus 3 Today, at no additional cost to you. Thanks!
Once you have kids, the way you celebrate New Year's Eve tends to drastically change. When Chaz and I were younger, in our pre-kid days, we would go to fun parties, or even throw big parties of our own. Activities would revolve around friends, food, and a lot of drinks! But after having kids, we stayed home and were in bed before midnight!
That wasn't necessarily a bad thing. I was looking forward to future New Year's Eves as a family. I had always imagined us having fun celebrations as the kids got older. We would have special activities, yummy food, and ring in the new year together as a family. And even though it hurts beyond words to think that Chaz won't be a part of it, I can't help but browse Pinterest for creative ideas to celebrate. Because I know someday I will still want to make New Year's Eve special for the kids, even though it will be without their daddy.
So in this post, I've collected several ideas that I envision trying with the kids someday. Hopefully these ideas will inspire you to have a special New Year's Eve celebration with your children this year!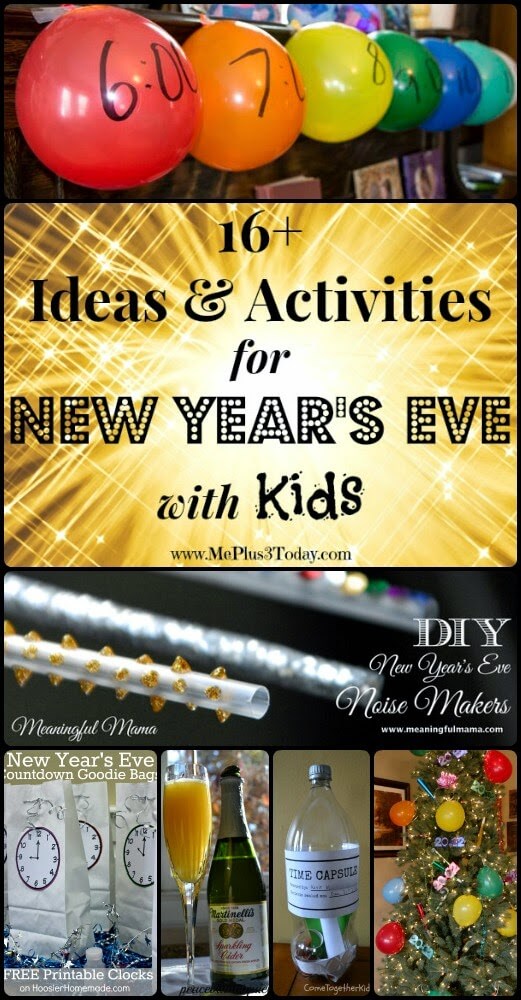 16+ Ideas & Activities for New Year's Eve with Kids
Make it a fun and festive evening with these DIY decoration ideas!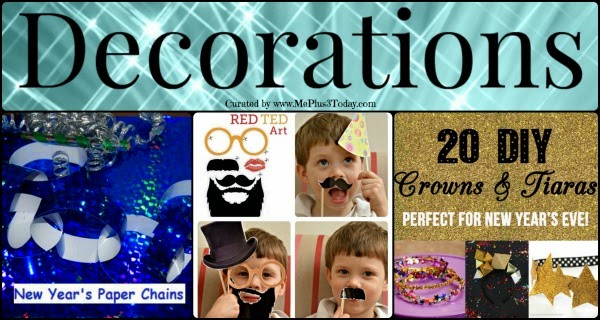 1) Paper Ring Chain
These are easy enough to make that even very young kids can get involved. Plus, I love idea of a "ring" theme for "Ringing in the New Year" from The Preschool Toolbox.
2) Photo Booth Props
These FREE printable photo booth props from Red Ted Art will make for some hilarious pictures and great memories.
3) Crowns and Party Hats
New Year's Eve with kids wouldn't be the same without the party hats! There are a ton of ideas on Happiness is Homemade that you and the kids can make!
Why limit the countdown to only 10 seconds before midnight? These ideas allow the fun to stretch through the entire evening!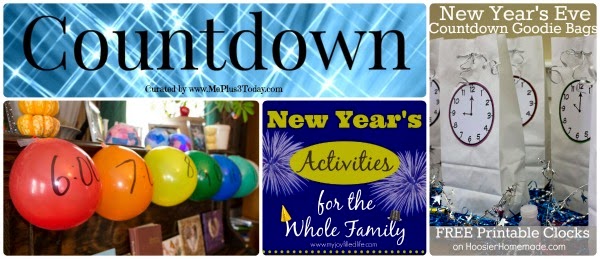 4) Balloon Pop Countdown
I'm not sure what kids will love more with this idea from Life with Moore Babies, popping balloons or the activity hidden inside!? And it's simple to purchase balloons on online too!
5) Countdown Goodie Bags
Instead of activities, you could try prizes in goodie bags each hour. Hoosier Homemade even has FREE clock printables for you to use! And there is a huge selection of styles and colors of goodie bags on Amazon.
6) Game Hour
You could also just skip the balloons and goodie bags, and go straight for the games or activities each hour like they did over at My Joy Filled Life. She has some unique ideas for games that you should definitely check out!
Of course, you'll need yummy treats for New Year's Eve with kids! So don't forget to serve special food and drinks like these throughout the night!

7) New Year's Cookies
Making special cookies, like these from In the Playroom, could be a fun tradition to start with the kids. Or check out all the fun kits, like Gingerbread Ninjas, on Amazon.
8) Ring Pop
I saw these on Bloom Designs and thought they were too cute. They go right along the "Ringing in the New Year" theme I mentioned in #1! Save time and money buying bulk Ring Pops online.
9) Orange-Apple Surprises
Let the kids toast at midnight with a unique mocktail! I really love this simple recipe from Peace…but not Quiet. Make them even more fun by serving them in special, kid friendly, glasses! You should also check out the special food they served for the New Year's Eve with kids!
These ideas for games and activities could become family traditions for New Year's Eve! Make it a memorable night while having a ton of fun!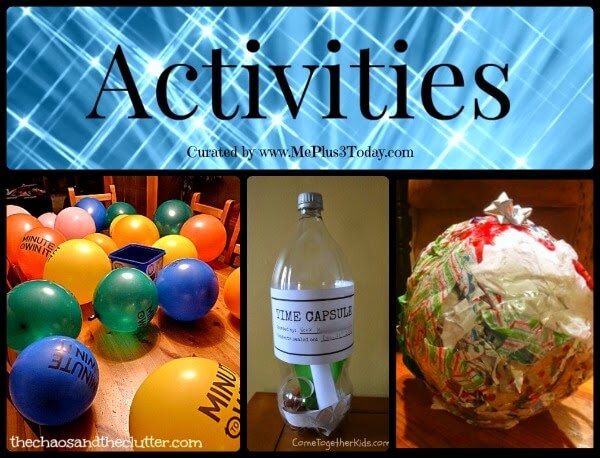 10) Time Capsule
As someone who is incredibly sentimental and obsessed with memories, I absolutely LOVE the idea of making a time capsule for each kid. Come Together Kids included a lot of fun stuff and also has a FREE printable on their blog that you can use!
11) Minute to Win It Games
These games are hilarious! You can find 8 ideas in this post from The Chaos and the Clutter. You might want to just check that post out for any family/game night that you might be planning in the future and consider purchasing your own Minute to Win It game kit!
12) New Year's Ball Game
OK, I am absolutely positive that I want to include this game in our New Year's Eve traditions. This sounds exactly like something that Chaz would want us to play. You can see the explanation of the game on Sparkly Polliwog.
As midnight approaches, it'll be time to get a little rowdy with DIY noisemakers! Children and adults alike will have fun as they anticipate the new year!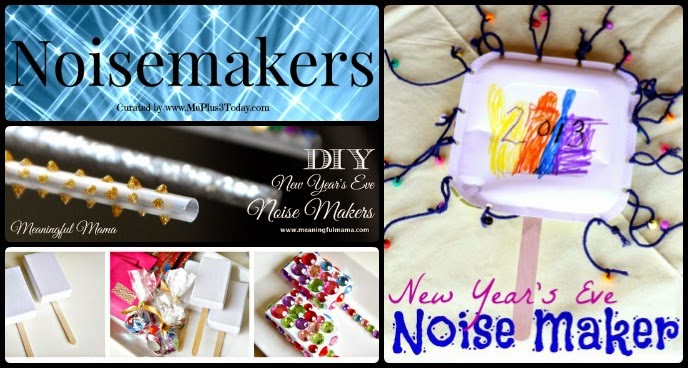 13) DIY Straw Noisemaker
Instead of buying horns to blow from the store, you can make your own! Based on the instructions from Meaningful Mama, these look really simple to make and the supplies can be ordered from Amazon!
14) Box Shaker Noisemaker
I love the look of these noisemakers from Seeking Shade. I also love how the supplies can easily be ordered online, some of it can be pre-made, and then the kids can be left to decorate it on New Year's Eve!
15) Paper Plate Noisemaker
If you aren't able to find the boxes you need for #14, you could do something similar with a paper plate. There is even more flare added with these shown on I Can Teach My Child.
And finally, as midnight strikes, make a special tradition that you and the kids will remember for a lifetime!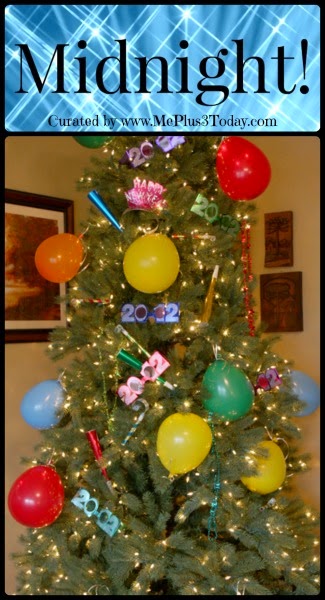 16) New Year's Tree
This idea from Our Best Bites is perfect, and exactly what I envisioned for our kids someday! I love the glasses shaped like the year and the mardi gras beads! I think this alone would make New Year's Eve with kids an incredibly special night. You could also combine it with several of the other ideas I mentioned for an unforgettable night!