If you have kids, I would definitely recommend you keep some clothespins on hand. "Why clothespins?" you may ask. First, there are so many fun activities and crafts using clothespins. Second, they are great for developing fine motor skills!
With so many different activities and crafts using clothespins, having them on hand is a great way to keep kiddos occupied for a good chunk of time. Consider pulling them out when you're making dinner, cleaning, or just need a little time for yourself!
To highlight the talents of my fellow members of the Kid Blogger Network and as a quick resource to you for ideas, I've curated a list of 10 crafts and activities using clothespins from their blogs.
10 Activities and Crafts Using CLOTHESPINS!
1) These Clothespins Catapults that were highlighted on Housing a Forest look like they could provide entertainment for all ages! Toddlers and older children could launch soft items that I'm sure would send an infant into a fit of giggles! 🙂
2) Here is a great idea for Clothespin Sensory Play that was shown at Child Central Station. The texture possibilities are endless!
3) I love this Fall Clothespin Tree from Stir the Wonder. I know summer is just beginning so most of us don't want to think about autumn quite yet, but I am sure you could put your own variation on this fine motor activity for any season!
4) I found these adorable Tissue Paper Clothespin Butterflies on Happy Hooligans. The girls love butterflies, so I definitely want to make this craft with the kids soon!
5) This 'Jack and the Beanstalk' craft from No Time for Flashcards is a hoot! What child wouldn't love to clip and un-clip their clothespin to move themselves up and down the beanstalk? And I'm sure you could think of a lot of different variations on this idea.
6) I love how simple and low-prep these Clothespin Animal and Creatures are from The Mommy Talks. Plus they use repurposed material that almost everybody already has in their homes!
7) For a unique twist on a simple activity, check out this Claw Grabbing Machine to Strengthen Fine Motor Skills from Hands On As We Grow. I bet kids could even add their own "sound effects" to add to the fun!
8) Another fun idea is this Clothespin Crown from How Wee Learn. I love what the imagination of children can make from such ordinary items!
9) With the warmer weather finally here, I really want to try a Nature Walk with Clothespins like that on Simple Fun for Kids. We could get exercise and work on fine motor skills at the same time!
10) I know Easter just passed, but this Easter Egg Clothespin craft from Inheriting Our Planet was just too cute! I had to share it! Again, you could put variations on this idea for any holiday!
Don't forget to pin this post to reference these fine motor activities and crafts with clothespins!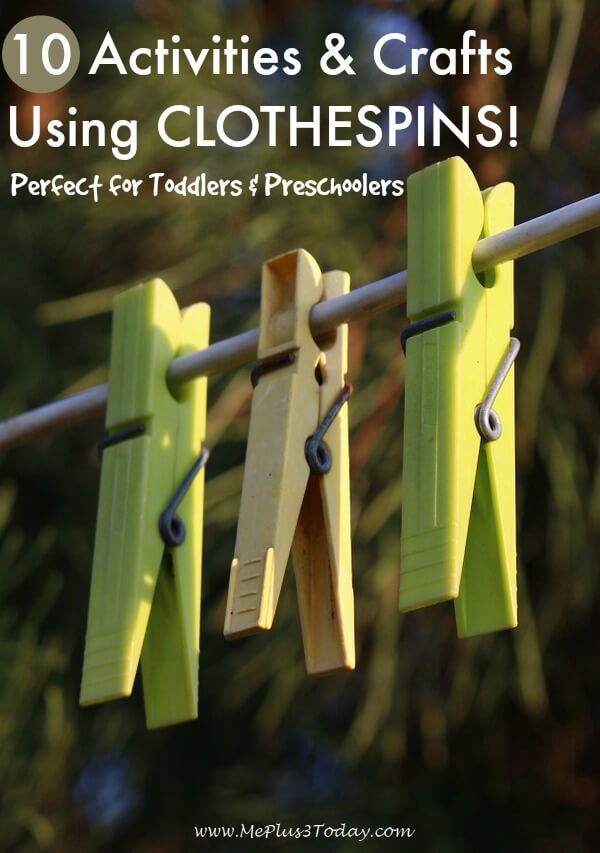 Other posts from Me Plus 3 TODAY! that you might enjoy reading:
12 Outdoor Learning Activities for Toddlers & Preschoolers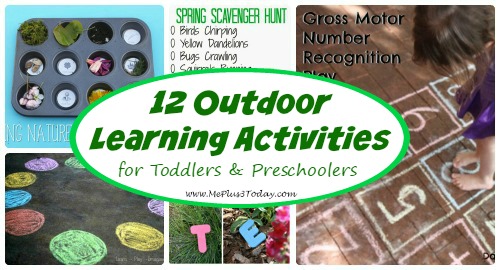 10 Gift Ideas Under $10 Preschoolers will LOVE!
Acts of Kindness with Toddlers!