I have always been passionate about helping others. It was something both Chaz and I enjoyed. We never specifically planned our Acts of Kindness, but we just tried to always be kind. We would always try to give a little bit to service projects, charities and fundraisers that we heard about, or just give our time to friends, family, and even strangers!
I can remember a time before we had kids, when Chaz walked in the door after work a few minutes late. He was just coming in to let me know that he was grabbing a giant flashlight and his car jack (I think that's what it's called, he had a heavy-duty jack that kind of looked like what professional people use to lift up the car).
I guess there was a couple that got a flat tire about a mile down the road from our house. Chaz said he stopped and asked if they needed help. He saw that they were trying to jack up the car using the little, dinky jack that came with the car (it's the one usually found near your spare tire). Plus, it was dusk, so it was starting to get pretty dark out. He told them that he lived just up the road, so he would grab some better tools to help them change the tire.
And that's just what he did. He came home, grabbed the tools, and went back to help the couple finish changing the tire!
It's one of the many, many, many things I love(d) about Chaz. Not many people stop and offer help nowadays. He just had a very kind, generous heart.
And I want to make sure I instill that value in our children.
While searching for acts of kindness, service projects, and how to teach children to serve, I came across the Mommy & Me Monthly Service Challenge from Trust Me, I'm a Mom.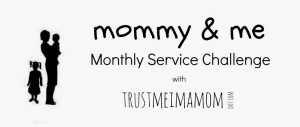 Click the image to sign up for the challenge too!
Of course, I signed right up!
It was March 2014 when I signed up, so our first Service Challenge came at the beginning of April and the theme was 'nature.'
She had A LOT of great suggestions on Acts of Kindness and Service Projects to do with children that revolved around nature.
We did 2 different 'nature' projects. This is the first one I'm writing about. I'll let you know when I post the other project!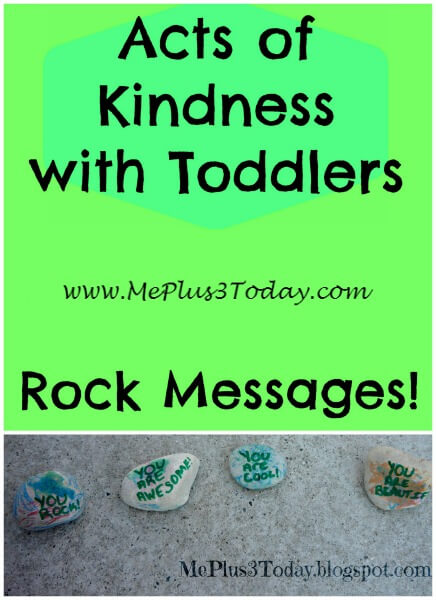 Our April Act of Kindness
I decided we would write uplifting and encouraging notes on rocks and leave them somewhere outside, in nature, for random people to find. I thought that small note could actually really brighten somebody's day! I know I would be so excited to find a rock with a nice message on it!
I was inspired by something I pinned on Pinterest. It lead to the Family Chic blog, where she talked about her kids writing words and notes on stones and leaving them on neighbor's porches or randomly on the beach.
Obviously, I thought that was a great idea! It was a SIMPLE and FREE Act of Kindness that I could do with our toddlers! How could I not want to do it?!?!
Since the girls are 2, and Will just turned 1, they clearly aren't able to write yet… So I gave them the task of coloring and decorating the rocks! This part of our little service project was great for a rainy, spring morning.
Here is Charlotte coloring her rock. Look at that concentration! 🙂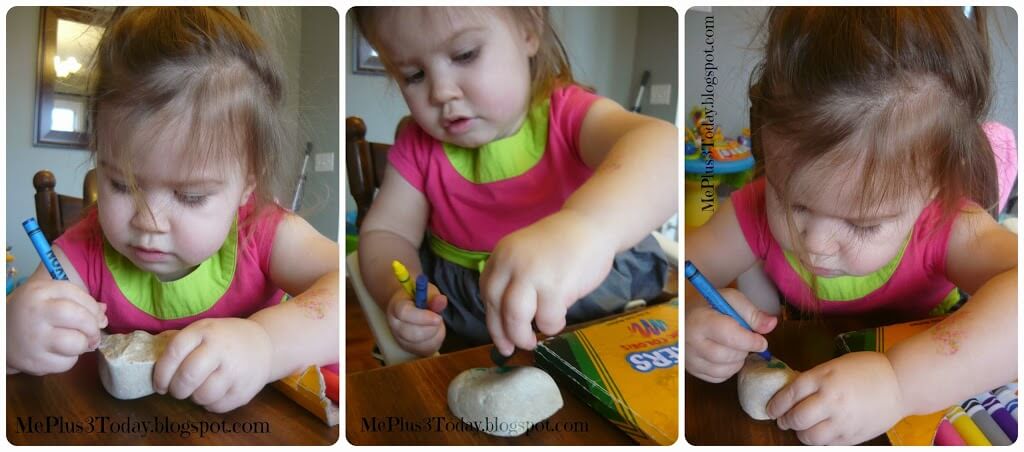 And this is Violet decorating her rock. She seems to have a shorter attention span than Charlotte, so she ended up getting bored with this little activity pretty quick…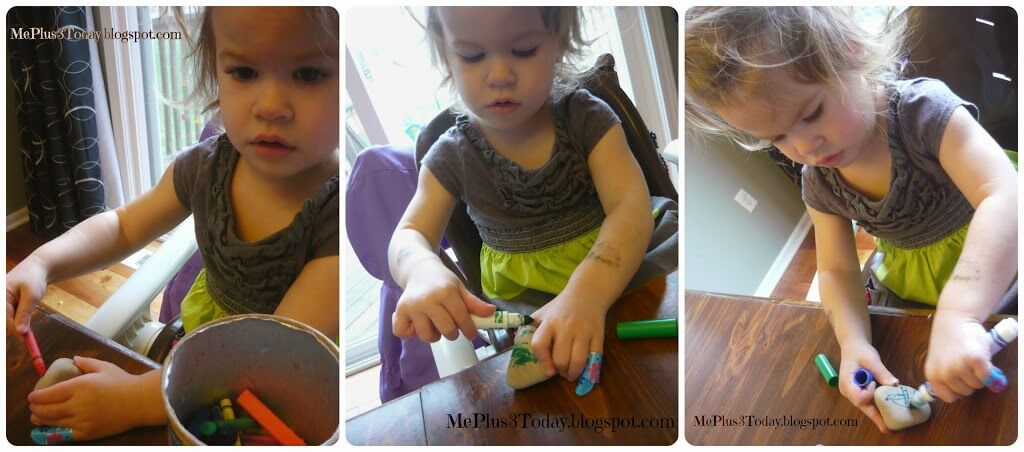 And lastly, here is Will coloring his rock. He did great! In the past, I've had issues with him coloring, because he tends to put EVERYTHING in his mouth. I think he's definitely eaten a few chunks of crayon… So I decided to give him a marker, and he actually colored his rock! I'm not saying he didn't color all over his high chair tray, or that he didn't end up sucking on his marker a little bit, but overall A LOT of marker actually ended up on the rock! 🙂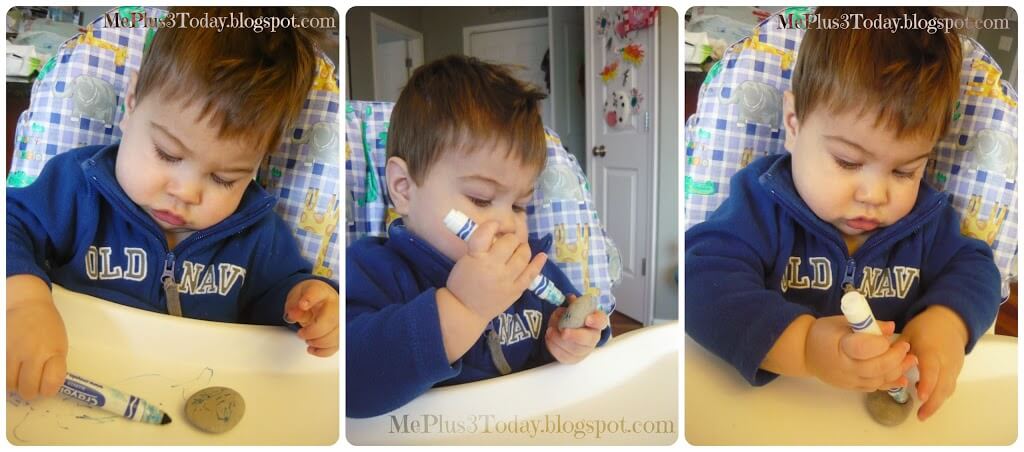 I even colored a rock! 🙂 Here's all of our decorated rocks!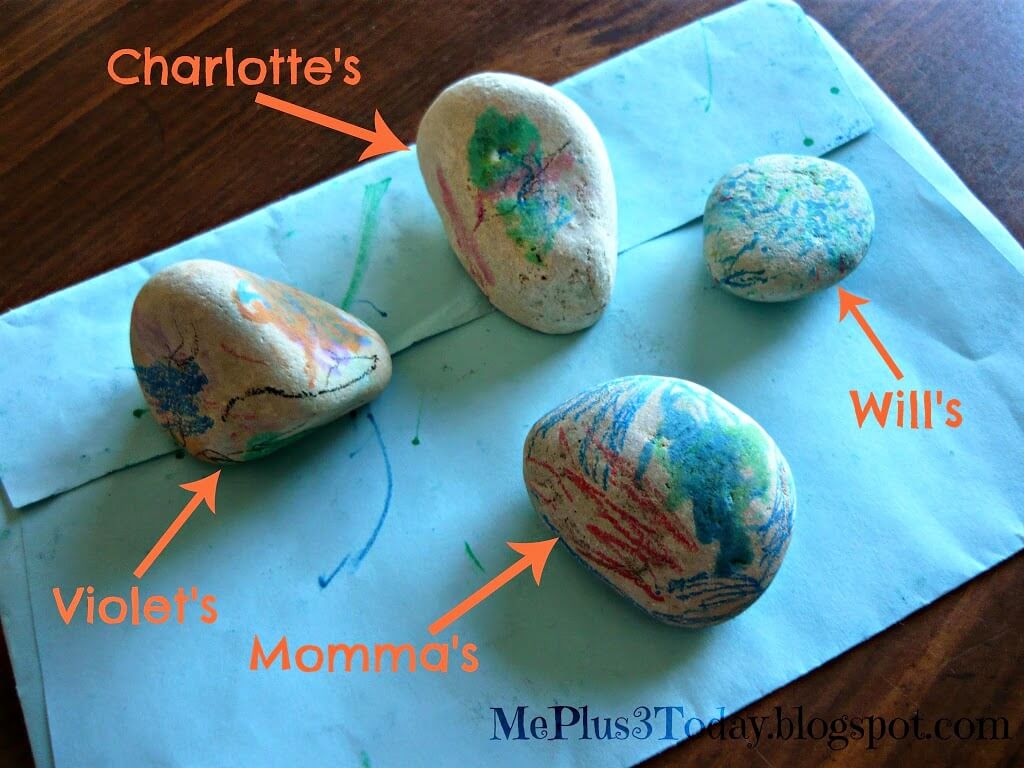 After our rocks were colored, I wrote a little, uplifting message on them with a Sharpie.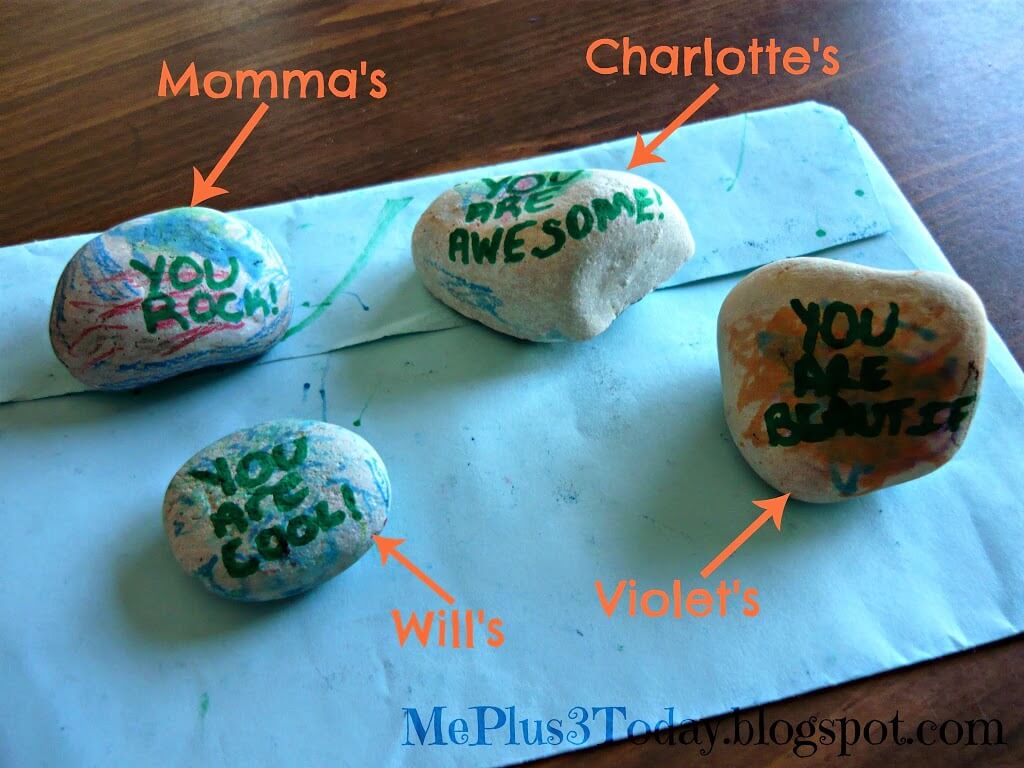 As you can see, they aren't perfect. I didn't plan very well for what I was writing versus the space on the rock… I'm kind of a lazy crafter like that, where I don't necessarily make things perfect. But I still think these are kind of cute, and I would still be excited to randomly find something like this outside!
The morning we decorated the stones, it was dreary and rainy… But in the afternoon, it cleared up into a beautiful day. So after nap time, I took the kids outside on a walk in our neighborhood, so we could leave our stones out in 'nature.' Obviously our/my hopes were that someone would find them, and the rocks would make them smile!
Because isn't spreading a smile a great act of kindness? 🙂
Well, we happen to have a nature trail running through our neighborhood, but it is still pretty wet and yucky right now, with the recent snow melt and spring rains. So, I felt a good spot to leave the rocks would be on the sidewalk, right in front of the entrance to the nature trail! It's a spot that gets a lot of foot traffic, so someone was bound to see them!
Charlotte is on the left placing her stone on the sidewalk, and Violet is on the right. I put Will's down for him. 🙂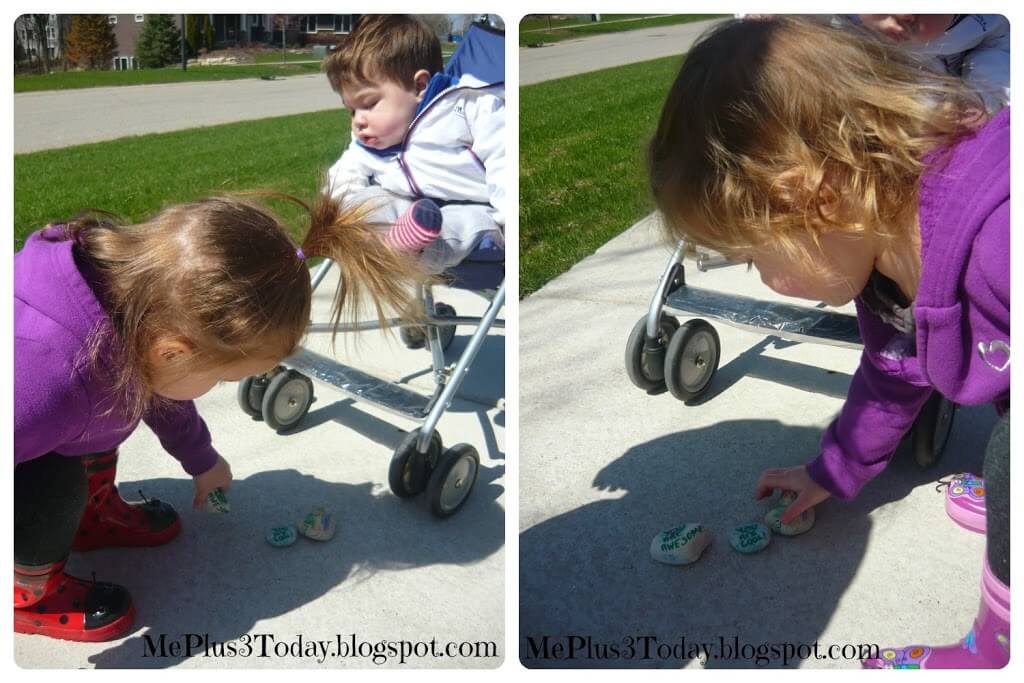 I made sure to read the little messages to the kids, and I explained to them that we were leaving them on the sidewalk to share with someone else! I told them they had made the rocks so pretty, that they would definitely make another person very happy!
I think they kind of understood, because here is Violet finding another rock on the edge of the sidewalk, and she wanted to "share" that one too! Of course I let her leave it on the sidewalk with our decorated rocks! A toddler wanting to share doesn't happen that often! At least with my toddlers…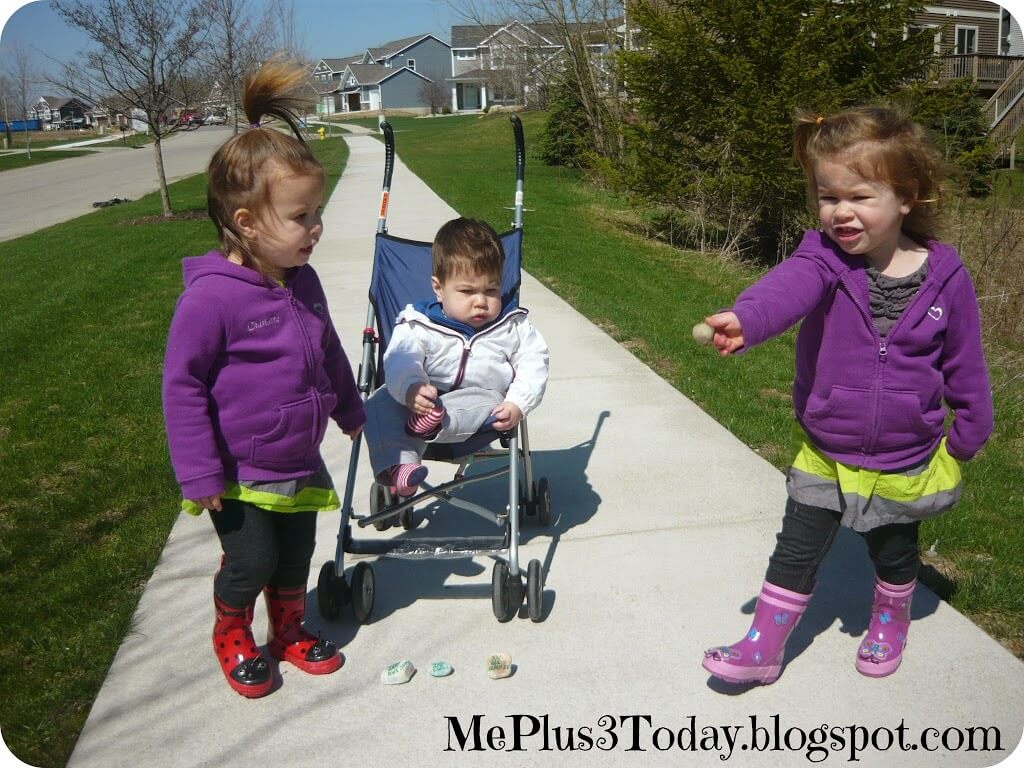 Afterwards, I thought that 5th plain rock that Violet added was kind of symbolic. Like that was a rock from Chaz that he wasn't here to decorate… Now I wish I would have taken a picture of all 5 rocks on the sidewalk! Bummer! Oh well, here are our 4 rocks on the sidewalk, just waiting to be found! 🙂

Despite wanting to "share" more rocks, as I was trying to round the kids up and get them moving again, Violet was picking them back up and putting them in her pocket! 🙂 She tends to be a little possessive of her things… But it was also kind of cute, they just LOVE putting stuff in their pockets.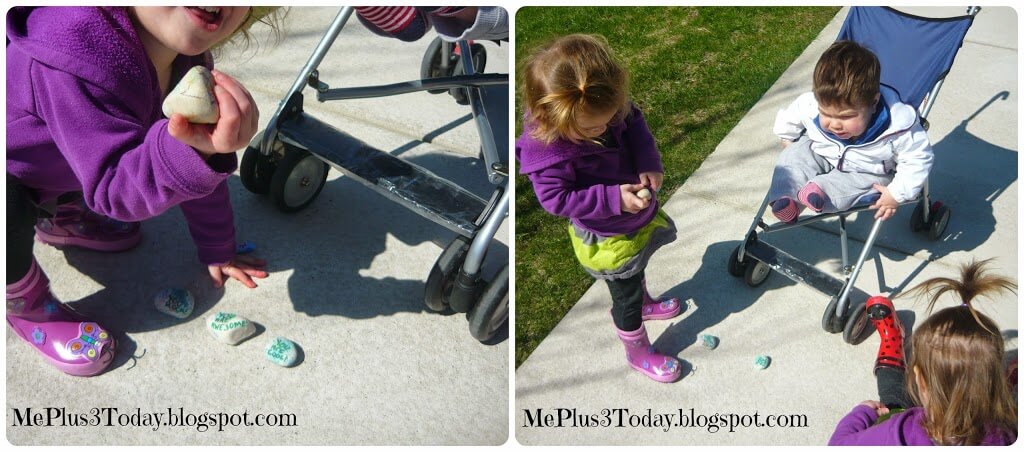 Anyways, I re-explained to her what we trying to do, that we were trying to share our artwork and make someone else happy. After that, she was OK leaving them there. But maybe it was just because I hustled them away from that spot quick enough that she couldn't get distracted with picking them back up again… who knows… 🙂
Well, there you have it! That is one of the Acts of Kindness I did with our toddlers for the April "Mommy & Me Monthly Service Challenge" from Trust Me, I'm a Mom. I plan on writing about the other little Service Project I did with the kids soon!
Have you done any service projects lately? What Acts of Kindness do you do with your children? I'm always looking for ideas that can include my little ones!
Doing these Acts of Kindness with the kids has been one of the things that helps me get through the day. I think it helps me not be so bitter about what has happened to our family. If you are in a horrible situation like I am, I'd like to suggest your try to help another person somehow. It might seem like a crazy idea, when you can hardly help yourself, but isn't it worth a try? It doesn't have to be big, even just holding the door open for someone might be enough!
And that's what Me Plus 3 are up to TODAY!

If you want to hear more from Me Plus 3… TODAY!, click here to 'Like' me on Facebook! Then click here to follow me on Pinterest!

This post was featured at Mom's Library! 🙂

This post has been linked to: