This post of 10 Toddler Gift Ideas They Will Love contains affiliate links, from which I may make a small commission at no additional charge to you! Thanks for the support!
Has your toddler ever received a wonderful toy gift that they loved when they opened it, only to have it end up at the bottom of the toy bin, or pushed to the back of a shelf somewhere? Maybe they loved it and played with it for a day or 2 (or even just a few hours!), but the "new" factor of the gift quickly wore off.
Or maybe you rotate toys in and out of storage to provide a wide variety of activities for your toddlers. Are there some toys that go through the rotation that your children will barely play with and quickly become bored with?
Both of these scenarios happen to us more often than I'd like to admit!
As a mommy of 3 toddlers, who have received an excessive amount of toy gifts, I've noticed there are particular toys that tend to withstand the test of time! The kids will play with them over and over and over again. I never have to rotate them out. I'm pretty sure they play with them almost daily, or at least most days of the week. I have no idea what it is about these toys, but they just absolutely love them!
So if you are looking for toddler gift ideas for a birthday, Christmas, or any other occasion, I would highly recommend something off the following list! These toys will be the best value for you, because they won't just end up in the next garage sale, or the donation box!
*Note: This list is just my opinion based on personal experience and observation with my 3 toddlers. My twin girls started playing with most of these toys after their 1st birthday party, and still play with them now that they are almost 3. My son has been playing with some of these toys before he was even 1, and still loves them at age 19-months. Obviously likes and dislikes will differ among children. Also, please take into account the age recommendations and what you think your child can handle. I hope your toddler will love one of these toy gift ideas as much as my kids do!
10 Toddler Gift Ideas They Will Love!
By far, my #1 recommendation. These can keep the kids busy for a long period of time. We have the pink set
, which they all started playing with around 9 months of age, and have loved them ever since. Obviously in the beginning, they weren't the best at stacking, but they loved to watch me do it. Now the girls are making patterns and building "complex towers." I even bought a set as a gift for a classroom at their daycare. In my opinion, Mega Bloks
are the Best. Toddler. Gift. Ever.
Stacking Cups
are another toy that can keep the kids busy for quite a while. We actually have these cups that came in a pack with a shape sorter
. They like to stack the cups
up and then knock them over. Or they will line the cups
up, nest them together, and then un-nest them (take them apart) over and over again. But I think their favorite way to play with these cups is not in the way that was necessarily intended for this product. They love to put little toys in the cups
and then dump them out! They will also pretend to make food in them. So I guess not only does this gift idea help motor skills, it also promotes imagination in toddlers too! 🙂
I happened to find 2 of the Fisher-Price Rock, Roll 'n Ride Trike Vehicles
second-hand at a consignment sale. And I'm so happy I did! The kids want to play with them every time we go outside. They want to ride their "bike" everywhere. As a parent, this 3-in-1 trike bike
is awesome because you can get SO MUCH use out of it. With young toddlers, it can be set up as a rocker
(like a rocking horse) and used as an indoor toy. As your children get older, it then converts into a trike that an adult can push while the child rides (as shown in the image above). It has little platforms for their feet, and the seat is adjustable according to their leg length. Then, when your toddler is old enough, the push handle can detach so they can pedal themselves around! I think this gift idea would be big hit for any toddler (and parent) out there!
In my opinion, the Ball Popper
is one of the most annoying toys ever! And unfortunately, the kids absolutely love it! We happened to get the pink corn popper
as a gift, but Will plays with it all the time too. It's another toy that I wish I had multiple of because of the fights I have to break up over it! They pretend it's a vacuum, and they say, "Ready? It's going to be loud!" (which is what I say before I start the real vacuum). So if you choose this as a toddler gift, maybe purchase a pack of ear plugs
along with it!
Does this one even need an explanation? It seems like all kids love Play-Doh
. If you have no idea what to get a toddler, I don't think you can go wrong with giving them Play-Doh
! We don't have any sets, but the kids like to roll it up and smoosh little toys into it.
The options are endless for art supply gift ideas for toddlers! My kids love to color in coloring books or on paper with markers and crayons. They enjoy finger painting
or putting stickers on paper. Another fun option is stamps and a stamp pad
. Just look for something age appropriate in the arts and craft aisle, I'm sure they'll love it!
I hope you found this list of toddler gift ideas helpful! I've watched my kids enjoy many hours with the toys on this list, and I am sure there will be many more hours to come. I'm hoping you toddler loves them as much as mine do!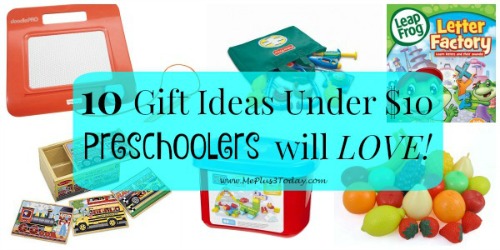 Amazon Prime
is a gift the whole family will enjoy! We've had our subscription for 2 years and love it! And they've just added new features that make it even better! Click here for details!