Thank you BuyGreen.com for sponsoring this post! All opinions are my own.
The holidays are here! It's the time of year for family gatherings, food, and presents! But along with those fun and enjoyable things, there can also be a lot of waste. After the many parties, trash cans are full of disposable dishes, product packaging, and gift wrap. And as someone who is passionate about the environment, this isn't something I like to see. I want to share that it is still possible to have a great holiday season, while being eco-friendly at the same time! I have so many ideas, I decided to split them into 2 posts. This is part 1, with 6 ideas on how to have a green Christmas this year!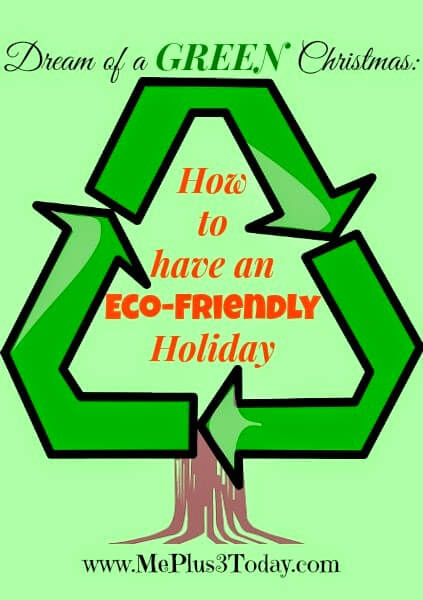 How to have a Green Christmas and Eco-Friendly Holiday
1) Get Creative with Wrapping
It always makes me so sad to see wrapping paper thrown in the trash. Is it really necessary to wrap a present in expensive paper? For me, it's not. I try to use re-usable gift bags or boxes whenever possible (in fact, I re-use bags that were given to us for other occasions). I will even use the kids artwork to create envelopes for gift cards. Another creative option is to use storage bins or baskets that the receiver will be able to re-purpose.
2) Use Eco-Friendly Wrapping and Cards
If the creative wrapping ideas from above don't appeal to you, then at least use wrapping paper and greeting cards that are made from recycled material. On BuyGreen.com, you can find several different wrapping paper designs that are made from 100% post-consumer waste paper and printed with soy-based, non-toxic ink. They also have a variety of holiday cards designs with the same features.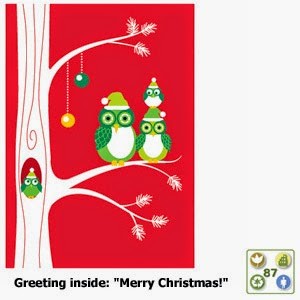 3) Purchase eco-friendly gifts
If you plan to buy gifts for family and friends, make them eco-friendly. You can check out BuyGreen.com, which only sells products that are good for the environment. BuyGreen.com actually has the proprietary Green Product Standard, which helps consumers better understand why a product is considered "green." For example, the My First Green Toys Stacking Cups has a Green Product Standard rating of 69. By looking at the information sheet, you can see how it is ranked based on materials, manufacturing, usage, and disposal. And remember, I said stacking cups are one of the 10 gift ideas that toddlers will love, so you might want to check out these out!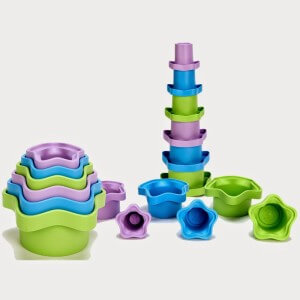 4) Purchase Second-hand Gifts
If you also want to save some "green" while having a "green" Christmas, then consider buying second-hand presents! My 3 kids under the age of 3 don't really realize that a toy isn't "brand new." So I actually purchased toys from Goodwill, Craigslist, and Facebook Garage Sale groups for Christmas and their birthdays. Not only is this a more sustainable option, it's also great for my budget!
5) Minimize presents and gifts
Instead of physical items, give experiences instead. For example, a zoo or museum membership. Tickets to a favorite sporting event, theater production, or movie would also make a great gift. When you really start to think about it, there are plenty of gift ideas that are not a tangible item.
6) Buy from eco-friendly companies
If buying a second-hand present, or an "experience" gift doesn't appeal to you, then do your best to purchase your gifts from eco-friendly companies. There are places like BuyGreen.com that are dedicated to helping the environment. Not only do they sell eco-friendly products, but they also run a sustainable business. They work hard to minimize their carbon footprint in all aspects of their operations, which makes them a great company to support!
The holiday season can be an incredibly busy time, but these 6 ideas for an eco-friendly holiday are easy enough that even the Santa himself could do them! 🙂
Now it's your turn! Tell me, what ideas do you have to make Christmas a little greener?
Follow my Reduce Reuse Recycle board on Pinterest for more green ideas!