Disclosure: For your convenience, this post of Gift Ideas for Preschoolers contains affiliate links from which I make a small commission at no extra charge to you. Thank you for your!
Are you looking for inexpensive, yet quality gift ideas for preschoolers? I've compiled a list of 10 toys that have gotten A LOT of use in our family. My twin girls are almost 4 years old and my son is 2.5 years old, and they all play with these toys almost daily!
Based on this experience, I am recommending them to you! These gift ideas would be perfect for preschoolers and older toddlers, with an age range of about, but not limited to, 2 to 5 years old. The best part is that each gift idea is less than $10! I hope your preschooler (and you!) have a lot of fun with these toys!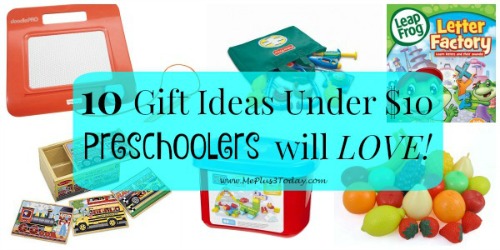 Note: At the time of writing, these items were selling for less than $10 on Amazon. Because prices fluctuate, please verify these items are still in your price range prior to purchasing.
10 Gift Ideas for Preschoolers Under $10
My kids love this. It's compact enough that I can put it in the diaper bag or even my purse when we got out. And it's the perfect size for their little hands. There is a new version of the Travel Doodle Pro that I am showing you here, but we have the old version
(which is a lot more expensive now!) This is definitely my top recommendation from this list of gift ideas for preschoolers under $10!
Anything that encourages "pretend play" is a perfect gift idea for preschoolers! I found a couple different options for play food that are each under $10, including this Melissa & Doug canned food set
that we have. My kids play with these items daily, making "lunch" for me, their lovies, each other, or whoever else they have imagined up that day. I love watching the scenarios they make up as they play with these toys.
Along with play food, play dishes are also a great gift idea for preschoolers. My kids have a lot of fun as they "set the table" while pretending to make dinner with their play food.
While all the kids have fun working on puzzles, one of my daughters in particular REALLY loves them! Melissa & Doug makes a variety of jigsaw puzzles with different sizes, piece numbers, and complexity (like the following 12-piece puzzle
, 24-piece puzzle
, or a 48-piece puzzle
). I like these because they are more durable than the cardboard type.
The doctor kit is a big hit in our home. Because of Doc McStuffins, they will give "check-ups" to their toys. They will also check me over and each other. It is super cute to see how much they know and watch them give pretend diagnoses to each other. This is another highly recommended gift idea for preschoolers!
OK, this isn't a toy, but my kids love watching this movie so I think it would make a great gift for a preschooler. Not only is it cute and entertaining for them, they are also learning as they watch it. My 2.5 year old son can now recognize most of the letters of the alphabet and knows the sounds they make as well! I highly recommend this DVD as a gift for a preschooler in your life!
Also note, for just a few dollars more, you can get a 3-DVD Set
, which includes the Letter Factory DVD, Talking Words Factory DVD, Let's Go to School DVD, and corresponding flashcards! Great deal!
My kids color multiple times each day. I have our coloring books and crayons in a low drawer that is easy for them to access. They will pull them out and spend a significant amount of time coloring a page. You can get a great deal if you purchase them as an "add-on" item when you spend $25 or more on Amazon. Coloring books and crayons definitely make a great gift for preschoolers!
Building blocks continue to be popular in our house! As my kids have grown older, their towers and other building creations have gotten more complex. We've had our set since my girls were less than a year old, and they STILL love them and play with them weekly. This 60 Piece Tub Set
is less than $10 and is a great deal!
My daughters are just getting into these cute little toys. They just love teeny-tiny things, so they love to hide these in little boxes or buckets, or put them in a line across the floor. They also like to make up pretend stories about the little figures. It is really cute. I just love how inexpensive they are!
These cars are just adorable, and they are a great deal if you purchase them as an "add-on" item when spending $25 or more on Amazon. They sing different songs and make different noises and sayings. If you have a track set, they will do even more that correlate with different parts of the track. But these cute little cars work well on their own, too! A perfect inexpensive gift for preschoolers!
**********
Who said quality gifts have to be expensive? With all of these gift ideas for preschoolers under $10, they are sure to be a big hit without breaking the bank!
I'd love to hear your gift ideas for preschoolers! Share your thoughts in the comments below!
If you liked this post, please pin it!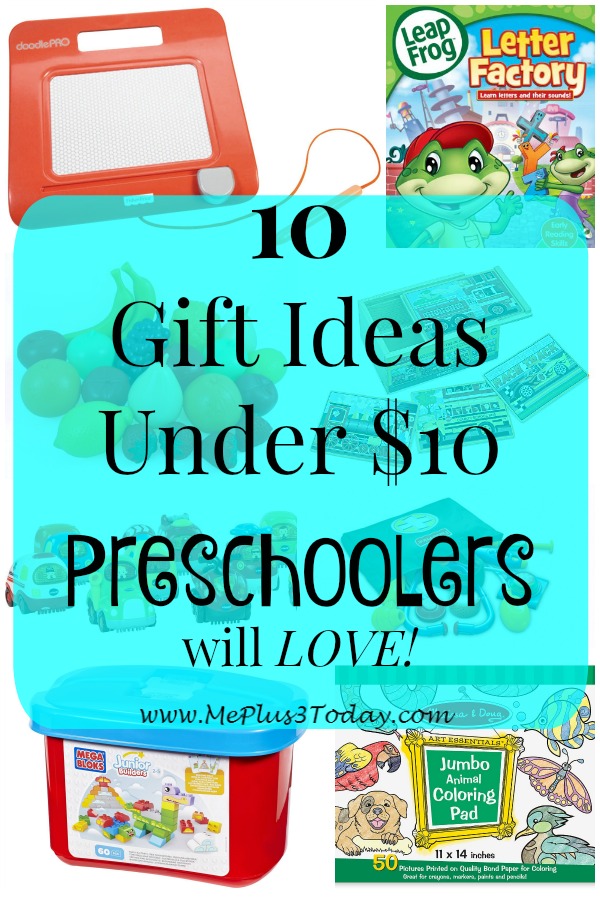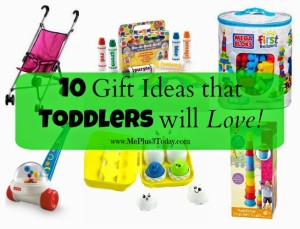 For more great ideas like this, follow my Gift Ideas board on Pinterest!
Follow Sarah @ Me Plus 3 TODAY's board Gift ideas on Pinterest.