Thank you MyRegistry.com for sponsoring this post! All opinions given are entirely my own.
Every day, I walk through our living room and look at all the toys the kids have. They have more toys than they know what to do with! But they aren't really old enough to want any more toys either. They just don't realize how much is actually out there yet. It's me who wants for them. Around Christmas, it's me making their gift wish list. It's me asking for more stuff for them.
But this year, I'm going to do something different. I am going to make a Christmas gift wish list for other kids. That's right. Instead of asking for gifts for my own children, I am going to ask family and friends to purchase a gift for a child out there who might not have the abundance of stuff that my kids have.
And I'm going to make it incredibly convenient for our family and friends by creating a Christmas gift registry on
MyRegistry.com
.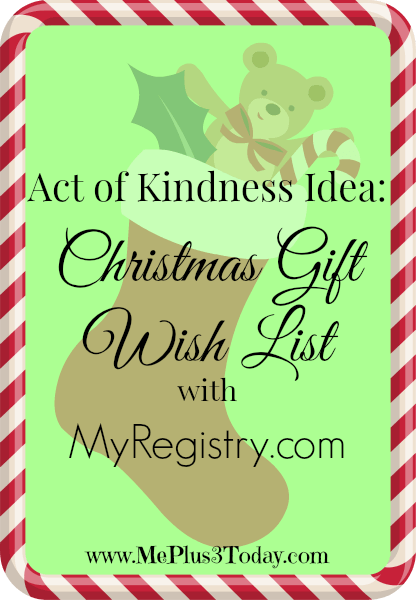 Yes, I could have just asked them all to just go out and purchase any toy for a collection bin somewhere, but I thought this would be a fun twist! It would make it a more tangible act of kindness for the kids and me.
The best part is, I can even get the kids involved. It will be nice to use
MyRegistry.com
because we can easily add items to it from
any
site on the Internet. So, I could sit down with the kids and browse Toys-R-Us in the convenience of our living room! I plan to ask them which toys they would like to give to other kids. I'm not sure if they will completely understand the concept, but it doesn't hurt to try!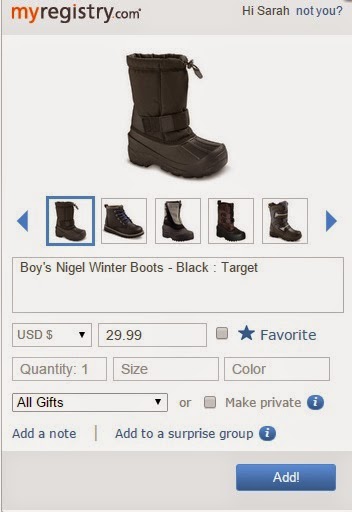 I also plan to look at local charitable organizations' websites to see what they need, and then quickly find it on any site like Amazon or Target and easily add it to our Christmas gift wish list registry.
The best part of creating a wish list on
MyRegistry.com
is how easy it will be to distribute it to family and friends. I can quickly send an ecard or a simple link. I can also share it on social media platforms, so our impact might even extend beyond family and friends!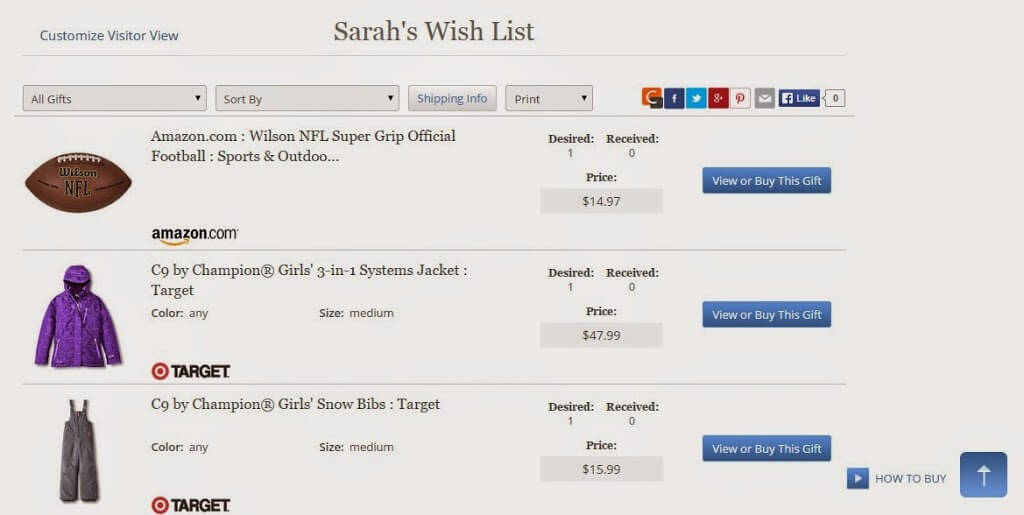 They will be able to see the list, be connected with the exact gift, and be able to purchase online. All without ever having to leave their house! Score!
Don't worry, I won't be a complete Grinch and get nothing for my kids. They will still get something small from me (or Santa)!
In fact, I actually do still plan to use
MyRegistry.com
to make a wish list registry for our family. But it will be because I am often asked what we need and I usually decline those offers. Having a wish list exist for our family will allow people to see what we need without ever having to ask. It will be nice to just have that out there, and we'll be able to avoid those awkward conversations!
I am also well aware that I won't be able to completely stop family and friends from purchasing Christmas gifts for the kids. But I thought this would be a unique way to give back this holiday season!
So, how would you use a MyRegistry.com wish list? Will you be creating one or buying from one this Christmas? Leave a comment and let me know!