This post contains affiliate links from which I make a small commission from purchases made.
The other day, each of my kids received a wonderful surprise in the mail.
A letter from Santa and a certificate explaining that they made the Official Nice List!!!

Seriously, it didn't come from me! I don't know who it's from, although I do have a suspect in mind… And that is what makes this so much fun and such a special treat!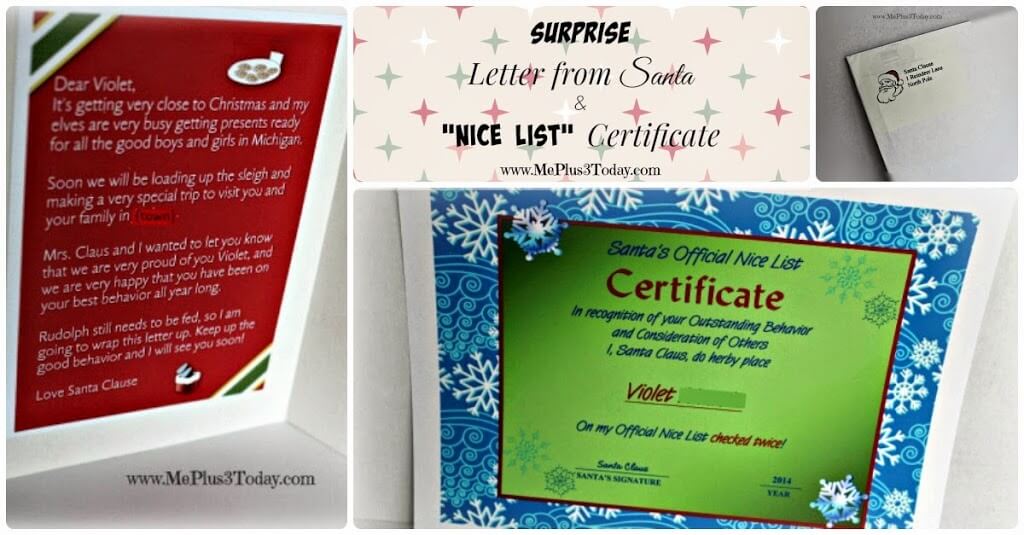 If you want to make another child and parent's day, surprise them by sending one of these out. And don't ever admit to doing it. The parent will always be wondering, and the child will be thrilled!
Here is what came in our mailbox for each of the kids:
There was one very large envelope
addressed to each child. The return address label
was from Santa Claus, who apparently lives at 1 Reindeer Lane in the North Pole… I wonder what the zip code is there? 🙂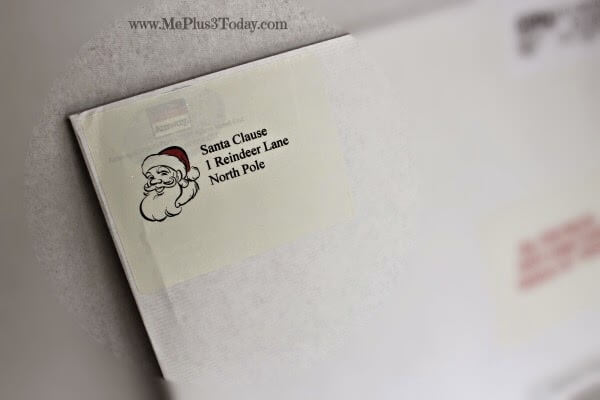 Inside the large envelope
was a cute Christmas card, with a personalized note from Santa. This is Violet's letter: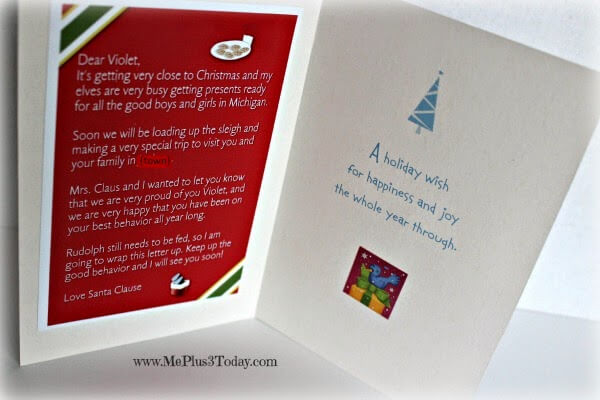 If you can't read the letter on the image, it says:
"Dear Violet,
It's getting very close to Christmas and my elves are very busy getting presents ready for all the good boys and girls in Michigan.

Soon we will be loading up the sleigh and making a very special trip to visit you and your family in ______. (Replace the _____ with the name of your town.)

Mrs. Claus and I wanted to let you know that we are very proud of you, Violet, and we are very happy that you have been on your best behavior all year long.

Rudolph still needs to be fed, so I am going to wrap this letter up. Keep up the good behavior and I will see you soon!

Love, Santa Claus"
How cute is that?!?! I was definitely surprised by it, and it was so much fun reading each letter to the kids.
Here is Violet's Official Nice List Certificate from Santa.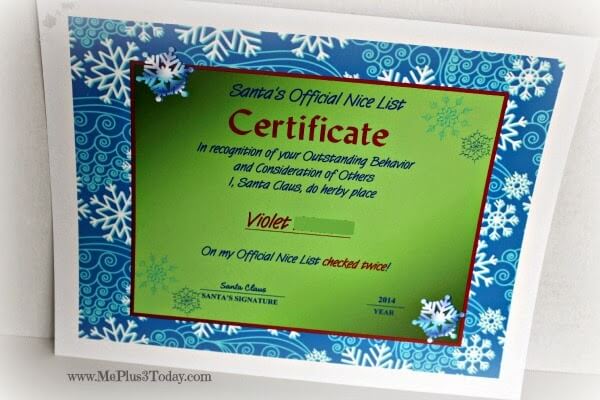 If you can't read the image, it says:
"Santa's Official Nice List
Certificate
In recognition of your Outstanding Behavior and Consideration of Others,
I, Santa Claus, do hereby place
Violet
On my Official Nice List checked twice!"
In one corner is Santa's signature, and in the other bottom corner is the year.
Fun, right!?! The certificate was even on fancy photo paper
, very professional looking. 🙂
And because I'm so sentimental, of course I am going to keep it in memory box for them! I hope they make the Nice List next year too!
My kids LOVED getting mail that was just for them. And it was exciting that it ended up being a personalized letter from Santa!
I think this would be a great surprise gift, or even an anonymous act of kindness for a child you may know! And I'm sure you will enjoy listening to their parent wonder who this letter from Santa came from!
And if the person who sent this to us is reading this, thank you so much! We all loved it! 🙂
So tell me, have your kids made the Nice List this year? 🙂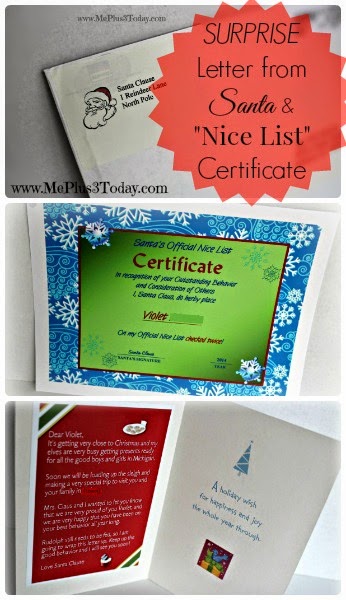 If you liked this you might want to check out the following posts:
Find more ideas like this on my Christmas Food & Fun board on Pinterest.
Subscribe to Me Plus 3 TODAY's Newsletter
Still looking for gift ideas? Give the Gift of Amazon Prime!