Disclosure: For your convenience, this post with Ways to Help a Retail Employee this Holiday Season contains affiliate links that support Me Plus 3 Today at no additional cost to you. Thanks!
The holiday shopping season is in full force! Are you ready to handle the parking lots, the crowds and lines, and the sales? If you think shopping during this time feels hectic, imagine what it must be like working through it all! What customers encounter is only a snippet compared to what the employees must endure. So I felt this was the perfect time to focus my "How to Help" series on retail workers!
If you are new to my blog, the "How to Help" series goes along with the acts of kindness I like to share. It is all about focusing on specific professions or types of people in the world, and highlighting ways to help! I interview people from those particular groups and summarize their answers, so the rest of us can do our best make a difference in their lives! Click here to read all of the "How to Help" series posts.
For this post, I interviewed several people who have worked in retail positions ranging from sales associate to manager, and from small, local business to major department stores. They're from industries including clothing, fine jewelry, banking, and beyond! I used their answers to write the following tips on how you can help a retail employee this holiday shopping season. These real answers from real employees will help you to really make a difference for them!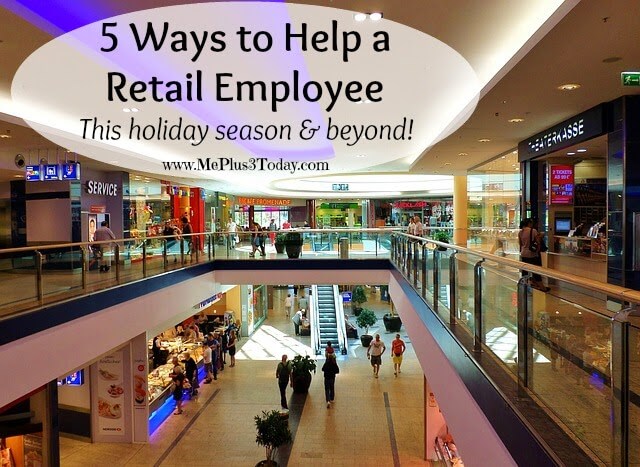 5 Ways to Help a Retail Employee
1) Don't forget your manners
From the responses to these interviews, it sounds like some customers often forget their manners when they are out shopping! And it is not only towards the sales associates, but also other customers! Remember to say please, thank you, and excuse me. Avoid interrupting or trying to talk over another shopper that an employee is already helping. Refrain from using your cell phone while you are asking a worker for assistance. These common courtesies help to make the day easier for the employee, and shoppers alike!
2) Be patient
Shoppers come out in droves during the holiday season. And while there are many customers, there are not as many employees available to help them all at once. So along with remembering your manners, also remember to be patient. A calm and patient customer will help a retail employee and makes it a little easier for them to do their job.
3) Return items to their appropriate spot
One of the interview questions I asked the retail employees was what they do to help when they are the customer? The majority of them said that they return items to their appropriate location. So if you pick something up and later decide that you don't want it, take an extra minute to bring it back to where you got it from. If that is something most of the employees will do when they are out shopping, then it clearly must be something that they would greatly appreciate when they are working!
4) Start shopping early
A few of the employees mentioned customers coming in at the last minute and in an extreme hurry. The stress and frustration of last-minute shopping would often get taken out on the retail worker. They also had customers blame them for being out of stock of sale items after the sale had been running for several hours or even days. It is important to remember that the sales associates aren't likely in charge of how much stock is available, so anger should not be directed at them. Your best bet is to avoid the stress of last-minute shopping all together by starting early! It will be good for you, and good for the retail employees!
5) Say "Thank you"
If you had excellent service, let the associate know! A simple "thank you" can go a long way when they've had a long day dealing with stressed out customers. You could even take it a step further by letting their boss know how much you appreciated their hard work!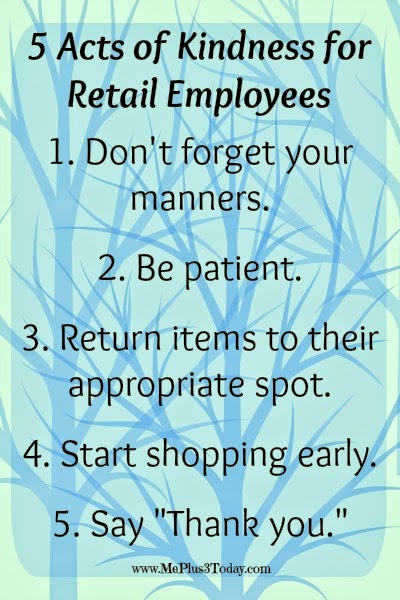 Hopefully while you are out shopping in the hustle and bustle, you will remember these tips to help make retail employees' jobs just a little bit easier!
I also encourage you to remember that it's the holiday season! It's a time to be merry and to spread good cheer! Retail employees and all the other shoppers are people just like you, and therefore deserve to be treated politely and respectfully. "So be good for goodness sake!" 🙂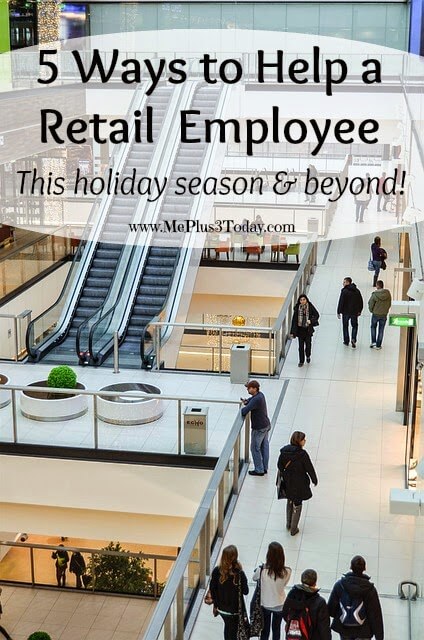 Follow my Acts of Kindness & Service Projects board on Pinterest for more posts like this!