Hi Everyone, I am Natasha and I blog over at
Epic Mommy Adventures
, where I share the ins and outs of being a single parent and sharing advice to other single parents. But I write about so much more – potty training, family fun, toddler adventures, learning and growing as a person – and I even share a few link ups and giveaways to connect others.
In celebration of National Work & Family Month, I'm here today to share my guest post on learning how to balance a full-time job and parenthood, especially when you're a blogger.
Thank you so much to Sarah for inviting me to share my post here this week.
Balancing Work & Life When You're A Blogger
When I started blogging almost 2 years ago, I was in a very relaxed job which didn't impact my life greatly, and work & life was balanced. It made blogging a great way for me to release my stress and anxiety about being a single mom and raising a then rambunctious 1-year old – blogging became my therapy.
Within a couple of months, I started a new job which was extremely demanding. I had expectations on the project that I was working on, and high expectations from the organization itself.
In time, my home life started to suffer (my mom was diagnosed with cancer and I had no time to provide her any support, my son was growing by the minute, and what was a decent co-parenting relationship started to crash and burn – everything was falling apart), and my blogging definitely started to suffer too. I got to a point where I was ready to just give up on my blog. But how could I? It was the one free source of therapy that I had, where I could share my honest thoughts and be able to connect with and help others that may be going through similar situations.
But even with blogging, I was starting to feel the pressures of all that comes with blogging – the e-mails, the ad space, monetization, social media, the communities. It all became too much.
So I decided to make some changes in my work, life, and blogging to balance all 3 successfully.
Step 1:
Prioritize what's important to you.
What's important to me first and foremost is my family, specifically my son and my mom. Although I realized the importance of earning an income, if there is no family to make it worthwhile, then it's just a source of much frustration.
Since blogging has been an important factor in my life for quite some time and has helped me through quite a bit, I have to keep blogging as a high priority in my life but not necessarily at the forefront.
So it was easy to prioritize what was important to me, it was just trying to figure out what to do next.
Step 2:
Take time to reflect.
Taking time to reflect was a huge step for me. I needed to pinpoint the things that were triggering my stress and anxiety.
Was it really the stress of the incredible expectations of the job? Or the overwhelming stress of everything else that was going on around me? If I didn't take the time to understand what was going on, then it would only continue to create more stress, rather than reduce it.
A part of the reflection included blogging about it. I got so much amazing advice and shared experiences and love and support by blogging about what was going on in my life. It truly made me realize that I shouldn't stop blogging.
Step 3:
Devise a plan…and stick to it.
It was so important for me to devise a plan, and start making some meaningful changes in my work and life to create the balance that I was seeking.
After the period of reflection, the plan became even simpler. I needed to make a big move for my family, possibly taking another job or trying to figure out a way to earn an income without sacrificing my family, taking advantage of the weekend more to be an active parent, and much more.
When it came to blogging, I had to find ways to allow myself to get back to writing again. Maybe I should get a virtual assistant or just giving up on anything other than writing, including social media.
I needed to take the time to devise a plan and start the step to move forward.
Step 4:
Take action…and move forward.
The plan was starting to take form, and I was ready to take action. So what did I end up doing? I decided to take action with everything in my life
First, I decided to make some big moves. I decided to leave my then current job. That was definitely a step in the right direction. Although I would miss my coworkers dearly, I needed a job that could be demanding and challenging, but allow me the flexibility needed to start relaxing and enjoying my life again, and most importantly giving me some time for myself. And I was able to find that by returning to an organization that I had worked previously, but just in another capacity. Working at this organization also offered me 2 days to work from home, which was very relaxing. I am able to stay at home, relax, and still get work done. On my work from home days, I wake up later in the morning, eat breakfast with my son, and get a few things done before dropping him off to school. It allows me that extra quality time I was craving with my son.
That's also an important aspect that I failed to mention earlier. With all of the stress and anxiety about everything else, I failed to realize the need for me to have time for myself. I decided to repair that, and start making time just for me, somehow.
I have also learned that you cannot control it all. I can only be there with my mom to support her through her illness. I cannot feel the need to control it all and make decisions for her as though she did not have a handle on her situation. I needed to be there and support her through this. And that's exactly what I did, and I am doing.
Another situation that I cannot control is the status of my co-parenting relationship with my son's father. I cannot force a relationship between my son and his father. I can only be the best mother that I could be for my son. So I have forgiven my son's father for his lack of involvement and I've moved on.
In regards to blogging, I decided to hire 2 virtual assistants – one is my friend that was looking for some help and to learn more about blogging (she helps with creative thinking and some administrative tasks), as well as someone that was recommended to me (she focuses on promoting my posts on social media). This has been the exact thing that I needed to help me start focusing on blogging again – the one thing that allowed me peace and release.
What I've learned is that if you want to create a balance between your work and life (and blogging), it requires a lot of work and effort. Although it may seem like only a short period of time expired from Step 1 to Step 4 – it actually took an entire year…and counting. But in the end, the experience can truly bring forth the peace and relaxation that you need to create work/life balance, and a better more fulfilling life.
~~~~~~~~~~~~~~~~~~~~~~~~~~
Natasha blogs over at
Epic Mommy Adventures
, where she shares her every day epic adventures as a single mom to her son, and shares tips for other single parents to navigate the ins and outs of parenthood. She is a contributor to the
Mother of All Meltdowns
, an anthology focused on the adult-sized meltdown, and a board member of the
International Bloggers Association
, which focuses on helping bloggers expand their audience by providing opportunities to share and be shared by other members of the community.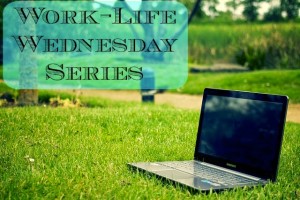 ******************************************
Make sure you stop by every Wednesday during October to read a guest post about balancing work and life. If you don't want to miss it, subscribe to have the weekly newsletter from Me Plus 3 TODAY delivered straight to your inbox!