Have you been to a doctor's office or hospital lately? Then chances are you've come in contact with a nurse.
Have you ever thought about what that nurse does all day? Have you ever wondered what simple things you could do to help him/her?
Yes? No? Maybe?
Well, I have thought about it.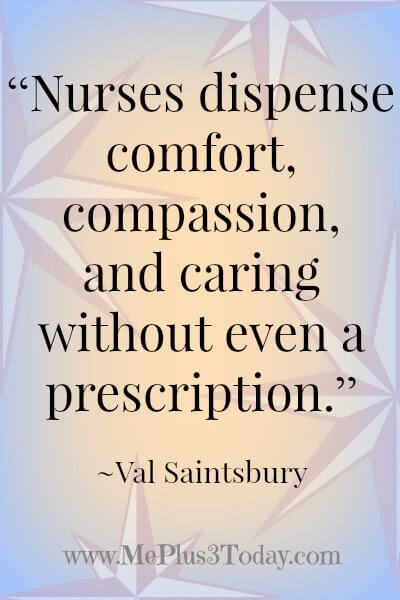 But it didn't happen until I was in the hospital after giving birth to my twin girls. It felt like the nurses did EVERYTHING! I was shocked, and I actually felt a little guilty about what they were doing for me.
Every time a nurse came in to my room, they asked if I needed a drink. They offered not only water, but pop and juice as well. If I said yes, they would go out to where ever the drinks were and bring me one. So my nurse was also my waitress.
And this might be offensive, but after giving birth, things tend to be what we so lovingly referred to as a "crime scene." Lets just say there was a mess in the bathroom, and my nurse cleaned it up. She also changed my linens as needed. So she was my maid too.
Plus she had to do everything that I would call "Nurse stuff." Like take my blood pressure, give me my medicine, check my c-section incision, and other TMI things that any woman who has given birth would understand.
Ever since then, I thought nurses deserved what little bit I had to give to make their job a little easier.
So for my second post in my "
How to Help Series
," it's all about helping nurses! I'm pretty excited because I heard from A LOT of nurses, that work/worked in a variety of fields, and there was
A LOT
of overlap in what each individual had to say. So that leads me to think that these tips are pretty accurate, and will make a nice impact on nurses out there!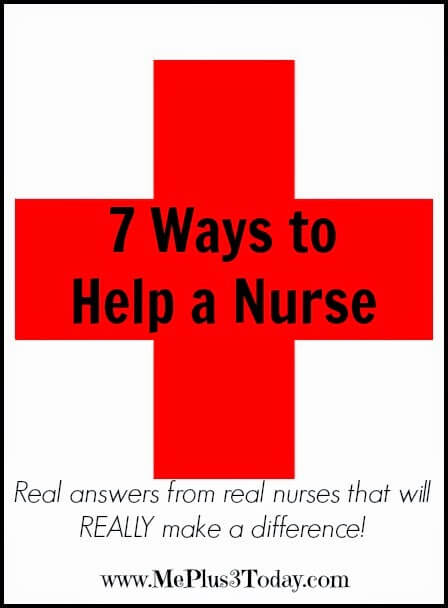 1) Communicate
Every single response to my questionnaire had something about communication on it. Patients, their families, and nurses are all on the same team. It's important to work together to achieve the best possible care for the patient.
So if you don't understand something, it's OK to ask. And if you still don't understand, ask again or ask another nurse. They might explain it in a different way that will make more sense to you.
Bring forth any concerns you might have in a respectful manner. Inform the nurses of needs, expectations and any issues you might have. And if you're frustrated or upset with something they've done, talk with them about it instead of silently being angry. This will help prevent misunderstandings between everyone.
If after trying to open the lines of communication, you and the nurses still aren't seeing eye to eye, then speak with the Nurse Manager or the Patient Advocate. They are all there to help and ensure that you're getting the best care.
2) Be Honest
This was another very common response from all the nurses I heard from. Remember, the patient's health (whether that be you or a friend/family member) is being dealt with. So do not lie. And that includes purposely omitting information because you don't want to share it. Tell the whole story.
The nurses need to know this information in order to provide the best care. They are there to help, not to judge. So be as accurate and honest as possible when sharing your medical history and information. By being honest in the beginning, it will save time in your overall treatment.
Similarly, you do not need to get defensive when the nurses ask certain questions. They ask everyone these questions, and it's important that you answer truthfully. If you are with someone that you don't want to know these answers, or you fear they might hurt you if you tell the truth, try to pull a nurse aside to speak to privately. They will do everything they can to help you and keep you safe.
Also, I just wanted to share an exact quote from one of the nurses: "We're not going to call the cops because you smoked a joint before you came to the ER." I'm not completely sure, but I'm pretty sure patient privacy policies give more details on issues like that. If anyone reading this could clarify, I'd appreciate it! (Or maybe I should start actually reading the patient privacy notices that I sign at the doctor's office!) But I wanted to put that out there, to stress the importance that it's OK to be honest! With everything!
3) Be Respectful
It bums me out that I even need to include this. Isn't treating others with respect something that we should all be doing, all the time? But unfortunately, it's another one that came up often, especially from the few Emergency Room nurses that I heard from. I understand that in the ER emotions are running on high, but do your best to not take that out on the nurses.
It can be difficult for nurses when they only hear complaints or the patients/families have nothing nice to say. So avoid being rude, and instead be polite and respectful when voicing your problems (as mentioned in #1 above). Remember that nurses are people just like you, and they are trying to help you as best they can. So use common courtesy and treat them as you wish to be treated!
Also, respect that nurses have a job to do. When he/she enters the room, quiet down and move out of the way to allow ample space for them to get around.
4) Follow the Rules
As I'm writing this, a little part of me feels like I'm writing the basic principals taught in kindergarten… But again, a lot of "rules" showed up in the responses to how patients and their families could reduce some of the challenges nurses face. Remember, the rules aren't met to frustrate you, they are for the health and safety of ALL patients, not just you (or the one you are with).
So, follow the set visiting hours. Limit the amount of visitors at each time in order to reduce any rowdiness and congestion in the room that could prevent the nurse from doing his/her job. Keep the volume of your voices low. Do not adjust any equipment. Get permission from a nurse before getting the patient out of bed, bringing food from home, or giving the patient any food.
I'm sure there are many other rules, and more specific rules, depending on each location and situation. So read them and follow them, for everyone's sake.
5) Be Patient
Pun not intended… 🙂 Remember, there are more patients than nurses. Depending on the situation they may not be able to immediately respond to your request, so you may need to wait. You can help alleviate some of the wait time by informing the nurse of all requests at one time. That way he/she won't need to spend so much time running back and forth between your room and others.
6) Participate in Treatment
Unfortunately, nurses can't do everything for you, so it's important to be involved in your treatment. They appreciate when patients actively participate in their recovery. By communicating (#1), learn what care you are supposed to be receiving. Ask about the medications being given prior to taking them. And report any changes in the patient's condition immediately. Not only can this help the nurse, it is also a benefit for you to ensure you are receiving the best care possible.
7) Say "Thank You"
Like communication (#1), every response said that a simple "Thank you" can go a long way! So take a second to show your appreciation with those kind words or a nice comment.If you want to go even further, you can show your appreciation by writing a thank you note or mentioning the nurses name in a positive comment on your discharge survey. Bring them coffee, cookies, or even lunch! If you think they are doing a good job, let them know, it might just make their day!
Miscellaneous Tips : I really wanted to share these 2 pieces of information but I wasn't sure which category to put them in. One of the ER nurses wanted to point out that it is important that you (or the patient) not eat anything on the way in to the ER. They may have to run tests that require an empty stomach. However, it is OK to have medicine before heading in. For example, you do not need to leave your child with a 104 degree fever just to prove that it is that high. It is OK to give them something to bring it down.
These are just a few ideas on how to help a nurse. They work hard for the benefit of your health. So the next time you are somewhere with nurses, remember these incredibly simple actions that can help make a nurses job just a little easier.
And that's just a little bit from Me TODAY!


Do you have a suggestion on a specific type of person or a profession for a "How to Help Series" post? Leave me a comment, or contact me to let me know!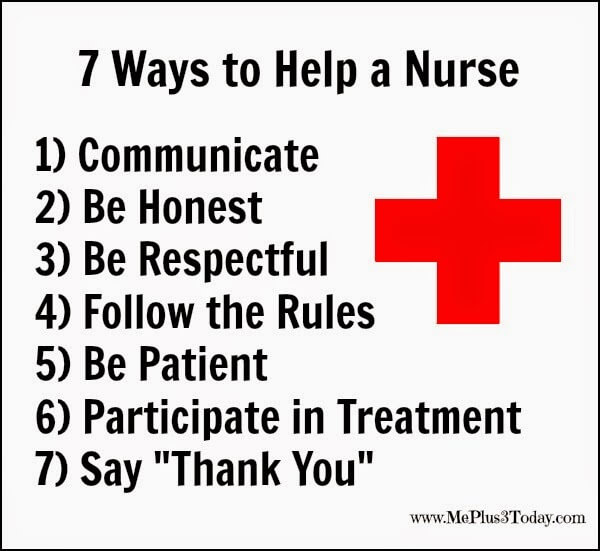 Looking for more great ways to help? Follow my Acts of Kindness & Service Projects board on Pinterest!