Where were you on September 11, 2001?
The answer to that question is often a status update on social media on each anniversary of that horrific day.
In fact, I'm sure it's been my Facebook status at least once over the years.
For a lot of us, we were in our homes, in our car, at school, at work, hundreds of miles away… And it really is something we will never forget.
While all our lives were changed that day, we were also probably still able to quickly resume a "normal" life.
But I want to take a moment to think about those directly involved. Those who lost a loved one. Those who were successfully evacuated. The first responders that helped so many people. And countless others…
The people who lived through it.
I want to take a moment to think about where they were.
Their lives were shattering, while I sat in the comfort of my dorm room watching the events unfold on TV.
Their hearts were breaking, while I took a shower.
Their families were being torn apart, while I drove to the gas station to fill up my car.
As you can see, where I was is not important. That is not what matters on this day.
They are who matter today. Definitely those whose actual lives were lost, but also those whose "living lives" were lost.
All of those people who were there.
So if you are one of those people, this is what I have to say to you:
Today, I will try to share your pain and try to understand it, although I never fully will. I will remember how much you still hurt, and how your lives were never able to return to normal.
Today, I will remember where you were. And what you were going through.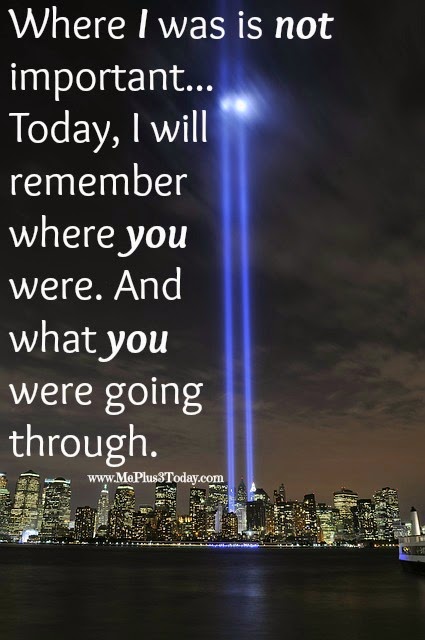 I know there are no words that I could say that would truly provide comfort. I wish I could do more, but I just want you to know that someone out there is always thinking of you. You are not alone.
And that's just a little bit from Me TODAY!