*Post contains affiliate links. Read full disclaimer here.
I've been browsing Pinterest and reading A LOT of different blogs lately, in pursuit of becoming a better blogger. It's fun and I'm reading a lot of interesting tips for parenting and some great activity ideas for the kids!
And it has also made me see that I'm not the only one struggling with this rollercoaster of motherhood.
I'm not the only one who struggles with yelling at their kids.
I'm not the only one who gets incredibly frustrated when their child won't put their shoes on.
I'm not the only one who has twins who bite and hit each other.
I'm not the only one who endures a tantrum from their toddler at least once per day.
I'm not the only one who experiences sleepless nights.
I'm not the only one who can't manage to keep their house clean.
I'm not the only one who questions their parenting skills.
I'm not the only one who has picky eaters.
Which leads me to:
I'm not the only one who doesn't always feed my kids the most nutritious food out there…
This week's challenge was "Mommy's Meals." The idea was to capture the Mommy Reality of serving up something you probably would NOT brag about. The food you serve behind closed doors because you don't want anyone to know that you aren't the perfect mom.
It made me feel SO GOOD to see these other mommy's posts!
I'M NOT THE ONLY ONE!!!!
Since I am trying to take my "mask" off and show the truth behind what our life is like, I thought this was a perfect challenge to join!
So, here is the Mommy Reality I'm going to share. It's not actually a meal, it's snack time from a few weeks ago.
On this particular day, I was totally being Mom of the Year because I was actually running around like crazy trying to get ready to go out with friends that night! I hope you can "read" my sarcasm…
Yes, I was basically requiring the kids to have a lot of independent playtime so that I could pack a bag and get things arranged because I was going on an OVERNIGHT outing with some friends. I don't get out much, so I'm justifying my lax in parenting because this type of thing doesn't happen often… 🙂
Anyway, I made the mistake of leaving the pantry door open, which meant easy access for little hands… When it came time for snack, the girls ran over to the pantry and started digging in. They were able to grab a box of waffle cones and a bag of
Tostitos
.
Once they had those items in their hand, there was no changing their mind. That is what they wanted for snack!
Yes, I could have said "No," taken the stuff away, and served them up the raspberries I had in the refrigerator instead.
But ya know what? I just DID NOT feel like dealing with the tantrum that would cause. They hadn't spent a lot of time with me that day, so they were already on edge. It would have been a big one…
So I just rolled with it.
Here's Violet enjoying her waffle cone and
Tostitos
for snack. But hey, at least she's drinking water… That balances this snack out, right? 🙂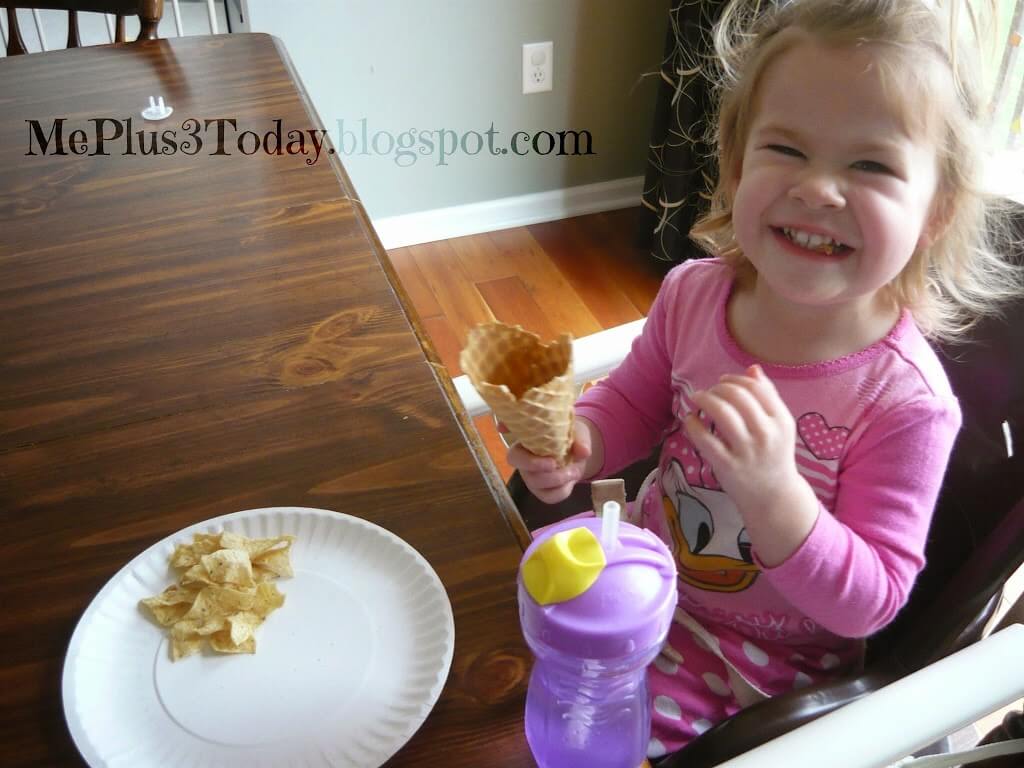 Charlotte isn't as thrilled about getting her picture taken… But she still loved her waffle cone! (cough also drinking water cough cough making myself feel better cough…) 🙂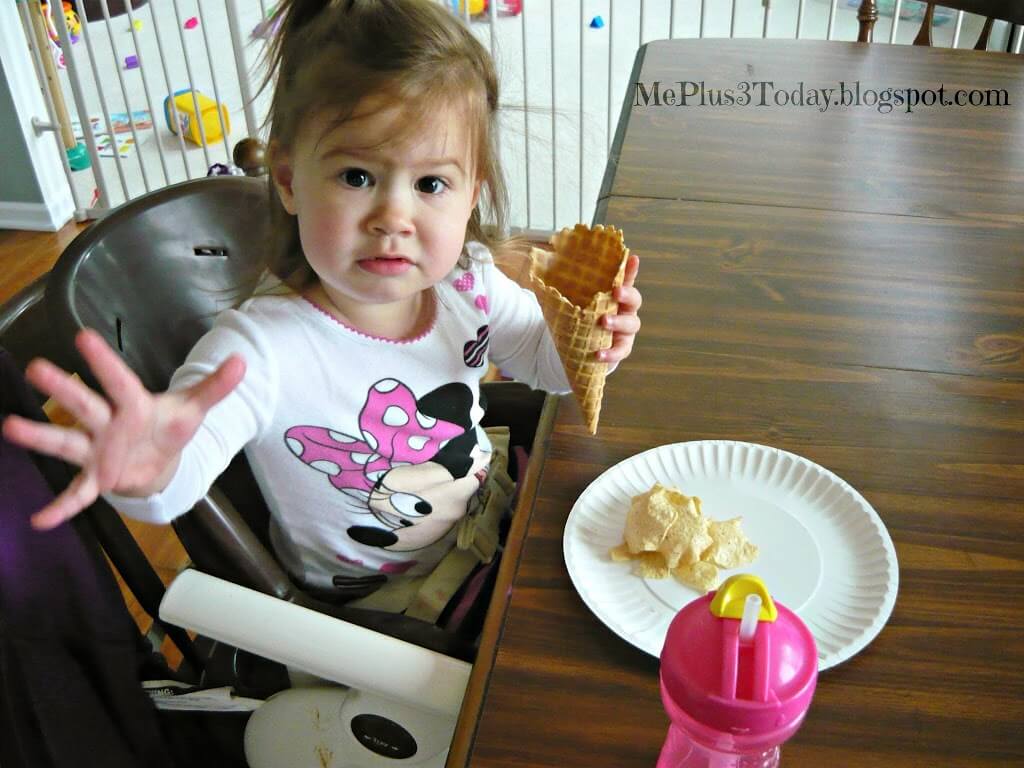 Will wasn't as independent then as he is now, and he didn't really care about what he was having for snack. So I gave him Veggie Straws
. It has the word "veggie" in it, so it makes me feel better about giving them to him… 🙂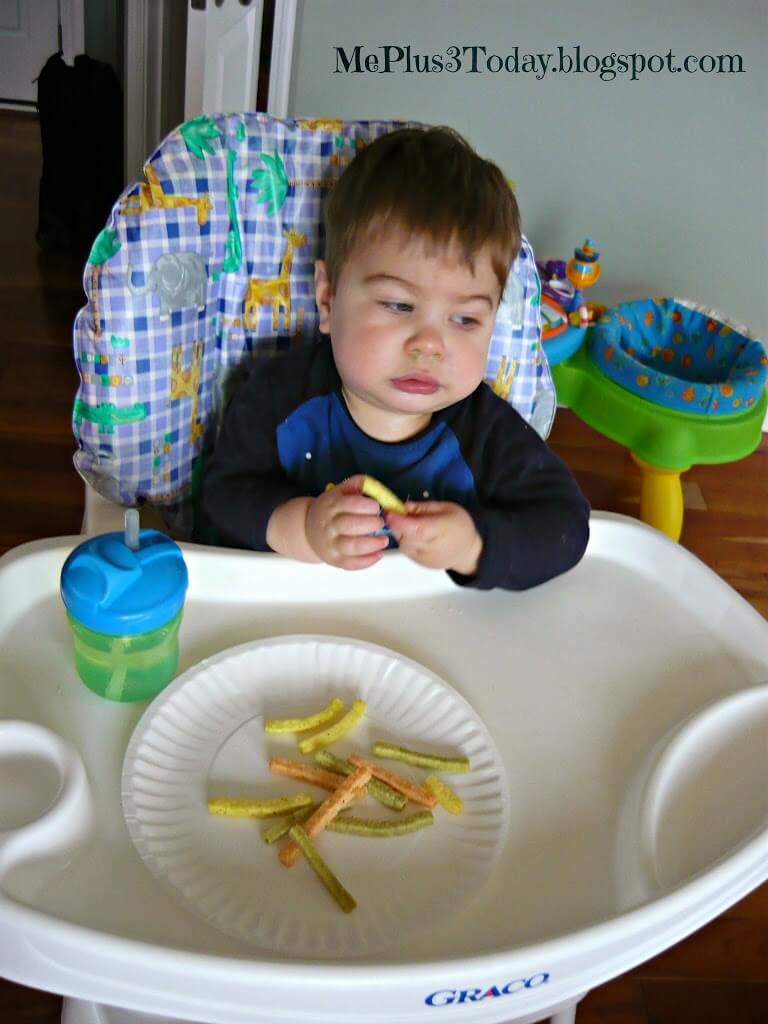 Oh, and here's a bonus picture of them enjoying their awesome snack, with another dose of Mommy Reality in the background, like
I talked about in my No Makeup Selfie post
… Yes, that is the 'Happy Birthday' sign from Will's party still up on the wall. My excuse was that we were going to celebrate his birthday for the entire month of April… This photo was taken in May…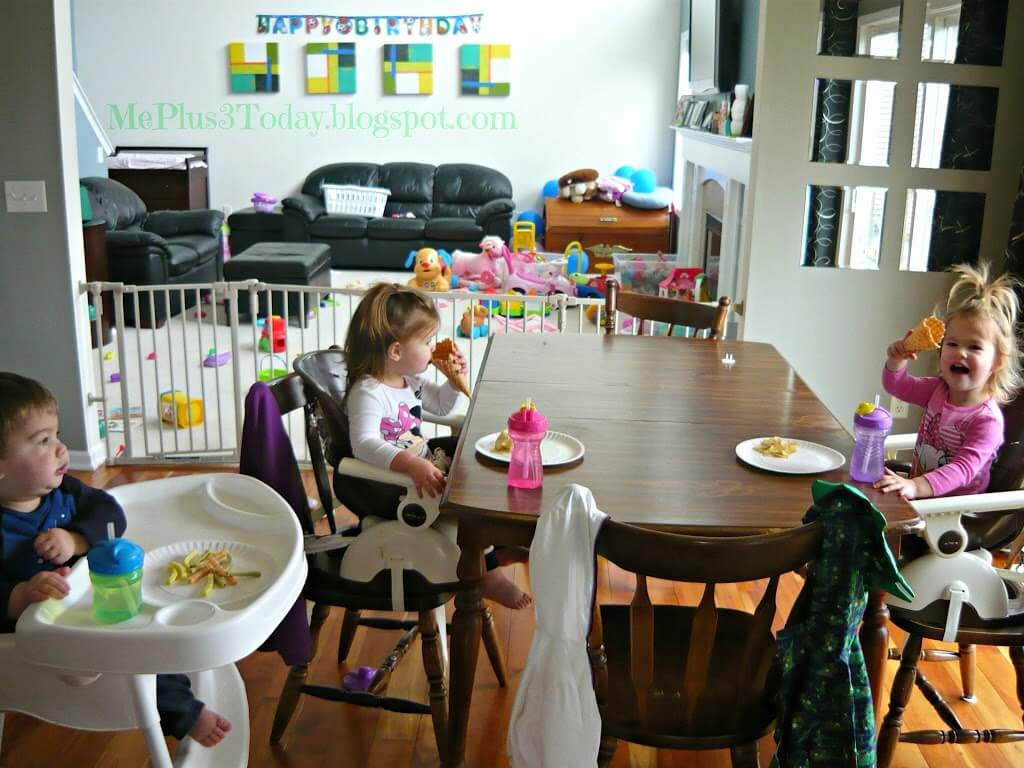 So there you have it! My Mommy Reality = waffle cones &
Tostitos
.
What Mommy Reality meals or snacks have you served your kids? Let me know in the comments below!