Well, Father's Day is coming up…
Hallmark holiday or not, it's still one of those "firsts" that I have to get through.
Not only do I have to endure this holiday dealing with the loss of the father of my children, but I also lost my own father in 2009 when he passed away unexpectedly from dilated cardiomyopathy. So, I think it goes without saying that it's NOT my favorite holiday.
After losing my dad, Father's Day had a gloomy feeling to it. We still tried to remember my dad, but obviously, it just wasn't the same. However, when we had our own kids, I was looking forward to making it a happy day for Chaz.
So for the past 2 years, I tried to create something special for Chaz, from the kids. Mementos that he'd look back at and cherish once the kids were grown. But now he's not going to have that opportunity…
So what am I to do with these things now?
Yes, these were gifts for Chaz, but I don't want them to get packed away just because he's not here to enjoy them! So I am taking them to MY desk at work to proudly display them.
And I just wanted to share each of these little keepsakes here, in memory of Chaz, who was an awesome daddy. Plus, I thought they would be a great reminder for everyone to take the time to appreciate the dad's in your life, on Father's Day, or just any day of the year! I know it's a cliche, but life is just way too short to wait!
I hope you find these ideas inspiring and consider doing something similar.
I also plan to write about what we are doing for this year's Father's Day also, so stay tuned!
*Post contains affiliate links. Read full disclaimer here.
Father's Day 2012:
The top picture was made at daycare for Chaz. Unfortunately, the glass on the frames got cracked somewhere in transit, so I need to get new frames for these.
The bottom picture is what I made for him. This was my FIRST TIME EVER doing feet prints from little babies. The girls weren't even 6 months old when I made them. It was a MESS! At that time, I didn't know that "less is more" when it comes to using paint for footprints/handprints. I had put them in the exersaucer so they were "standing," put their foot in a glob of paint, and then put it on a piece of paper. So it took quite a few tries to finally get some "good enough" footprints, although these are still a little smeared.
I found the poem from something I pinned on Pinterest. It lead me to the blog Fun Handprint Art where she had this Footprint Keepsake Gift for Dad. You can read the poem there. I highly suggest you check out her blog because I think she has an infinite amount of ideas posted for hand and feetprints!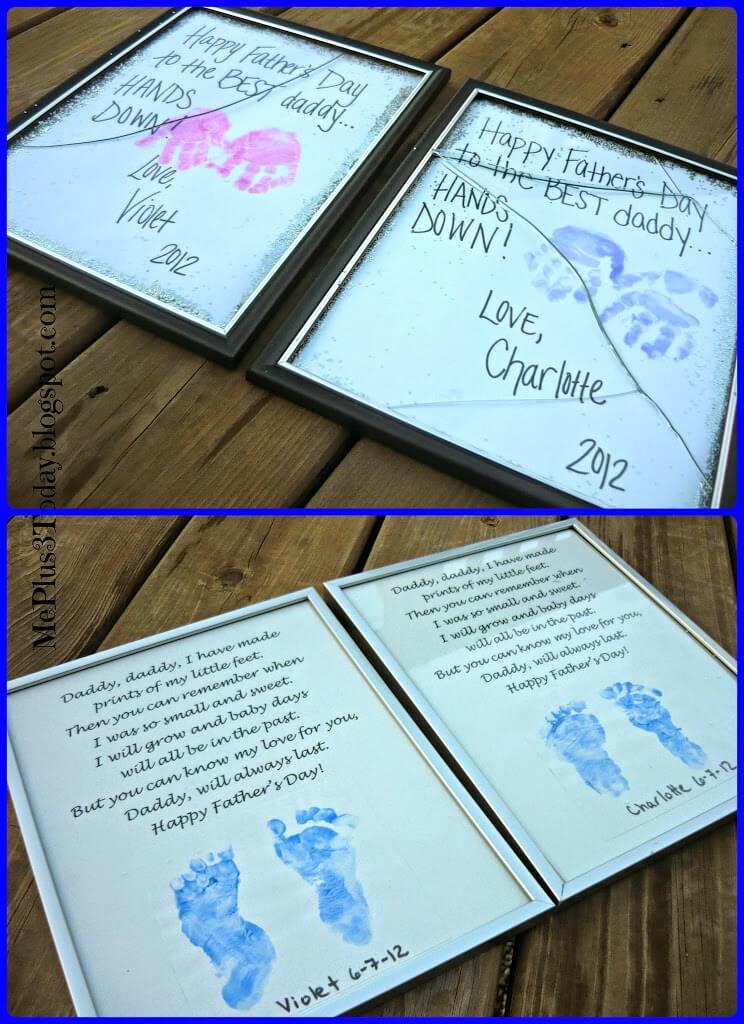 Father's Day 2012
I was also inspired by A LOT of different pins on Pinterest to create the 'DAD' photo collage below. Again, the girls weren't even 6 months old when I was taking these pictures, so they weren't really able to sit up on their own yet. 🙂 So it definitely took quite a few tries to get some decent shots. I just love Charlotte's face in the middle picture with the 'A'!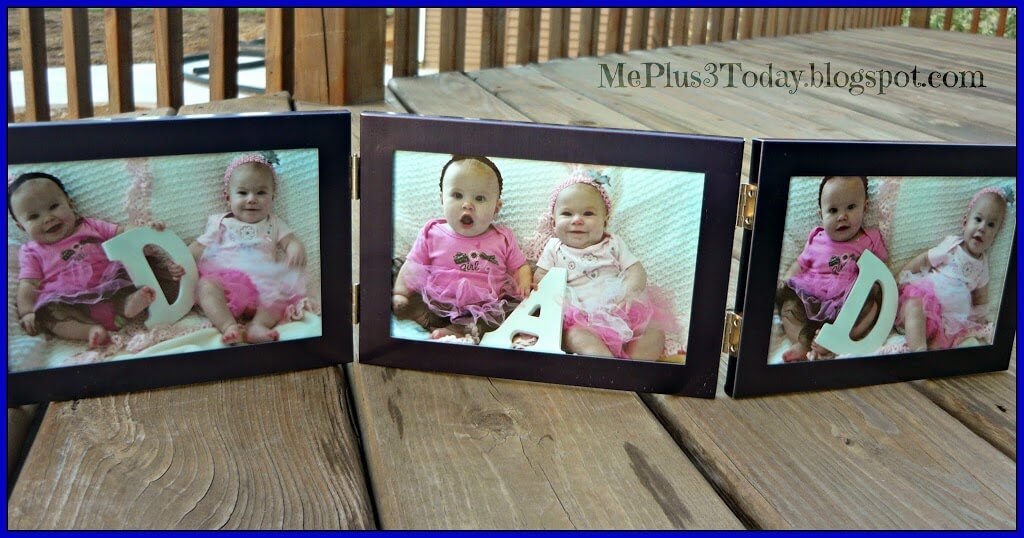 And this leads me to Chaz's second Father's Day…
Father's Day 2013:
This is Chaz's gift that was made for him at daycare. He loved it! He thought the girls looked adorable. And we both laughed at the fact that Charlotte needed her blanket in the picture too! 🙂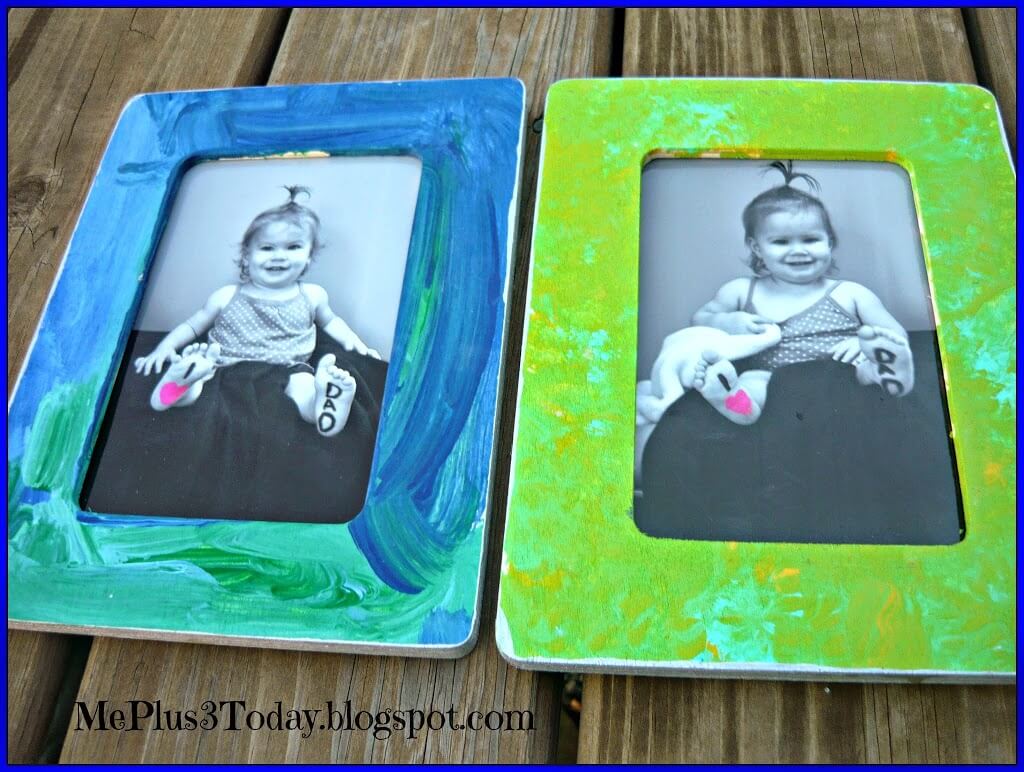 I did a few different things for Chaz last year. First, there was a great promotion going on at treat.com, so I ordered him a personalized photo card. It turned out super cute, at least in my opinion… What do you think?
This is the front: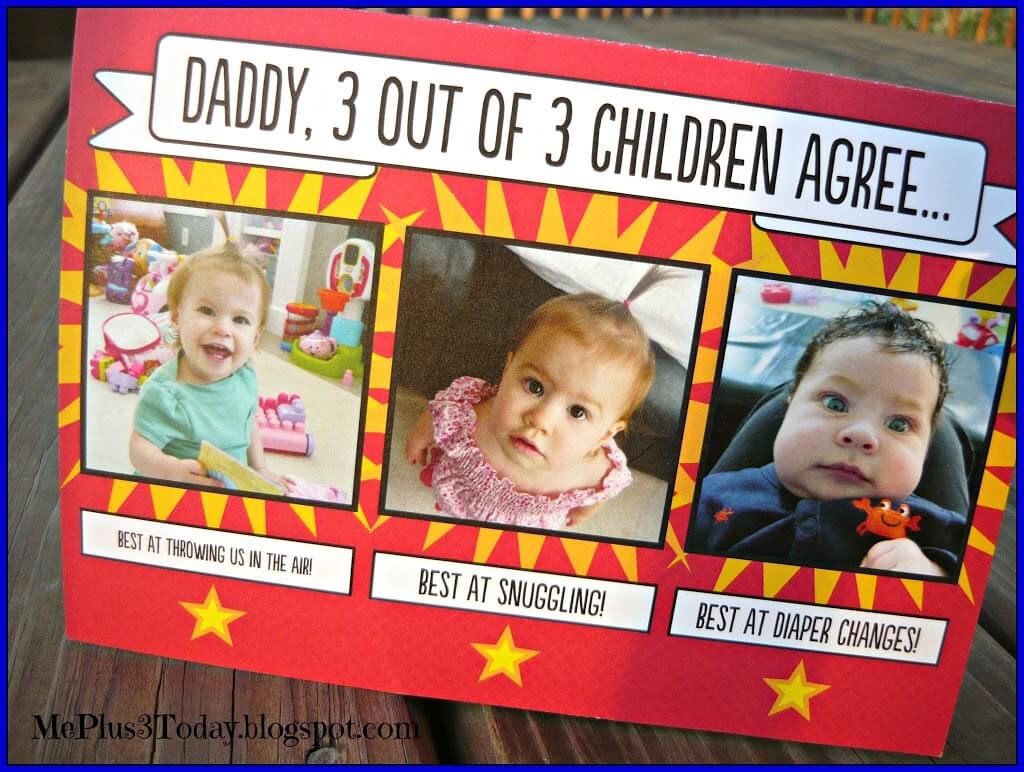 And here is the inside: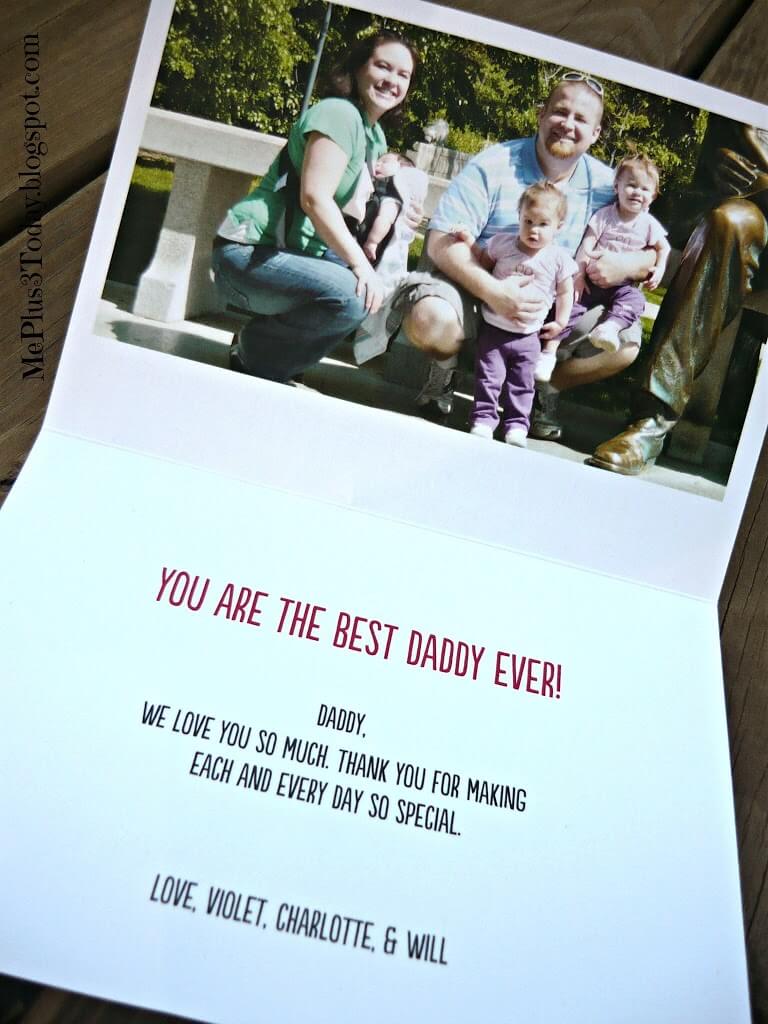 If you thought this card was cute, you can order your own personalized Father's Day Greeting Cards from Treat. Or for any other occasion too! [Affiliate. Thank you for your support.]
Treat.com also created this adorable promotional video with kids talking about their dads. I feel like I always see companies create videos like this for moms but not often for dads. But maybe that's just because I'm a mom so I notice them more… 🙂 Anyway, I just wish the kids would have had a chance to get to know their daddy like these kids…
[Affiliate. I receive a very small commission each time this video is viewed in it's entirety. Proceeds support Me Plus 3… TODAY! Thanks!]
I was scrambling to get his gift ready last year for some reason, so I had to throw all the pieces together while he was taking Will for a walk one evening. So, instead of the keychain that I had intended on creating, I guess it ended up just being some kind of wall-hanging-decoration-thing… 🙂
But at least he would know how big our kids' feet were on June 6, 2013… 🙂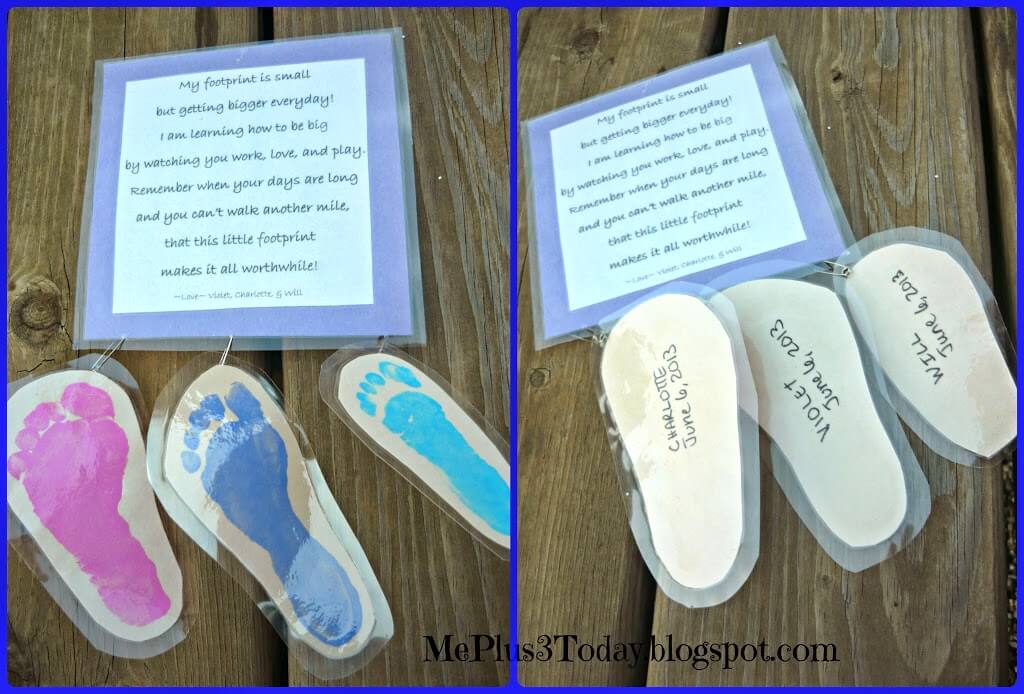 Finally, I also decided that EVERY YEAR I was going to take the same 'DAD' picture as the one I took for his first Father's Day for part of his gift. That way he could see how the kids grew and changed over the years. In 2013, we also had Will! So now we had a child for each letter in the word 'DAD'! Perfect! 🙂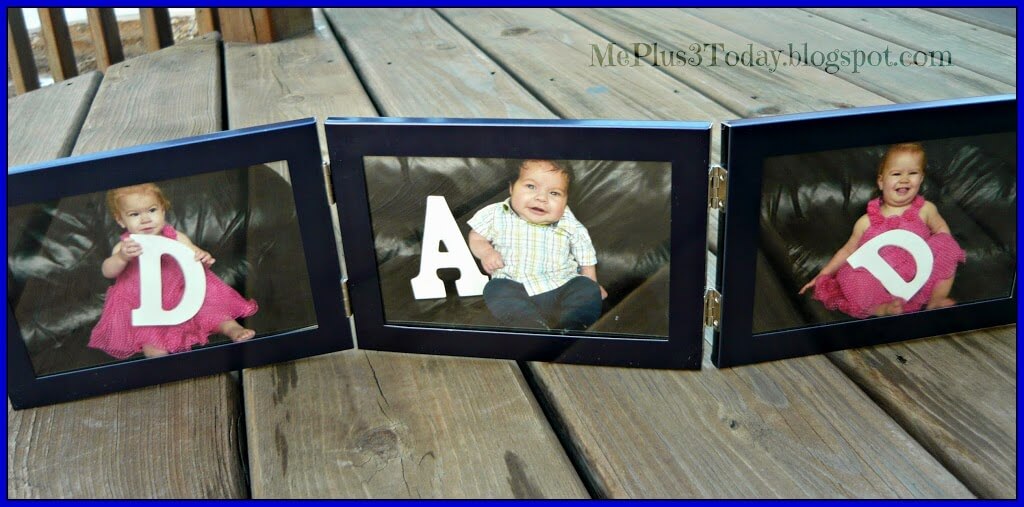 Well, I guess that's everything… Sigh… As always, I just wish Chaz was here to continue to appreciate these simple gifts…
And I wish he would be enjoying whatever I would have pulled together for him this year. But like I mentioned earlier, I do plan to write about what we are going to do for Father's Day 2014.
How do you make Father's Day special for the dad's in your life? Is there anyone else out there in a situation similar to mine, and how do you handle this holiday?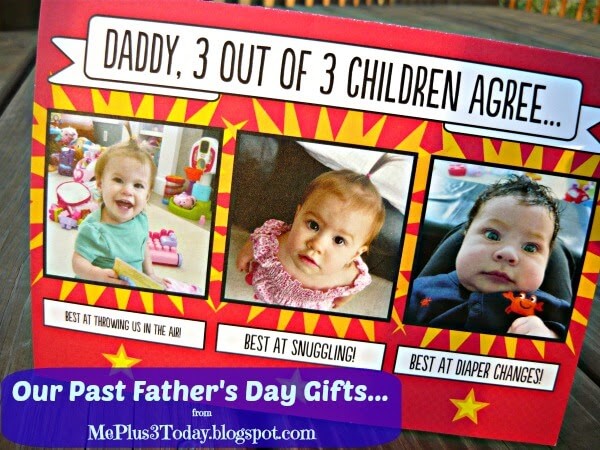 And that's what Me Plus 3 are up to TODAY!
If you want to hear more, make sure to:
Click here to Like Me Plus 3… TODAY! on Facebook.
Click here to follow Me Plus 3… TODAY! on Pinterest.
You can also follow via RSS or subscribe to have posts sent to your email. See the links at the top of the sidebar! Thanks!