*Disclosure: Post contains affiliate links.
As I'm sure many of you know, last week was Teacher Appreciation Week!
And if you didn't know, well, now you do! 🙂
I think Teacher Appreciation week is usually the first week of May. I know I usually begin thinking about it when spring starts to roll around.
As always, I pin LOTS of Teacher Appreciation gift ideas (you can find my board by clicking here). But it's always a little tough, because right now, our teachers are daycare teachers. And sometimes it seems as if all the great ideas out there don't necessarily apply to them.
But there are some really GREAT ideas out there. I am always amazed by how creative people can be. And I can always find something that can work for our situation.
This year, I am really, REALLY THANKFUL for the teachers at our daycare center. They have been so incredibly supportive and helpful since Chaz died. I never ask for special favors, even with our horrible situation, but they continue to go the extra mile for us.
It's really difficult bringing 3 toddlers (and for several months, it was 3 kids under the age of 2!) in and out of the building. And "difficult" is really an understatement…
I actually have to use a stroller for Will because he's gotten too heavy to carry. Plus I am juggling their bags of "stuff" (blankets & sheets for nap time, and in the winter there's also boots and snow pants). And if I have to bring in diapers or wipes, oh man, I am just a circus act going in there!
But the teachers are always offering to hold the door for me. Or to stand with the girls while I put Will in his car seat. Or to carry our bags out for us. Or to make sure the girls already have their coats/hats/mittens on when I come to pick them up. And so much more!
Plus there was the amazing Mother's Day gift they brought to me…
So yeah, I definitely wanted to do a little bit extra this year to say "thank you."
In years past, I bring in one little treat on Wednesday (our last day of the week at daycare) for just the kids' teachers. But this year, I decided to bring in a little something EVERY DAY that we are there, and I wanted to bring something in for ALL the teachers at the center, because they ALL have helped us in one way or another.
And so I did just that!
The kids attend daycare 3 days per week, so I decided to make this a 3 Part Series for our Daycare Teacher Appreciation Gifts. Here is Day 1.
Don't forget to check out what we did for Day 2 and Day 3 too!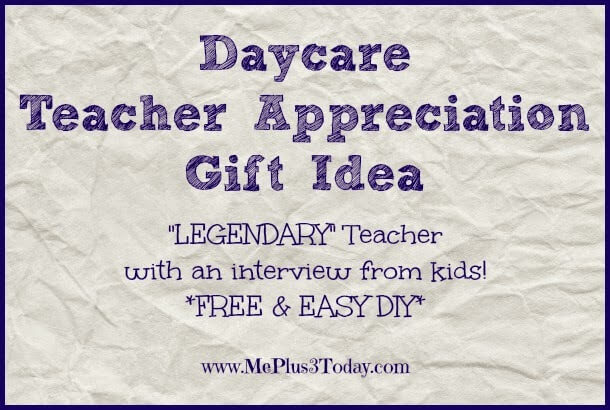 Daycare Teacher Appreciation Gift – Day 1
I'm on a budget, of course, and with 3 or 4 teachers per classroom (2 classrooms total, one for Will, one for the girls), that could get pricey pretty quickly!
So for day 1, I did something that was FREE. And I wanted it to be something from the kids, because they are with the teachers all day, so they should be grateful for all that they do for them. They should really be appreciating their teachers just as much as I do!
But obviously, the kids are age 2 and 1… It's not like they can pick out a gift themselves, or write a "thank you" note. So of course I helped!
I had each of the kids put a finger-paint handprint
on a blank 4×6 index card
. Then I wrote the words "High Five to a LEGENDARY Teacher!" using a metallic silver Sharpie. These were all materials we already had at home, so that is why I consider this little appreciation gift to be FREE. 🙂 Not only was it was free, it was EASY as well!We use "high fives" as a reward in our family a lot. The kids get a high five for going potty on the potty. Or for getting in their car seat right away without fighting me. Or for sharing and using good manners. Or anything else that deserves a little recognition! 🙂 So I figured the teachers should get a "high five" for a being so great to the kids!
And are you a fan of the show "
How I Met Your Mother
?" If so, then you'll know where I got the inspiration for the second part of the phrase on the cards. 🙂 But if not, I suggest you check it out! If you have
Amazon Prime
then you can watch in on
Prime Instant Video for FREE
! I loved that show, and Chaz and I used to watch it together!
Here's all of our cards for the teachers! (As you can see, Will's handprints were a little bit of a struggle to get, so we have a few paint smears… Oh well, I think they are still cute!)
Again, since this is supposed to be from the kids, I wanted to include a note about what the kids like about their teacher or why they appreciation them.
But like I said, ages are 2 and 1… That's not necessarily the easiest information to get out of them!
So, on the back of Will's card, I just wrote "thanks" for some specific things they do for him during the day, like changing his diaper, feeding him, wiping his nose, giving him hugs, playing with him, etc.
But I did try with the girls! I "interviewed" them over the course of a day (only a question or 2 at a time, so they wouldn't get overwhelmed). I had hoped that I would have specific interviews for each teacher, but it ended up just being a combination of all of them. I had to be pretty specific about the questions I asked…
But some of the answers were still pretty darn funny. I typed it up exactly as it was said, even if the answer made absolutely zero sense, and gave it to the teachers along with their handprint cards.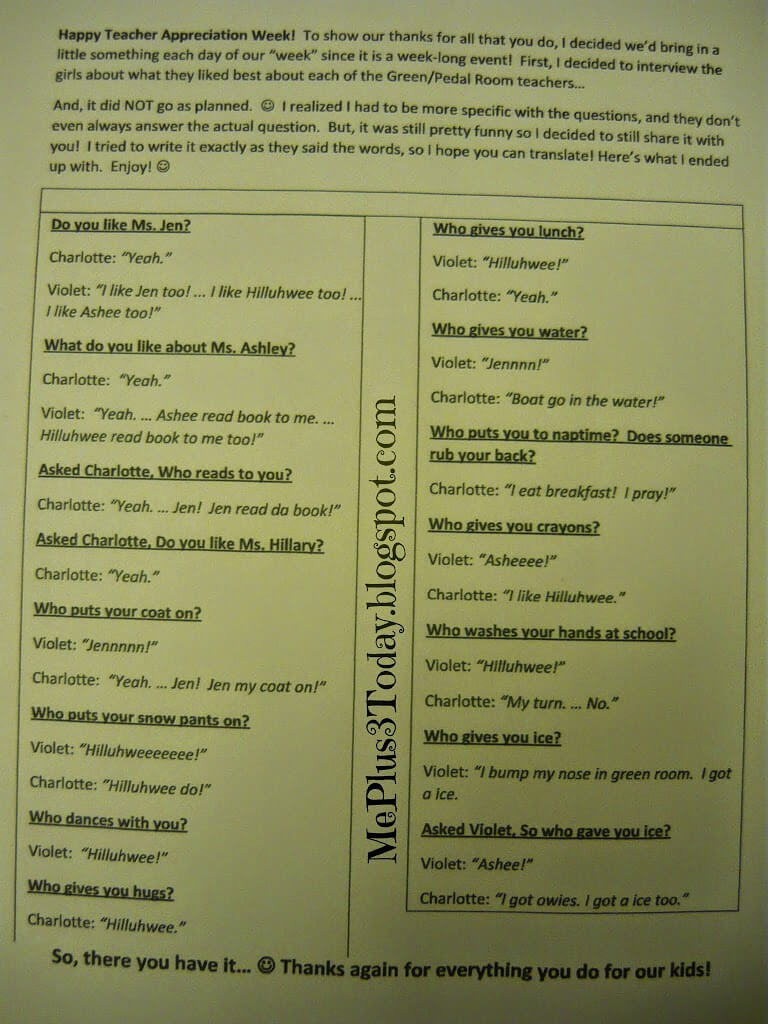 So, there you have it! Day 1 of our 3 part Daycare Teacher Appreciation Gift Series! A "high five" handprint for legendary teachers and an interview from toddlers! Just what every teacher wants, I'm sure! 🙂
Do you do anything for Teacher Appreciation Week for your daycare provider? We have a few more years left at daycare, so I'd love some new ideas!
And if you liked this teacher appreciation gift idea, pin it please! 🙂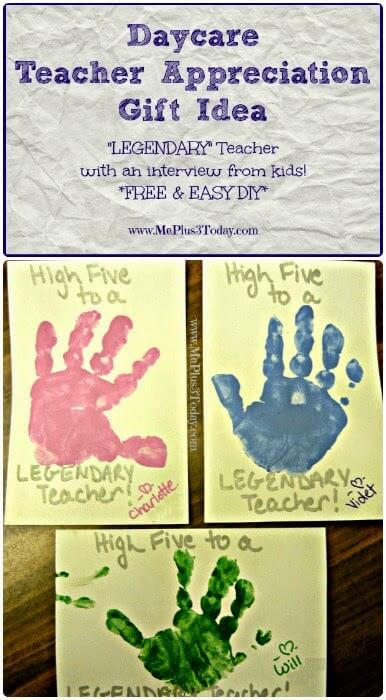 And that's what Me Plus 3 are up to TODAY!



If you want to hear more from Me Plus 3… TODAY!, click here to 'Like' me on Facebook! Then click here to follow me on Pinterest!



This post has been linked to: