Welcome to the 2nd installment of my 3-part Daycare Teacher Appreciation Gift series!
You can get a little more background about why I am writing 3 installments by reading Part 1 of this series. But in a nutshell, I wanted to do a little something for our teachers EVERY DAY of our 3-day week at daycare to show just how thankful we are for what they do! So, boom! Three parts for 3 days! Makes sense, right? 🙂
Well anyways, this is what we did for Day 2 of Teacher Appreciation Week. Make sure you check out what we did for Day 1 and Day 3!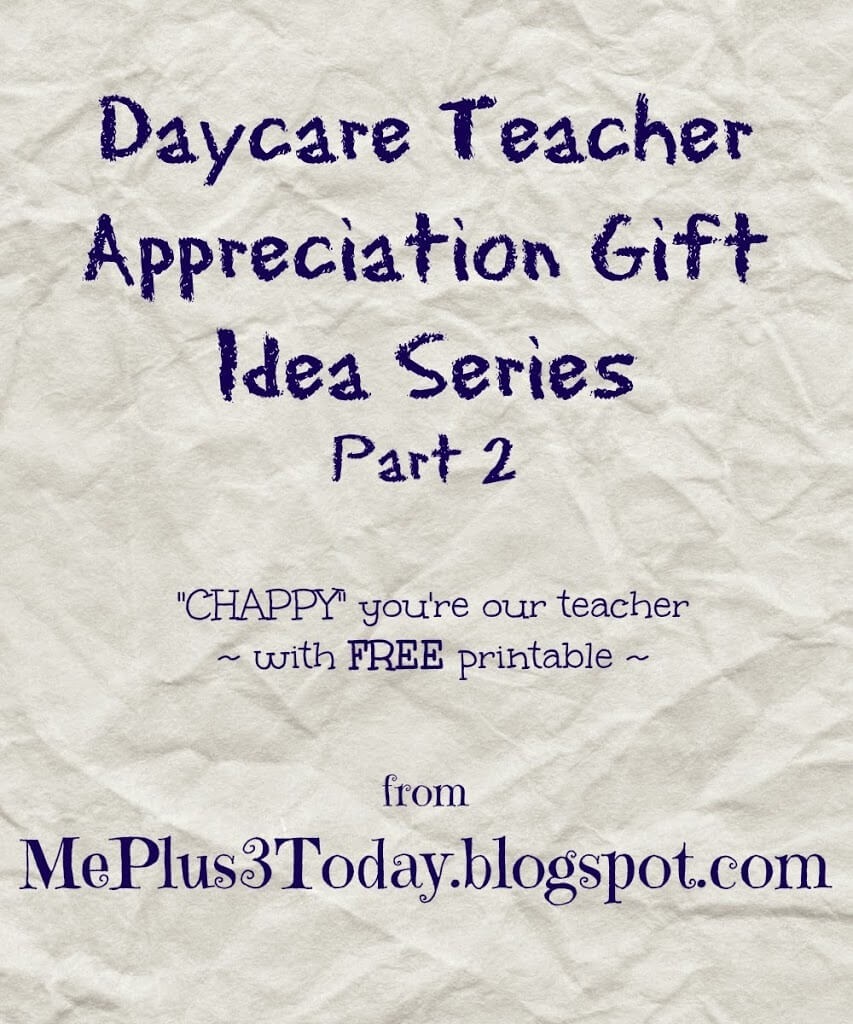 I put together these little cards that held a lip balm (that I did a little DIY customization to), and it said We are so "CHAPPY" you're our teacher ! This one was plural because it was from both Violet and Charlotte.
I also put together one from Will that is in singular form. 🙂
So, what do you think? 🙂
I know I'm a little biased, but I thought they turned out kind of cute, for someone who is a lazy crafter! 🙂
First, I was inspired to do a little DIY customization to the lip balm (I say lip balm because isn't Chapstick a trademark or brand name?) from this super cute pin I found on Pinterest. It lead me to the Infarrantly Creative blog, where they posted a super simple tutorial on How to Make Glittered Chapstick.
I thought adding a little glitz and glam would make this really simple gift feel just a little more special!
I had purchased a bunch of these lip balm packages during the after Christmas clearance at Meijer. They were only 50cents per pack making each lip balm only 25cents! So these little teacher gifts were still very inexpensive, and right on budget for me!
I didn't have the fancy glitter tape that was used in the Infarrantly Creative tutorial, but I did have some shiny, glossy, laser tape that I got from the dollar store! Ooo la la, right? 🙂
I basically did the same thing they did in the tutorial, but with my cheap-o tape, and… Voila! Some seriously pimped out lip balm tubes! 🙂
For the actual card, I was inspired by another idea I pinned on Pinterest, which were these super cute "Merry Kissmas and Chappy New Year!" printable cards from An Organized Family. I actually made these cards this past Christmas and gave them away to our mailman and a few co-workers, like I talked about in my previous blog! They really were cute, so pin her blog to be ready for next Christmas!
Well, as you can see in her tutorial, she just printed out the card on cardstock paper, and cut 2 slits to slip the tube through.
I didn't have cardstock on hand, so I improvised… I printed on regular paper and glued it (just using a regular old glue stick) to the 4×6 index cards that I talked about in the Day 1 Teacher Appreciation Gift. Maybe it wasn't as neat as if I'd printed on cardstock, but I think my method worked out OK! 🙂
And this is how all 6 of the "CHAPPY" you're our teacher cards turned out! They're cute, right?
Well, if you think these cards are cute, then guess what? I made a FREE printable for you! It's my first time ever sharing a printable, so I hope this works! Please comment or email me if you are having any issues and I will try to resolve them ASAP!
Also, please note that these are for PERSONAL use only and cannot be sold or distributed in any way besides directly visiting this blog post. You are welcome to share this post or write about it, just please send people back to this post and give proper credit to Me Plus 3… TODAY! Thanks in advance! 🙂
OK, I made one for each version, the plural and the singular. So choose what works best for you! And note, these will not print with my watermark on them, I just included that on the blog post images. 🙂
So, that's what we did for Day 2 of our Daycare Teacher Appreciation Week. They were simple and easy to make, and really inexpensive too, since I had purchased the lip balm on clearance!
Do you give gifts to teachers during Teacher Appreciation Week? What about daycare teachers? What gifts have you given them? I'm always looking for unique ideas!
And if you liked this Teacher Appreciation Week gift idea, please pin it!


This post was featured!