As a young widow, I've been a single mom for most of the kids' lives. My husband, Chaz, passed away when our twins were 19-months old and our son was 4-months old. Raising the kids after losing Chaz has been, and will likely continue to be, the most difficult thing I ever do in my life.
With the kids being so young when they lost their daddy, they obviously didn't understand the concept of death yet. And because of this, I never knew how to handle their "grief." Unfortunately, I know that as I struggled with my own grief, I did not always do my best to keep their daddy fresh in their memories. I took advantage of the fact that they were way too little to understand and mostly just completely avoided the topic with them.
As they grew older and I got better at managing my emotions, I started talking to them more and more about their dad. I always knew that losing him would drastically change the way they grew up, and now at 5-years-old and 3-years-old, this becomes more apparent every day in the games they play and the things that they say.
In the past few months, each of them has said at least one thing that has brought fresh waves of grief rolling over me once again.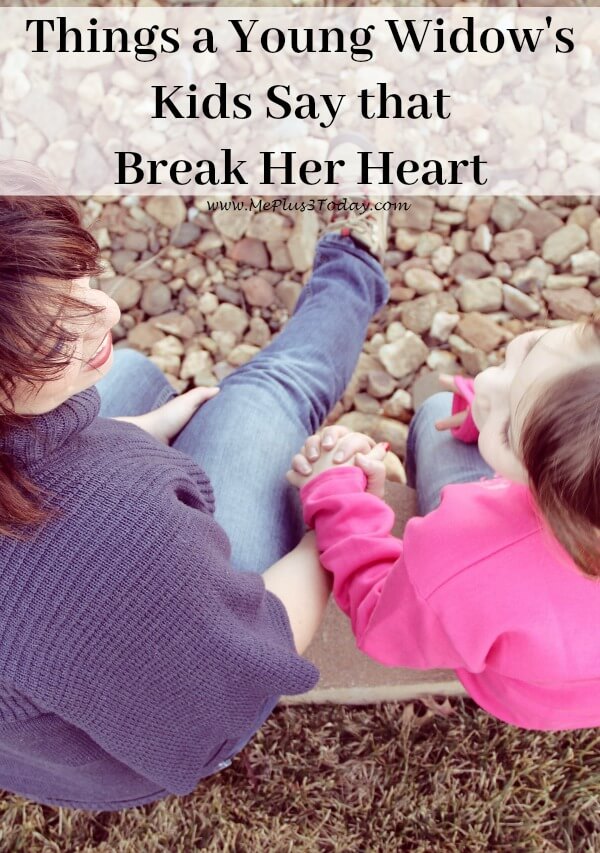 Disclosure: For your convenience, this post contains affiliate links.
"I wish we had a new daddy."
I can't remember the first time Violet said this, but I do know my reaction was not appropriate. Hearing her say this made me sad and angry and a bunch of other emotions at the same time. So my immediate response was, "No. You will never have a new daddy!"
Well, that was harsh…
What I really wanted to communicate was that her daddy will ALWAYS be her daddy, even if he isn't here and she can't see him.
But I understand why she says this, and it is something that has worried me since the very beginning. They see their friends' daddies picking them up from school. They see daddies on TV and read about them in books. She just wants someone tangible in her life that can fill that void.
She continues to say it often, it still breaks my heart every time, and I still do not know how to adequately respond…
"Mommy, if you died I would miss you so much and I would be crying forever."
One of the girls' favorite shows to watch on Netflix is Mia & Me. After watching a recent episode, Charlotte was telling me about it before bedtime and suddenly just started sobbing. Apparently the episode was about the unicorn mom explaining what happened to the baby unicorn's father. Through Charlotte's tears, I got the gist that they thought the unicorn father was dead (*Spoiler Alert* – In later episodes, we find out he is not.).
Clearly by Charlotte's reaction, she could relate to what was happening on the show. As I held her in my lap, rocked her, and tried to hold back tears of my own, Charlotte said, "Mommy, if you died I would miss you so much and I would be crying forever." Well, obviously there was no holding back the tears after that.
The only thing I could think to say was, "Mommy will do whatever I can to not die." We cried for a long time together that night.
"If I grow up to be like Daddy, am I gonna die?"
This one came from Will and it was just out of the blue one day when we were watching TV. I was so caught off guard that I immediately said, "No, of course not!"
Umm… Well, that was dumb.
We all die. That is the only thing that is guaranteed to happen to every single one of us. So, I instantly regretted my answer. But it satisfied him and he didn't say anything more about it. However, I still wish I had responded differently and hopefully I will be prepared if that ever comes up again.
It just makes me so sad and angry that my 3-year-old son is concerned with things like that. I wish I could keep him in a protected and safe little bubble where real life can't touch him.
But that is the way it is with a young widow's kids. My kids have known about death for as long as they can remember. There has been an empty spot in their heart that they can't even explain or understand for most of their lives.
And my heart breaks for them daily. I hate that they only get to know their daddy through pictures and stories from other people. I hate that I don't always know what to say.
I hate that I wasn't able to protect them from this…
But the only thing I can do is to keep pushing through every day. As the kids continue to grow, we will all be learning together what it is like to live with loss.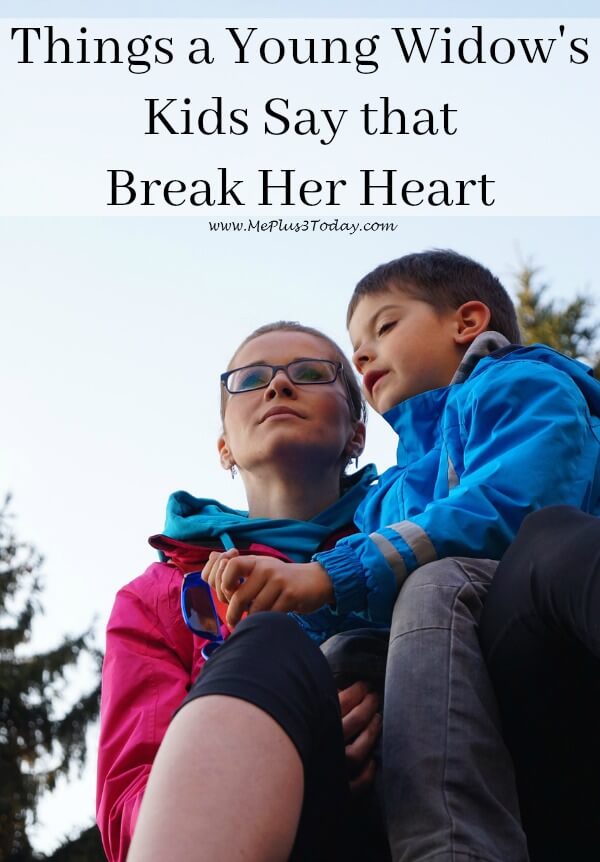 Other posts you may like: