Because of this blog, I often get emails from other young widows who have recently found themselves a member of a club that nobody wants to join. Typically finding my blog via Pinterest, they share a brief bit of their story, like where they are, how long it has been since their husband died, and the ages of their kids.
Of course, these stories vary from person to person. But there is one pretty constant question that I see consistently from these heartbroken young widows.
"How am I going to do this alone?"
I remember uttering those same exact words over and over and over again after losing Chaz.
I wish I responded to every email. But sometimes, I just can't. I mentioned in my previous post that I'm finding difficulty getting motivated. Being a young widow has caused me to become more than a bit scatterbrained, and once the email is read, it is easy to get lost in the shuffle of my inbox.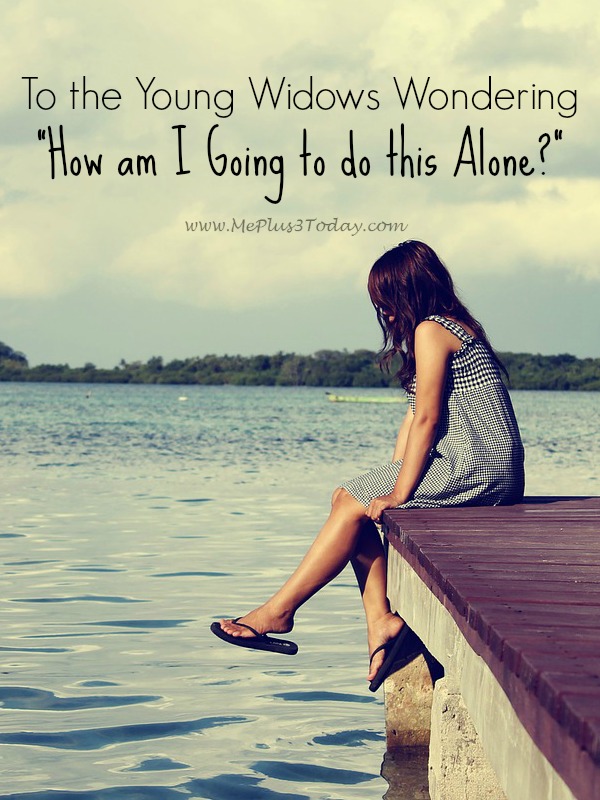 But for the young widows that I do respond to, here is my answer to the question "How am I going to do this alone?"
"You can't."
That's right. You CANNOT do this alone. And I'm not saying it to sound harsh or mean. I'm saying it to encourage them to find help.
I believe that it is absolutely impossible to raise children, keep up a home, continue working, pay the bills, and everything else in life, all on your own.
Young widows, you NEED to find help.
I was very lucky in this aspect of being a young widow. My family lives very close, and they stepped in right away when my world was crumbling down. Since Chaz died over 3 years ago, my mom has been here every step of the way, getting me through this new world I find myself in. In addition, I had friends, neighbors, and colleagues who offered various levels of support when I needed it most.
But I understand that others are not so fortunate. Family and friends may be far away or unable to help, meaning these young widows have a very minimal support system nearby. I hate to add another thing to the never-ending "to-do" list of a heartbroken and overwhelmed young widow, but it is essential that you find help.
So to these young widows, here is how I suggest finding the help that is essential to your survival and sanity.
6 Sources of Support for Young Widows
1. Hire a high school or college student as a Mommy's Helper. This is something I did just a few months after Chaz died and she still worked with us for over 2.5 years! If hiring someone is not financially ideal for you, consider asking a student to volunteer some time with you. Otherwise, set your rates as low as possible and only have someone for a few hours each week. Even a short time having a Mommy's Helper will give you an extra set of hands during the times you need it most and provide you with a little bit of stress relief.
2. See a therapist or counselor. A simple Google search can help you locate one nearby. Call and set up an appointment. If you don't mesh with the first person you meet with, try again until you find someone you are comfortable with. I saw a therapist almost weekly for 2 years, and I think these sessions were a huge factor in getting me to the point I am at today.
3. Join a support group. For some of the young widows out there, you may find more comfort in a group format. Another Google search will likely turn up results in your area. Again, it may take a few tries to find a group where you feel comfortable.
4. Contact your children's school. First, this is probably a good idea so that they are aware of the grief that your child is experiencing. In addition, they may have the knowledge to put you in touch with the right resources to not only help you, but to also help your child. For example, lunch programs, carpool networks, before- and after-school care programs, and more.
5. Contact a local church or other spiritual group that fits your beliefs. These people want to help you. Members of the staff and congregation will likely be able to volunteer, collect donations, or provide you with other services that you may need for your family. In addition, they have probably come across others that have experienced loss, and they should be able to point you in a direction or have the resources to support you in your grief.
6. Find online forums and networks for other young widows. Those who have been through similar situations can offer a wealth of knowledge, answer questions, and provide much-needed information that will help you handle the burdens you now bear. Check out my previous post about online resources for widows by clicking here.
**********
I know, I know… The list above may seem overwhelming. Just try one suggestion at a time. But please, find the help you need. Do not run yourself into the ground trying to do it alone.
Also, I understand that asking for help can be very difficult. Trust me, I STILL struggle with this, and I'm sure I always will. But when it comes down to your sanity, it is just something you have to do, for yourself and for your children.
If you know of a widow who may be struggling, please reach out to them. If you don't know how, then click here to check out this post I wrote about "How to help a widow" for ideas on what you can do.
And if you are a widow, feel free to contact me via email at meplus3today@gmail.com. I will do my best to respond. Keep emailing me if you have to! Don't think you are annoying me! After all, we're on this rollercoaster of young widowhood together!
As always, thanks for reading!