Disclosure: This post contains affiliate links, and I will make a small commission from purchases made via these links. Thanks!
As I did my holiday shopping this year, I tried to make an effort to purchase from businesses that give back. I browsed through many gift guides that listed gifts for a cause, like this one from She Lives Free. She also created a round-up of several other gift guides with even more ideas for gifts that give back.
Eventually I came across a company called That's Caring. I ended up buying the muffins and coffee gift box for my mother-in-law from them, and I thought I would recommend it to everyone as an option for a Valentine's Day gift (or any other occasion), too!

That's Caring is a socially-responsible gift basket company with a one-for-one business model. For each gift purchased from That's Caring, they donate weekend meals to a child in need in the United States. They partner with food banks to supply food-insecure children with non-perishable items that will give them the nutrients and sustenance they need to get through the weekend. You can find out more details by visiting their website.
I thought the wine & cheese or the gourmet chocolate confection gifts from That's Caring would make perfect Valentine's Day gifts. If you are going to buy wine and chocolate anyway, why not make a bigger impact with your purchase?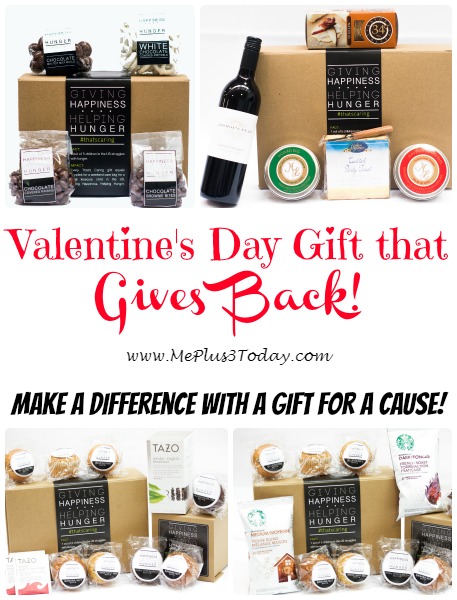 I hope that if you are giving someone a gift this year, you try to give a gift that gives back!
And now on to this week's Make a Difference Monday Link-up…

Make a Difference Mondays is a weekly link-up designed to encourage and inspire us to live each day on purpose—making a meaningful difference in someone's life in even the smallest of ways. There will be five women regularly co-hosting this link-up that will appear on all five of our blogs and we also have three wonderful co-hosts who will fill in as guest hosts on the occasional day that a regular co-host is not able to post. Read on to learn more about our vision, mission, and how to link up!
Our mission is to provide a consistent gathering place for like-minded women to build online connections, share inspiration, and provide mutual encouragement and accountability as we seek to live intentionally and make a difference in the lives of those around us.
Every Monday we will invite bloggers to link-up any blog posts that encourage women to live life on purpose. This could include testimonies or goals from your own life, small acts of kindness or service, creative tips or ideas for showing consideration to others — the possibilities are endless. Our objective is to use our God-given time and resources to His glory!