This post contains affiliate links. I make a small commission from purchases made via these links. Thanks!
So, I have to tell you, I'm pretty proud of these snowman hand print thank you cards that I'm sharing here. We started making these DIY cards last winter, but I am just now getting to post about them.
I was inspired by these adorable snowman hand prints with the saying "Love Never Melts."
The best thing about these cards is that they were quick and easy to make and only required a few supplies that we already had on hand.
I usually take the kids hand prints on a separate piece of construction paper, just in case I mess it up or it smears. Then I cut it out and glue it onto a piece of white cardstock. It makes things much easier!
Here is the front of the card with Will's hand print. You can see how I used regular markers to decorate the hand print snowman and add the words "Unlike snowmen…" to the top of the card.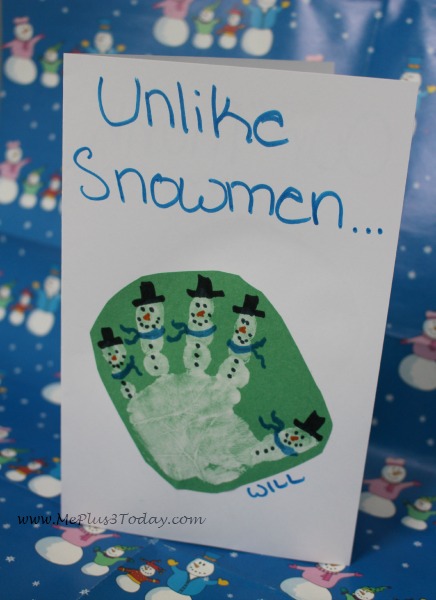 Here is the inside with Violet's and Charlotte's hand prints! This is where I used my inspiration about "Love never melts," and instead saying "Our 'Thank Yous' won't melt!" Pretty clever, huh? 🙂 Okay, I know it's not Shakespeare, but I was pretty proud of myself!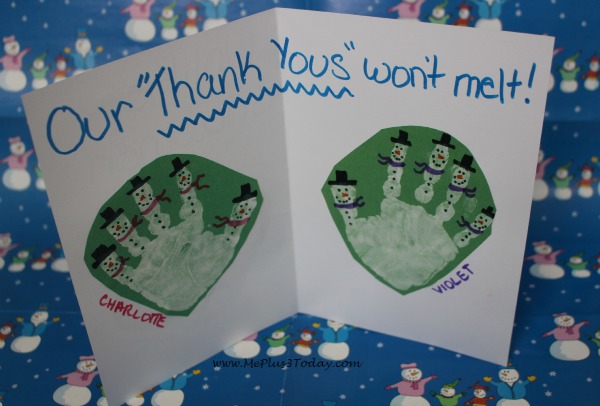 So, what do you think? I try to make a point of sending out thank you cards for nice gestures and gifts. But I'm not always the best at remembering! But when I do, I usually send these out.
Pin this post for later!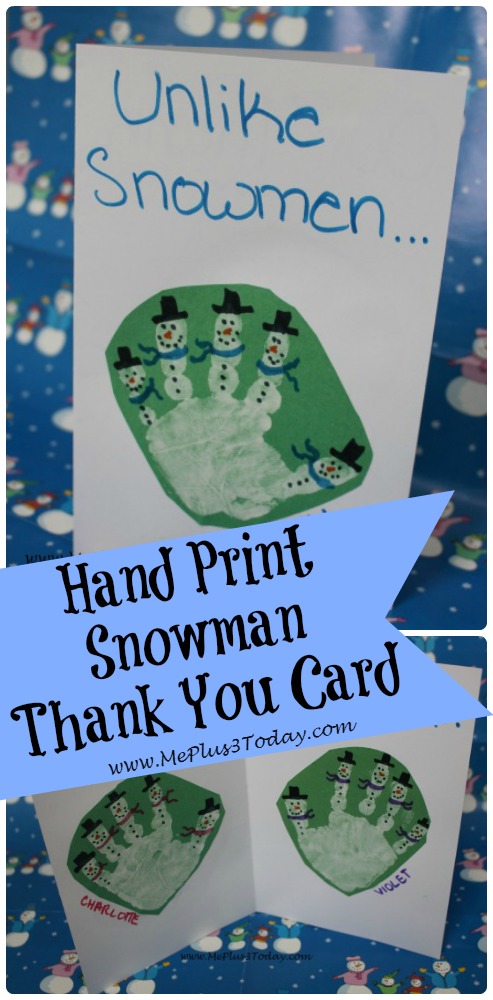 Follow Me Plus 3 Today on Pinterest to see more great ideas! Visit Sarah @ Me Plus 3 TODAY's profile on Pinterest.