For your convenience, this post with 4 Steps for Controlling Anxiety contains affiliate links that support Me Plus 3 Today at no additional cost to you. Thanks!
I know that talking about anxiety, depression, and mental health can be kind of a taboo. But I'm just letting you know that I completely disagree with that, and I do my best to be open and honest about it.
I mean, think about it… Physical health is openly discussed, like eating healthier, exercising, and getting regular physical check-ups. We brush, floss, and visit the dentist twice each year for our dental health.
But what do we ever do about our mental health? It seems like it's something that a lot of people tend to ignore.
And it would be awesome if we could just stop doing that!
I happened to suffer from anxiety and depression for a long time before my husband, Chaz, passed away. And my only treatment was medication. Looking back, I wish I had done more than that because there is a lot more to mental health than just a chemical imbalance.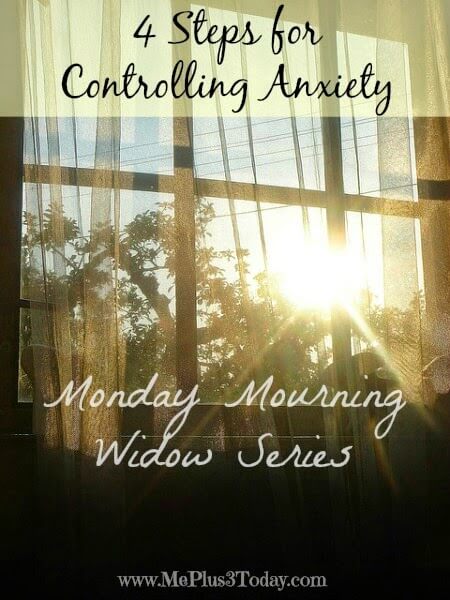 Within the first few weeks after Chaz died, I began seeing a therapist. Losing him was obviously the worst thing that had ever happened to me, and I knew I needed professional help to get through it. And I consider those therapy sessions to be one of the top things that helped me get through the past 15 months.
If it helped me, I figured it might be able to help someone else. So for this week's Monday Mourning Widow Series post, I wanted to share one of the many lessons I learned from my therapist.
Disclaimer: I am not a medical professional! I am sharing my own personal experience. I strongly advise you to consult with a doctor or therapist to ensure that you are doing what is right for you.
Obviously, after Chaz died, my anxiety levels were through the roof! I couldn't focus. I couldn't sleep. I was barely functioning. I was constantly worried about every element of my life and the kids' lives. All of this made it incredibly difficult to parent the kids or to get through each day at work.
It is now 15 months later and I have made a lot of progress in dealing with my anxiety. I don't often have anxiety attacks anymore and instead of weeks passing by where I'm stuck in a whirlwind of anxiety, I'll only have a day or 2 of feeling hopelessly anxious. Sometimes, I can even get it under control in just a few hours. Here is how I do it:
4 Steps to Controlling Anxiety
1) Recognize the symptoms of anxiety
That probably sounds ridiculous. If you already know that you are dealing with anxiety, then why do you have to recognize it. Well, in order for me to control it, I have be aware of what my anxiety feels like. I have to deal with it right from the start, otherwise I'll get lost in this crazy, unfocused state of mind and it's so much more difficult to find my way out.
My anxiety usually comes out of nowhere and for no reason. I can just be sitting at my desk at work, and I suddenly realize I'm feeling anxious. I'm aware of it because I am now able to recognize my symptoms as they come on. My symptoms are:
Heart starting to race.
Getting fidgety and unable to sit still.
Inability to focus on a single task or zoning out.
Mind is wondering all over the place (usually with horrible thoughts or thinking of everything I need to do).
A sick-to-the-stomach feeling.
Just not feeling "right."
Paying attention to how I was feeling helped me learn what my typical symptoms are. Give it a try and see if you can begin to recognize an anxiety attack, or anxious feelings coming on.
2) Understanding the emotion of anxiety
I learned in therapy that anxiety is actually an ancient emotion, it comes from our fight-or-flight instinct. A person would sense danger, which would result in a rush of adrenaline in order to to protect themselves, whether that be by fleeing or fighting.
In today's society, we don't typically experience life threatening danger on a daily basis. But that emotion still exists in our brain. It will send the rush of adrenaline but you are unable to do anything with it! (Especially if your just sitting at your desk at work!) Because you have nothing to use adrenaline rush for, the anxious feelings will begin, like your heart racing for no reason.
3) Look at the facts
Once I recognize my anxiety and think about what anxiety really means, I start to look at the facts of what's going on around me. I ask myself, "Am I in any danger?" So far, the answer has always been "No." Then I ask myself if I am in an uncomfortable situation, or if I'm about to be in situation I find uncomfortable (like a meeting with my boss)? For these questions, sometimes the answer is yes (although not always).
Then I have to consciously think to myself, "Sarah, you are not in danger. There is nothing going on. There is no reason to feel anxious. Calm down." As I'm thinking this, I'm usually taking a few deep breaths to try and calm my heart. I might also step away from my desk to take a short walk or get some fresh air.
4) Be prepared
If it's an uncomfortable situation that is causing my anxiety, the next thing I can do is to be as prepared as possible. For example, if it's a work situation I make sure I have all my information needed for the meeting. I will practice conversations in my head, and sometimes I'll even type out what I want to say!
In other aspects of my life, I make lists or try to get as much done ahead of time. For example, before I go to bed, I set out our outfits for the next day and make my lunch. Since winter is coming, I'll also have coats, hats, and mittens organized and ready to be put on before we leave.
Anxiety is worrying about the future. Unfortunately, there isn't much I can do about the future. I only exist in this current moment. So the only thing I can control right now is being prepared for the future, and hope that that is enough! This is something I have to remind myself of this constantly!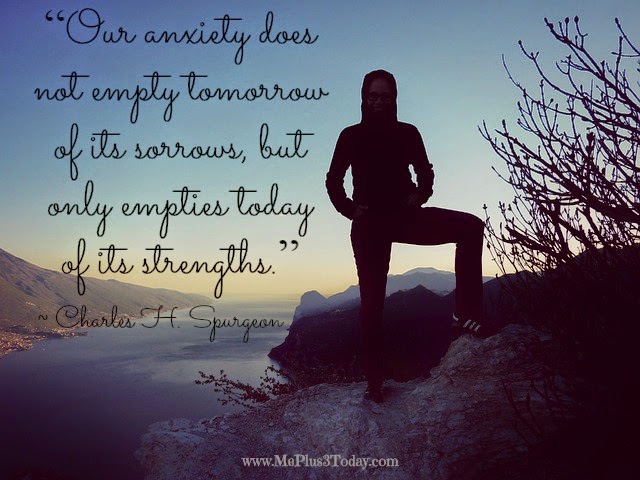 These 4 steps have helped me so much over that 15 months. I wish I had known about these steps before Chaz died. I thought life had been great back then, and if I'd been controlling my anxiety and mental health, it would have been that much better! But just like the future, there isn't anything I can do about the past… But that will be a completely different blog post!
If you liked this post, please Pin it!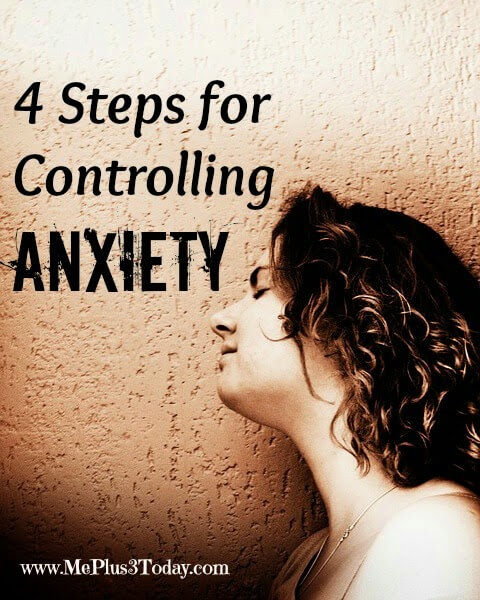 Follow my Health & Wellness board on Pinterest to see more articles about mental and physical health.