*This post contains affiliate links. I will receive a small commission on purchases made from these links, at no additional cost to you. Read full disclaimer here. Thanks!
I've talked about it in my post with 14+ Halloween Party Game Ideas and my post with 26 Unique Halloween Costumes for Twins or Siblings, but I'm going to mention it here again: I love Halloween! It is just a really fun holiday, when we get to dress up like somebody/something else, put up spooky decorations, and of course, indulge in some sweet treats! But if you don't want to go overboard on the sugary deliciousness, you might be looking for ideas to have a healthy Halloween.
That's the boat I'm in right now. I have the biggest sweet tooth ever. However, I'm also trying to instill good eating habits in the kids. And that's tough when I'm not the most health conscious person out there. So I've decided on 4 simple things that I'm going to do this year to help the kids and me have a healthy Halloween.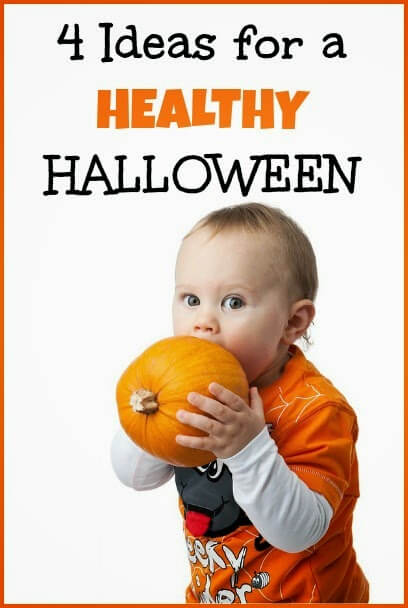 4 Ideas for a Healthy Halloween
What?!?! Such blasphemy! Isn't candy what Halloween is all about?!?
Honestly, I have no idea what Halloween is all about, or how it originated. I should probably Google it! But what I do know is that the saying is "trick-or-treat" not "trick-or-candy!" And treats could include
stickers
,
small novelty toys
,
temporary tattoos
, or
pencils
.
This is actually great on so many levels. First, and the most obvious, is that it is 1 less unhealthy treat for the kids to eat. Second, there will be less sweets in the house for me to sneak after the kids go to bed! Plus, by passing out non-candy items, the children with food allergies can enjoy them too!
I'm actually going to be the person who passes out
stickers
this year. I was able to find them online, and they were very inexpensive compared to the price of candy!
2) Brush & Floss
I admit, I despise brushing the kids' teeth. I feel like I've tried every trick in the book, and while it works for a while, we are eventually back at the wrestling match in order to get the toothbrush anywhere near their teeth.
But I know that even though they won't have an excessive amount of candy, they will likely be consuming more sugary treats that usual. And we can't ignore our mouths when we think about health! So I am going to be extra diligent about getting the kids' teeth brushed each day.
3) Skip Trick-or-Treating
Ok, now I'm just talking crazy, right? What's Halloween without trick-or-treating? Well, you can skip it completely, or at the very least you could just not bring the really young kids out.
Don't get me wrong, I love to dress my kids up for Halloween as much as the next person, but my 18-month-old isn't going to be chowing down on Milk Duds. So there is really no reason to take him out to get stuff like that (because I'll likely be the one that ends up chowing down on them!).
So instead, we will dress up, but stay home to pass out treats to the kids that come by. And everyone will get to see their adorable costumes by coming to us, instead of us going to them! While we won't be going house to house, we do still plan to attend he Halloween event my employer hosts where kids can trick-or-treat through the office cubicles. But I typically bring the candy that we get from that back in to the office to share with my co-workers.
And if you do try my crazy idea of NOT going trick-or-treating, there are still plenty of other activities you could do to celebrate. For example, host a costume party with lots of fun games. Enjoy a kid-friendly, spooky movie (think It's the Great Pumpkin, Charlie Brown
). Or like we're doing, just get dressed up to pass out treats to other trick-or-treaters.
4) Serve Healthy Treats
If you plan to have a party (like I mentioned above), or if you attend a party, bring in scary healthy treats instead of candy, cookies, or cupcakes. There are a TON of ideas on Pinterest, like these Snack-O'-Lantern Fruit Cups, Witch's Brooms, or Frankenkiwi. These treats are so perfectly Halloween that nobody will even notice that they are good for you!
I think these 4 ideas for a healthy Halloween are easy enough that even a person like me, who isn't always focused on health, can accomplish them while still enjoying the fun surrounding this holiday. I'm sure there is plenty more that I could do. But for now, this is where I plan to start!
What ideas do you have to stay healthy around Halloween? Leave me a comment and let me know!
If you are looking for more ideas, follow my Halloween boards on Pinterest:
Looking for Halloween costumes and supplies? Check out my affiliates: