Guess what?
I'm participating in ANOTHER giveaway! Woohoo!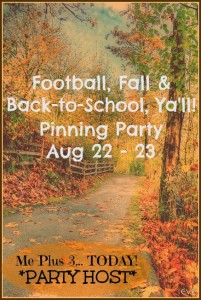 **This post contains Amazon affiliate links and I will be compensated if you make a purchase after clicking on my links. Click here to read full disclaimer.
I've partnered with 8 other bloggers to host a virtual pinning party on August 22 through August 23. By participating, you could win one of two $25 Amazon
gift cards.
If you want a chance to win, just click the image above to visit the Football, Fall, and Back to School, Ya'll! Pinterest Board and follow the instruction on how you can join the fun.
On that board, you'll find beautiful and creative fall-related recipes, decor, and projects from the following blogs:
I really hope one of my readers win! I would be so excited! I don't know about you, but I do A LOT of my shopping on Amazon
. You can buy ANYTHING from that site
. Seriously, it's my favorite place to buy toilet paper
and paper towels
! So make sure you join the party for your chance to win!
To countdown until the fun, we've included an additional giveaway you can enter RIGHT NOW! Use the rafflecopter form below to enter.
a Rafflecopter giveaway
I hope you're ready to par-tay! See you there! 🙂
*NOTE: Giveaway is only available to those located in the US or Canada.

And that's what's going on with Me Plus 3… TODAY!


While we're kind of on the topic of fall, back-to-school and Amazon
, I figured I'd ask if you are a college student, or if you know someone in college? College students can get a FREE 6-month trial to Amazon Student
, which gets them FREE 2-day shipping and other great deals and promotions. Click the ad below for more details and sign up for your FREE trial TODAY!