I've been thinking a lot about teachers lately. They put in a lot of work and resources to help children learn and succeed. Often, their efforts aren't always recognized. So let's change that! Why not help your child's teacher provide a wonderful learning experience to your children?

I have several friends who are teachers. They love what they do, and they are amazing at it too! Plus, I can remember the impression my teachers made on me when I was in school. The majority of them were really great, and I think they made a big impact in who I am today.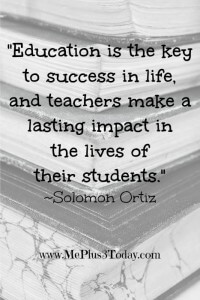 From my recent posts, I'm sure you noticed that I really enjoy helping others and doing random acts of kindness. So as I've been thinking about my teacher friends prepping for the new school year, I decided to write about how you can help your child's teacher.
I see A LOT of posts with beautiful and creative gifts for teachers. I know teachers appreciate any and all gifts, but what else can parents do to help? What do teachers really need?

Once I had this idea, I thought to myself, "Why stop there?!?!" So I'm actually going to start a "How to Help Series." Once each month, I will highlight how you can help a particular profession or specific types of people in the world. To share the best ideas, I plan to interview a few individuals from each profession in order to get REAL answers, from the people who actually need the help!

I love that not only will I learn something and be able to take advantage of these pointers, I'll also get to share them with others too! My hopes are to spread the helpfulness and kindness far beyond my reach.

Well, let's get to it!

While you're gathering backpacks and school supplies, take a few moments to read what you can do to help your child's teacher.

I gathered the information for this post by polling a few of my teacher friends, and based on their responses, this is what I came up with. The particular set that I spoke with teach younger elementary grades (ie. 1st through 4th grade.) There was a lot of overlap in their responses, so I was able to condense it into 7 simple ideas!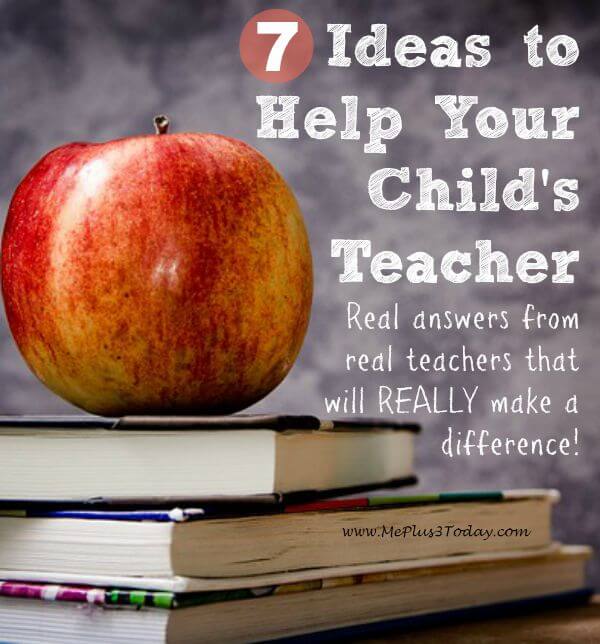 7 Ideas to Help Your Child's Teacher
1. VOLUNTEER
Any amount of time is incredibly appreciated, even if it's only 30 minutes. Or only once or twice per year. There are a lot of options you can do if you ask, that will fit your schedule and abilities. And it will help your child's teacher so much! One teacher said that she will even have parents contact her at the very last minute, on the actual day they are available to volunteer. She is ALWAYS able to find something helpful for them to do.
2. COMMUNICATE
Stop in or check in with the teacher frequently and ask ANY questions you may have about your child's education. You don't need to wait until conferences! Keeping in close contact will not only benefit the teacher, but also you and your child. Education can work better as a team!
3. DONATE
Everyone is expected to do more with less. Budgets continue to be cut in corporations and schools alike. But the same, and even better, performance is expected. This can be tough on a teacher, who will spend their own hard earnings to provide enriching learning activities for children. So teachers are incredibly grateful for a variety of donations, such as: school supplies (pens, pencils, paper, etc.), stickers, cleaning supplies, tissues, and even small games or prizes. Remember, there is more than 1 student in each class, so it is OK to give multiples of the same item! Even the smallest donation can go a long way for a teacher.
4. ASK
If you want to donate something, but you aren't sure what to get, just ask the teacher. I bet they have a classroom wish list that they could easily provide. Or if you want to volunteer but don't know what to do, again, just ask! Teachers answer questions all day, they will answer yours too!
5. UNDERSTAND
Like I said in #2, education can work better as a team! It is so helpful when parents understand what an important role they actually play in their child's education. Hold kids responsible for their homework and behavior. Even go a step further, and check their homework. These actions help to reinforce what they are learning from the teacher. It helps the teacher to stay on pace with the curriculum and not have to spend so much time reviewing previous lessons with students. Understand that kids learn from parents too, so it's helpful to set an example and stress the importance of education to your kids.
6. BE INVOLVED
Attend school functions. Attend parent-teacher conferences. Or like I mentioned in #1, volunteer! Again, these actions help show children that their education is important, not just to them, but to you too. This might help children enjoy school more and be more willing to learn, which in turn reduces some challenges teachers may face while teaching the class.
7. KIND WORDS
You don't have to spend money or a lot of time to help your child's teacher. Even just a few kind words or a thank-you card will go a long way! They probably don't hear these enough. In fact, we ALL deserve kind words, so use them freely and frequently in your daily life!
These are some very simple ideas that you can do to help your child's teacher. Teachers play such an important roll in children's lives, and they are giving them an education that will last a lifetime. So why not show how much you appreciate the work your child's teacher does and try a few of these ideas to help make it a little easier for them?
***
If this is your first time visiting my blog, please check out
my About Me page
to get a little background on who I am and why I write.
And as always, connect with me on
Facebook
,
Twitter
, and
Pinterest
! Thank you so much for stopping by!
***
If you liked this, please pin it!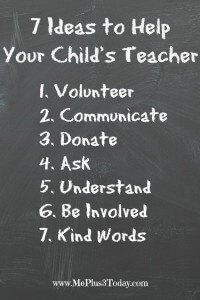 Follow my Appreciate the Teachers board for more great ideas to support your child's teacher!
Follow Me Plus 3… TODAY!'s board Appreciate the Teachers! on Pinterest.
This post was featured on: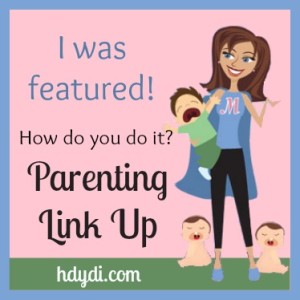 This post was linked to: