In the days, weeks, and months after my husband, Chaz, died, I would spend my lonely evenings browsing Pinterest. I would search for and read an endless amount of poems and quotes about grief and loss.
And I would cry my eyes out the entire time.
It was almost therapeutic for me.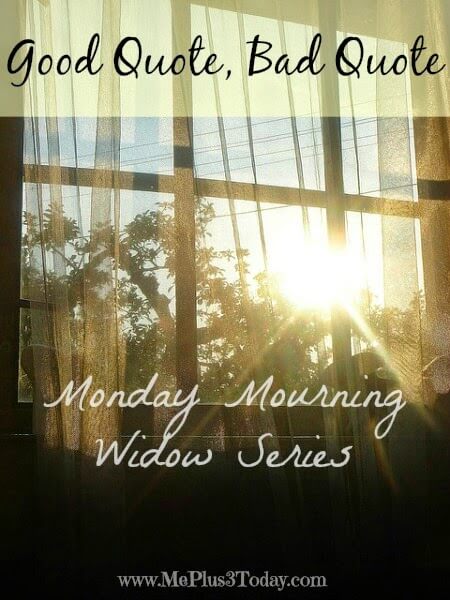 Disclosure: For your convenience, this post contains affiliate links.
I suddenly found that I could so easily relate to these heartbreaking words. It seemed as if each one illustrated exactly what I was feeling. They opened me up, and allowed the grief and sadness to come pouring out. While I spent the days trying to "be strong," this was the time that I would succumb to the emotions that I just didn't want to feel.
Despite the pain the phrases caused, they also brought a slight (very slight) sense of comfort. Knowing that these quotes about grief existed helped me feel like I wasn't alone in my feelings. Someone else out there understood this train-wreck I found myself a part of.
On the other hand, there were also some poems and quotes about grief and loss that just really got on my nerves.
Particularly those that had a theme of telling the griever to "not cry" or "don't be sad" or something along those lines… I seriously could not stand reading those words.
For example, I often came across this popular poem by Mary Elizabeth Frye:
"Do not stand at my grave and weep.
I am not there.
I do not sleep.
I am a thousand winds that blow.
I am the diamond glints on snow.
I am the sunlight on ripened grain.
I am the gentle autumn rain.
When you awaken in the morning's hush
I am the swift uplifting rush
Of quiet birds in circled flight.
I am the soft stars that shine at night.
Do not stand at my grave and cry;
I am not there. I did not die."
I just lost the love of my life. The man who I expected to grow old and gray with. The father of my children. I was a 30-year-old widow.
Of course I'm going to "weep!" Of course I'm going to be sad! How could I not be?!?!
I'd prefer my actual living husband instead of some sunlight, wind, or rain. And you know what else? He did die! So why is this saying he didn't? He isn't here to hold my hand. He isn't here to laugh and play with our kids. He isn't here.
I understand that this was written in attempt to be comforting, but as I'm sure you can tell, I found it to be the exact opposite.
Below is another image that I would come across on Pinterest that I am not a big fan of…
It really annoys me that both of these poems and quotes about grief and loss were written as if from the deceased person. I'm sure it would hurt Chaz to see me so sad, but I don't think he would tell me that I shouldn't be. He wouldn't tell me not to cry.
If our places were reversed, I wouldn't want to tell Chaz he shouldn't cry, or that he needs to be strong. We love(d) each other so much and that isn't something that can just be ignored. Oddly enough, I would actually expect that he would be crying or feel an excessive amount of sadness and loss. I think I would question how he really felt about me if he handled it stoically.
Yes, I know people grieve differently. But I also know Chaz. And I know what made him emotional. So I would never ask him to handle loss without crying. What I'd really want to say to him would be something like the quote below from Washington Irving: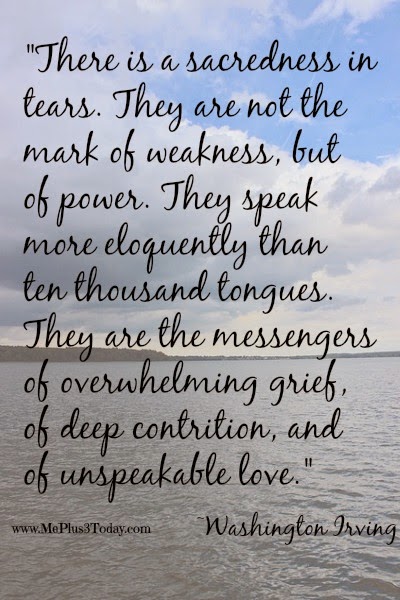 So if you are ever trying to comfort someone through a loss, I'd strongly suggest that you refrain from telling them not to cry or not to be sad. Please don't tell them that their loved one wouldn't want them to feel that way. Please don't tell them to be strong.
Instead, just be there for them. Let them cry. Let them be angry. Let them FEEL whatever it is they are feeling.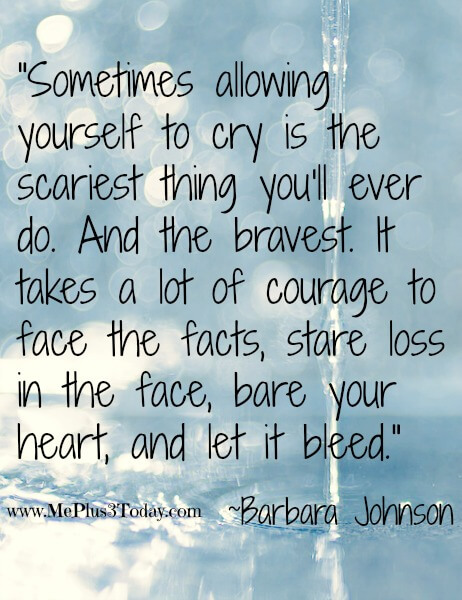 You might not be able to relate, and you won't completely understand, but you can still support.
And a great way to support is to realize that you DON'T understand. You DON'T know how they feel. So don't act like it.
If you are looking for more ways to support someone, check out my second Monday Mourning Widow Series post. In it, I described 5 Ideas to Help a Young Widow. But you could likely adapt those ideas to help with other types of loss.
As I wrap things up, I feel like I need to include some type of disclaimer. This is just the way I feel about these particular poems and quotes about grief and loss. I'm sure there are a lot of people out there who do find comfort in them. And I am glad they are able to.
Because like I said before, we all grieve differently. This is just my way.
If you want to see more quotes that I do like, follow me on Pinterest!