I'm taking a quick break from my 31 Acts of Kindness Series to write about the Mommy Reality Challenge that I like to participate in. This challenge about capturing a little Mommy Reality is hosted by A Lavender Life, JENerally Informed, and Leapfrog and Lipgloss.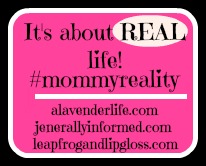 So far, I've only participated in 3 challenges. You can click on the following to check them out:
I really wanted to make sure I didn't miss this week's post because it is just so fun! Plus, I can include a Summer Bucket List update too!
Since we were celebrating Independence Day last week (AKA the 4th of July), this challenge is about capturing any moment that might be considered the "essence of summer."
Well, we had a very busy weekend that was FULL of summertime fun! Chaz's mom came to visit, and on the 4th of July, we went to a local park and enjoyed a picnic lunch! While we were there, I tried to snap a picture of the kids looking cute in their America shirts, but this is what ended up happening instead: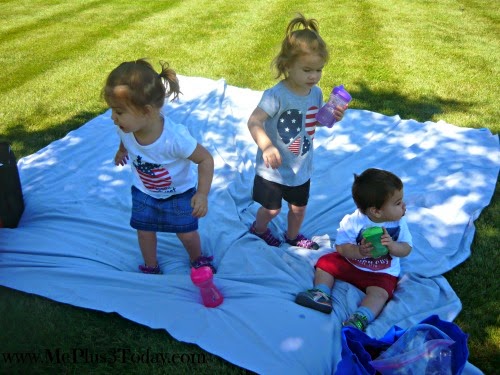 They were just so excited for the picnic that they couldn't sit still and pose for a picture! Oh, who am I kidding?!?! This is what ALWAYS happens when I try to snap a pic of them. They look in ANY direction but the camera! When I look at these in a few years, my memories are always going to be sides of faces and backs of heads… 🙂
Anyway, the park was very nice. It had a large grassy area, a jungle gym area, and even a small beach and lake. So after lunch, we took a little walk on the beach to touch the water…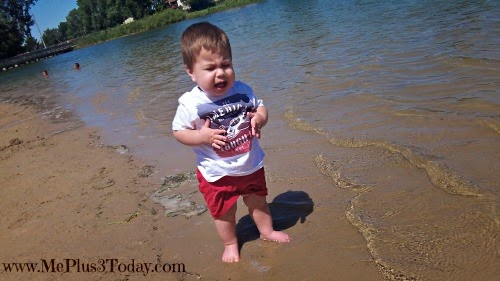 Clearly Will was not so much a fan of the water. The way he moved his hands and the expression on his face just made me think that it absolutely grossed him out! 🙂 Obviously I'm a little biased, but I still thought it was adorable!
I wasn't able to get a picture of it (because I was busy trying to remedy the situation), but just before we were about to walk back to our blanket, Violet decided to lay down on her belly in the water. Fully clothed. Sigh… Fortunately, I had an extra set of clothes packed!
Well, we made A LOT of progress on our Summer Bucket List over the weekend. I will write about our other activities soon, but for this post, we were able to check off having a picnic, going to the beach, and going to the park! Yay!
You can read my other Summer Bucket List update by clicking here.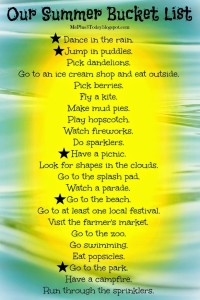 There you have it! My Mommy Reality Essence of Summer = nobody looking at the camera and hating the beach!
And that's what Me Plus 3 are up to TODAY!


Have you captured any great Essence of Summer moments? When you sign up for Shutterfly, you get 50 FREE prints . Send them to the grandparents who aren't on Instagram! 🙂 Or keep them in a physical photo album! Does anyone still use those? 🙂

(Affiliate – I will receive a small commission on purchases made from this link at NO additional charge to you. Thank you for your support!)


Click here to sign up!