Like I described in my first post of the series, I am doing 31 Acts of Kindness in memory of Chaz for his 31st birthday. Because 31 acts would create a lengthy post, I have split them up into a series. This is the second post in my 31 Acts of Kindness Series.
You can click here to check out Part 1 – The First 5 acts.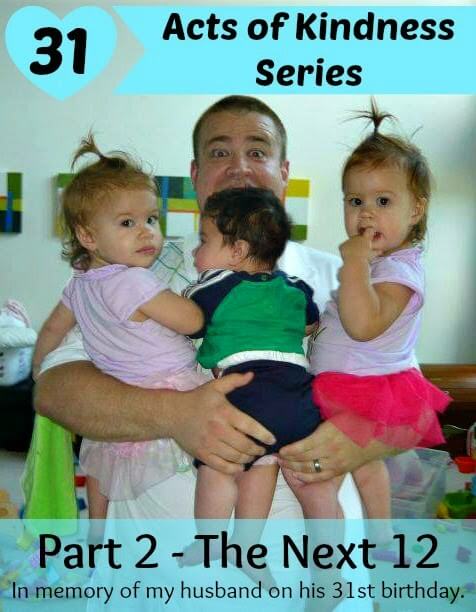 Here are Acts of Kindness #6 through #17 :
6) I anonymously brought in cookies for my co-workers. I just set them in a public area, and people were able to grab them as they walked by. These were just store-bought cookies, but nobody seemed to mind! Food is food! 🙂
7) I gave one of our infant carseats and base to a friend. I'm not sure if this should count as an act, because this friend has really done A LOT for us over the past several months. But I guess it's a way of saying "thank you," which is always kind to do. So I'm counting it! 🙂
8) I sent a letter and some of the kids' artwork to Chaz's grandparents. It's hard for me to stay in touch with them, because I'm not a big fan of talking on the phone. Seriously, I have issues… 😛 But I did want them to know we were thinking about them, and a handwritten letter seemed like a good way to do that! I even made the envelope out of one of the kids' fingerpaint pictures! Fun, right?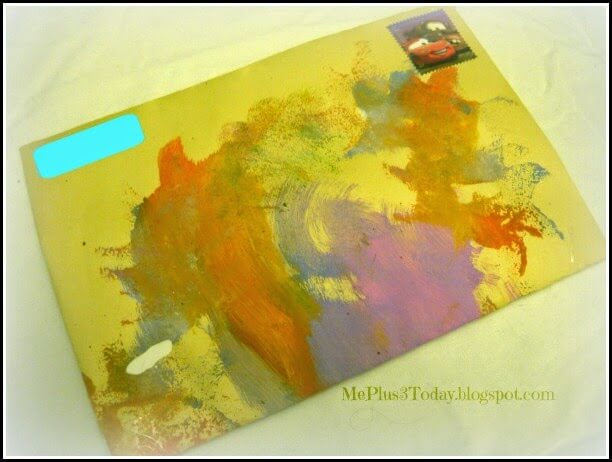 9) I guess like #7 above, I said "Thank You" to in an interesting way. A bunch of my neighbors helped with yardwork a few weeks ago. Since I was able to get inexpensive OTC medicine from Chaz's employer, I gave each of them a bottle of acetaminophen or ibuprofen with a little note that said "Thank you for "relieving the pain" of yardwork for us!" I know it's probably dorky, but I wanted my "thank you" to be a little more creative than just a note because they did so much !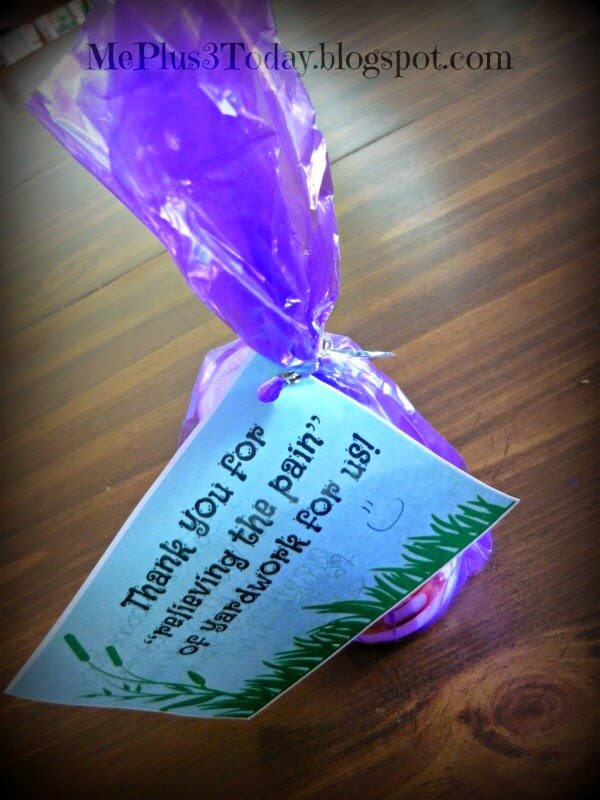 10) I gave our mail carrier a simple thank you gift. I just attached a handwritten note explaining my acts of kindness and expressing thanks for dealing with our messed up mailbox (I think someone hit it, so now it's all crooked) to a bottle of water. I also attached a drink mix packet, to give it a little more pizazz! 🙂 I was inspired by some teacher appreciation gifts that I saw on Pinterest. Their gifts were MUCH cuter, so check them out!

I even received a "thank you" back from him, which was ironically attached to Chaz's birthday coupon to Biggby…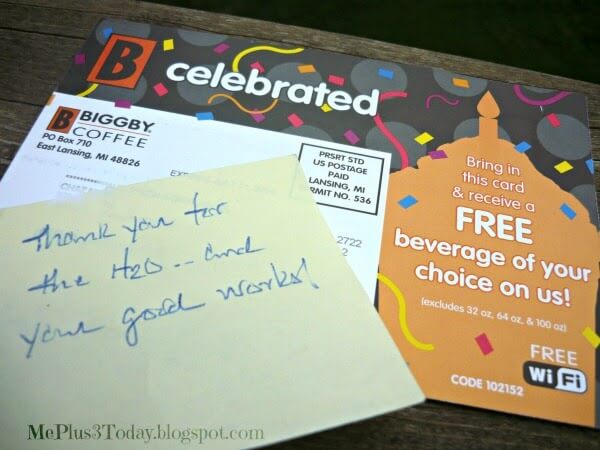 11) Everywhere I go, I hold the door open for someone. I did this at daycare after dropping the kids off, which is a big deal because I'm usually running very late for work. But I took the time to hold the door open for 2 different families coming in. I need to keep reminding myself that taking 30 seconds to hold the door open isn't going to make a big impact on what time I get to work in the morning.
12) I emailed a person's boss to let them know what a great job the person is doing. I just gave a few examples of the wonderful things I noticed. It was so simple, I wondered why I hadn't done it sooner!
13) I donated a van full of clothes and baby items to a local charity that provides these items to families in crisis for free. I specifically chose this organization because what they provide is free of charge. The other great thing I love about this organization is that they also recycle any unusable items. So old, worn shoes, or stained clothes or even clothing items you wouldn't donate (undergarments, socks, etc) get recycled and earn revenue for the charity. It supports 2 great causes in one! So I made sure to include a bunch of items that needed to be recycled too!
14) I posted this "Free Compliments" flyer on the door in the Women's bathroom at Starbucks. I found this great printable at Kind of Matter. I printed out 2 other flyers from her site that I plan on posting somewhere else. I think it would be fun to randomly see something like this while out and about! And who couldn't use a Free Compliment every once in a while?!? 🙂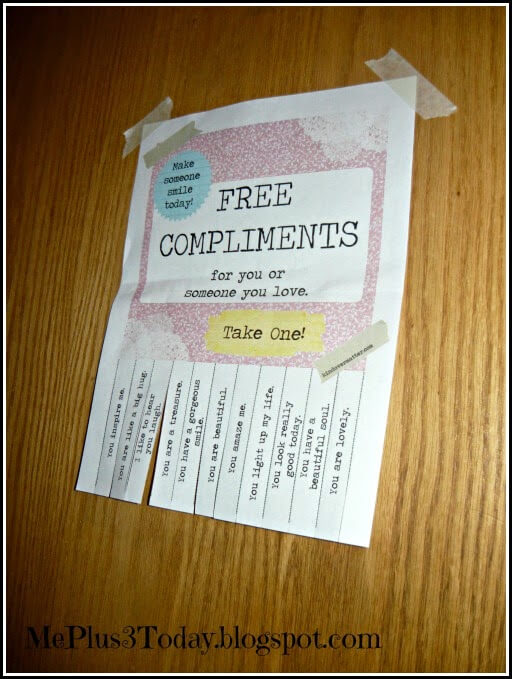 15) I left some high value TGI Fridays coupons in a common area at work. These came in the mail to Chaz because he was part of their rewards program. I was just going to throw them in the recycling since I don't plan on going out there any time soon. But then I realized somebody else might be able to use them! I put them out first thing in the morning, and by the time I was heading out for lunch, they were gone! I hope someone enjoys their big savings! 🙂
16) Like I mentioned in #9, I used the remainder of Chaz's credit at his company store to get A LOT of OTC medicine to give away. I gave the majority of it to my mom to send to her family in the Philippines, where they were hit by a typhoon. I also brought some in to my co-workers as well.
17) I spent a few minutes playing on freerice.com . It's basically an educational trivia game that supports the United Nations World Food Programme, which provides rice for countries all over the world. As you play the game, sponsored ads run on the bottom of the screen, which pays for the donated rice. Imagine if all the people playing Candy Crush played on freerice.com instead? They'd all be geniuses helping world hunger!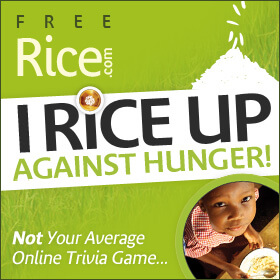 That is what I have completed so far! I have a whole list of more that I plan on doing. Stay tuned for the next post in this series…
UPDATE: Check out the rest of this series by clicking the links below:
What do you think of these Acts of Kindness? Will you give a few of them a try? Leave me a comment and let me know what you do!
And that's a little bit about Me TODAY!



This post has been linked to: