As I described in my first post in this 31 Acts of Kindness series, I am coping with Chaz's 31st birthday by CREATING happiness. My goal was to complete all 31 acts in just 1 week, but it is taking me a little longer than that… I think I am now into my 2nd week of working on this.
But I'm OK with that because I am still working on accomplishing all 31!! 🙂
You can check out what I've done so far in the following posts:
And now here is the third installment in my 31 Acts of Kindness Series!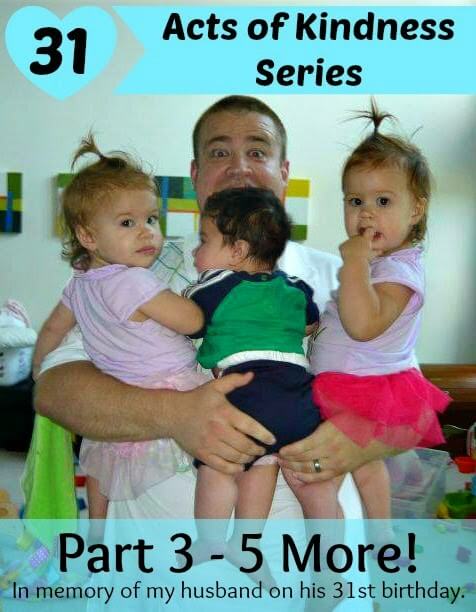 Acts of Kindness #18 through #22:
18) I wrote an uplifting letter for More Love Letters . This is a really neat organization that I stumbled across. You can request Love Letters for someone who needs a pick-me-up, or you can write letters to those that have been nominated.
I happened to find someone that was in my current situation 28 years ago. Her husband had passed away when she was in her early 30's, and they had 5 children at the time. She recently celebrated her 60th birthday, and was unsure about this new turning point in her life.
She was the perfect person for me to write to! She inspires me because she has made it through every day since her loss, for 28 years. It just gave me the hope that I am going to make it through this too. It won't be easy, but I'll be able to get through each day. And I made sure to let her know that.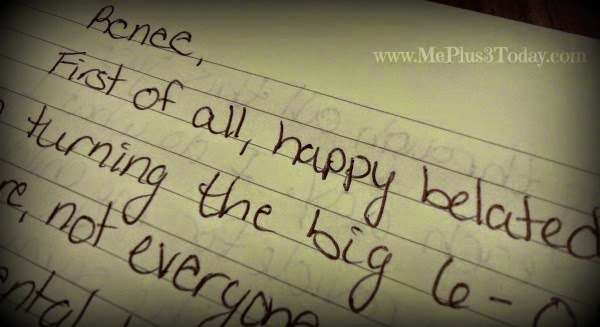 19) I shopped at Goodwill. I know people always talk about donating their unused items to Goodwill, but it also helps to shop there! I actually might have a slight addiction to shopping at Goodwill. That is where I buy the kids clothes, and even my own clothing! Goodwill gets a bad rap sometimes, but you can really find some great stuff there, especially for the kids. My little ones are going to spill, poop, and grow out of their clothes quickly anyway, so why pay full price? I purchased everything in the picture below for only $11.24! Shop, save money, and support a nice cause at the same time!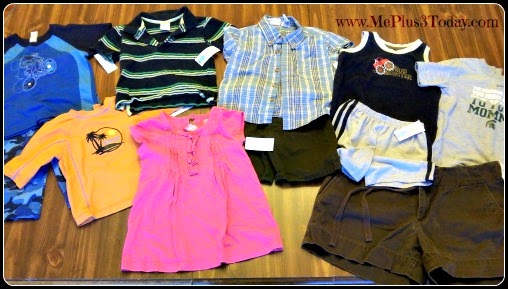 20) I sent coupons to the troops! Military families located overseas can use expired coupons at stores on the base. However, they don't have easy access to coupons. So there are programs available where coupons can be donated to them. I used the Troopons program, but if you do a quick Google search, other programs can be found. If you decide to do this, make sure you follow the instruction on how to clip, pack, and ship them!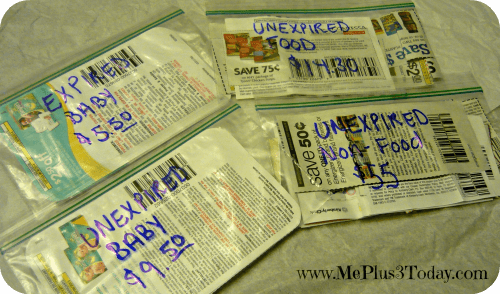 21) I became a RAKtivist . I'm now officially part of a community of Random Act of Kindness do-ers! We are given monthly missions of kindness to do in our communities and on social media. I'm super pumped about spreading Acts of Kindness even more!
22) I gave a small donation to Feeding America . They partner with food banks all around the country to provide food to those in need. According to their website, they are able to provide 9 meals from a $1 donation. That's incredible! I also researched the organization up on Charity Navigator, and they have an impressive rating, with over 98% of their expenses going straight into the programs and services it delivers!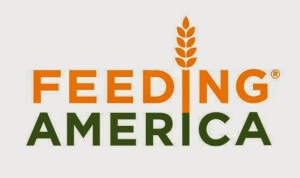 Well, that's it for now, but stay tuned… I've got more Acts of Kindness in progress!
UPDATE: Check out the rest of this series by clicking the links below:
Have you performed any Acts of Kindness lately? Leave a comment and let me know!
And that's what Me Plus 3 are up to TODAY!
Did you like this post? If you want to hear more from Me Plus 3… TODAY! then subscribe to have my latest posts delivered straight to your inbox! Just fill out the form below. Thanks!
Enter your email address:
Delivered by FeedBurner
This post has been linked to: