After losing a loved one, EVERY holiday is hard. At least, it is for me.
Even those that seem really insignificant, like Sweetest Day, still bring on a fresh new wave of sadness.
But I have made it through each new holiday. Some with A LOT more tears than others. Both Christmas and Will's birthday all ended with me literally laying in the middle of the kitchen bawling my eyes out. But at least I made it through…
Now, the next REALLY difficult holiday is coming up.
Chaz's birthday.
He should be turning 31 on July 3…
I can't even think about that day without tearing up. I just can't find the right words to explain how it feels.
But I think due to my ISFJ personality, I have to cope with his birthday by doing something good. I did the same thing at Christmas time. While I don't feel cheerful, I need to CREATE cheer in attempts to lift my spirits.
So, for Chaz's 31st birthday, I am doing 31 Acts of Kindness. I am even getting the kids involved in some of them too!
I am not doing them all in one day though. That's a little too much for me right now! But I am hoping to get them done within a week. But if it takes me a few days longer, I'll be OK with it. Just as long as I get all 31 done!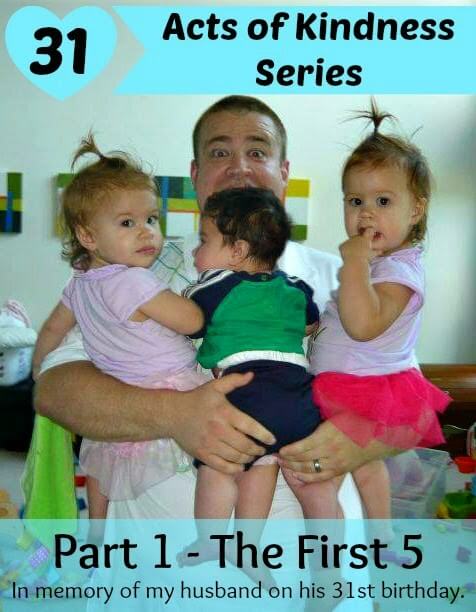 Since, 31 Acts of Kindness would probably be a really long post, I'm going to split them up into a series. Make sure to check back often to see updates! Below is a list of what I have completed so far.
The First 5 Acts of Kindness:
1) I officially signed up to be an organ donor . You don't need to be signed up in order to donate your organs, but it will make things a little easier on your family and friends. They won't be left making decisions like that during an already difficult time.
2) I've been using goodsearch.com as my search engine. For each search you make, 1-cent is donated to a charity that you choose. I know, it doesn't seem like much, but if enough people use it, the donations could add up fast!
3) I used goodshop.com when shopping online for my nephew's birthday present. This is part of goodsearch (from #2 above). It's a site like Ebates.com, or shopathome.com, except instead of you earning cash back, the cash is donated directly to a charity that you select. I also considered using Amazon Smile, which is a similar concept. [Note: The ebates.com is my referral link, so if you sign up for Ebates from that link, I will receive monetary compensation. Thanks for your support!]
4) I started participating in Operation Beautiful. This is where you leave a positive note in a public place. So far, I have left notes in bathrooms at work, and in the bathroom at a grocery store near where I work! Visit the Operation Beautiful website for more information about it!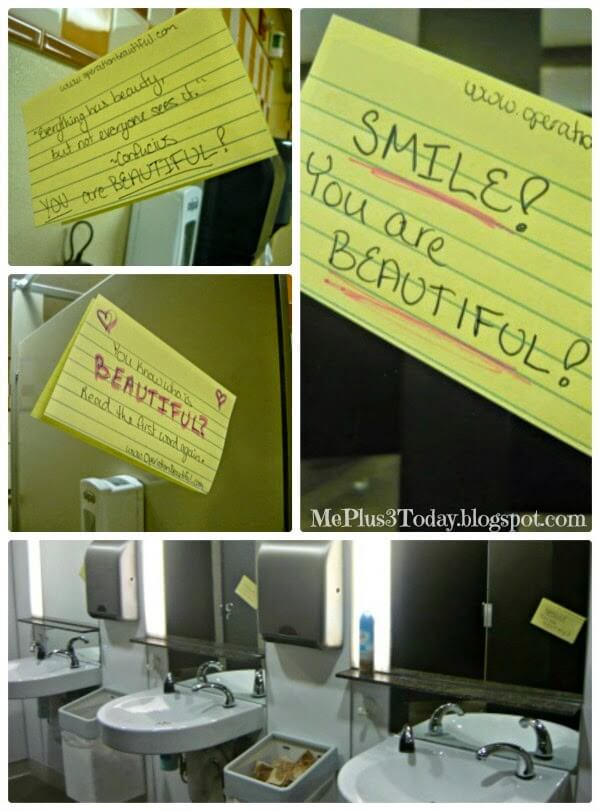 5) I am spreading out the reach of these acts by asking A LOT of other people to do at least one Act of Kindness. I created an event on Facebook, and just invited anyone that knew Chaz, or that has been supportive of me over the last several months. And some of those people have been inviting even more people. Even if less than half of those invited do an Act of Kindness, that would still be more than my 31 small acts, and definitely make a bigger impact!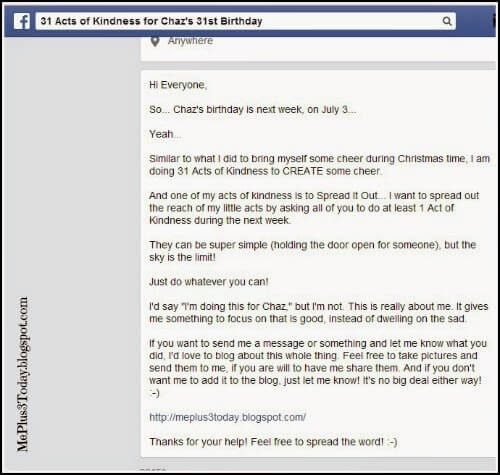 So that is my first 5 Acts of Kindness… Only 26 more to go! 🙂
The best part is that these 5 were all FREE and really SIMPLE to do!
UPDATE: Check out the rest of this series by clicking the links below:
What do you think? Will you do at least one Act of Kindness, too? Leave me a comment below, I'd love to hear about it!
And that's a little bit about Me TODAY!


This post was linked to: