Welcome to the 3rd, and final, installment of my 2014 Daycare Teacher Appreciation Week Gift Series.
This was my first time doing a series. I hope it all made sense and you are able to maneuver your way through it! 🙂 Feel free to email me or leave a comment if you notice any hiccups!
If this is the first post your a reading in the series, make sure you check out Day 1 for more background on why this is a 3-part series. And of course you'll want to see the free & easy "High Five to a LEGENDARY Teacher" cards we made in the Day 1 post as well.
Also, please check out the super cute "CHAPPY" you're my teacher gifts in Day 2's post!
Well, for our 3rd day, we brought in another little gift for each of the kids' teachers, and we brought in a little something for ALL the teachers at the daycare center.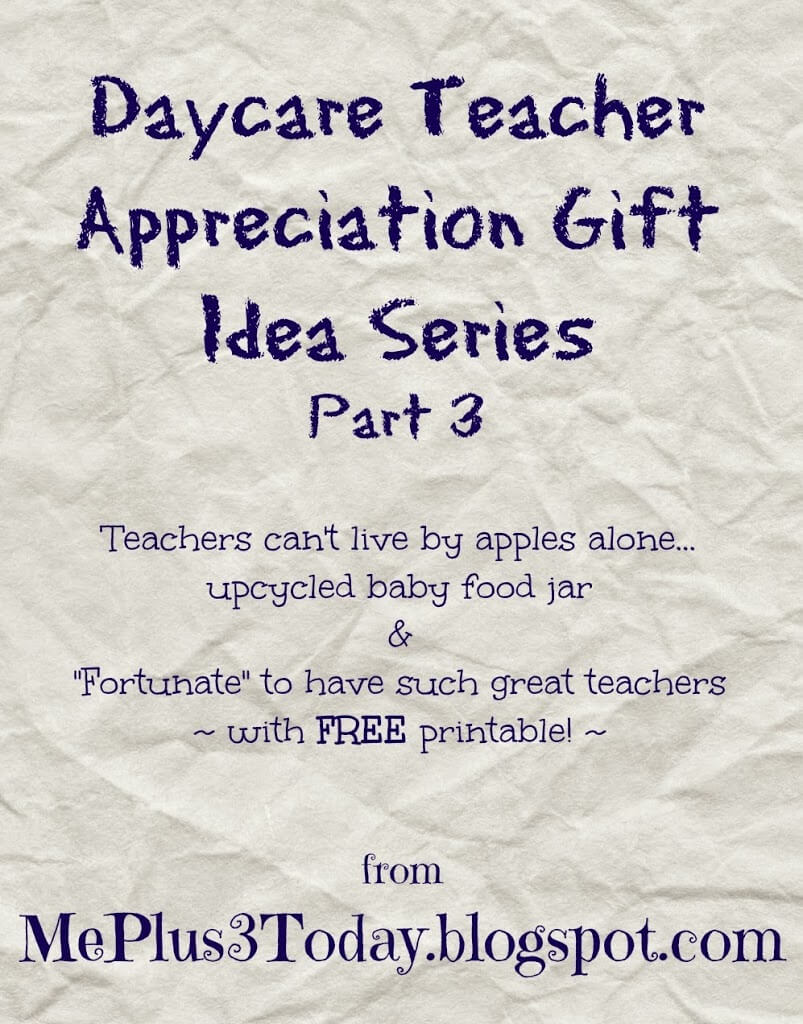 First, I put together these cute little candy gift jars for each of the kids' teachers.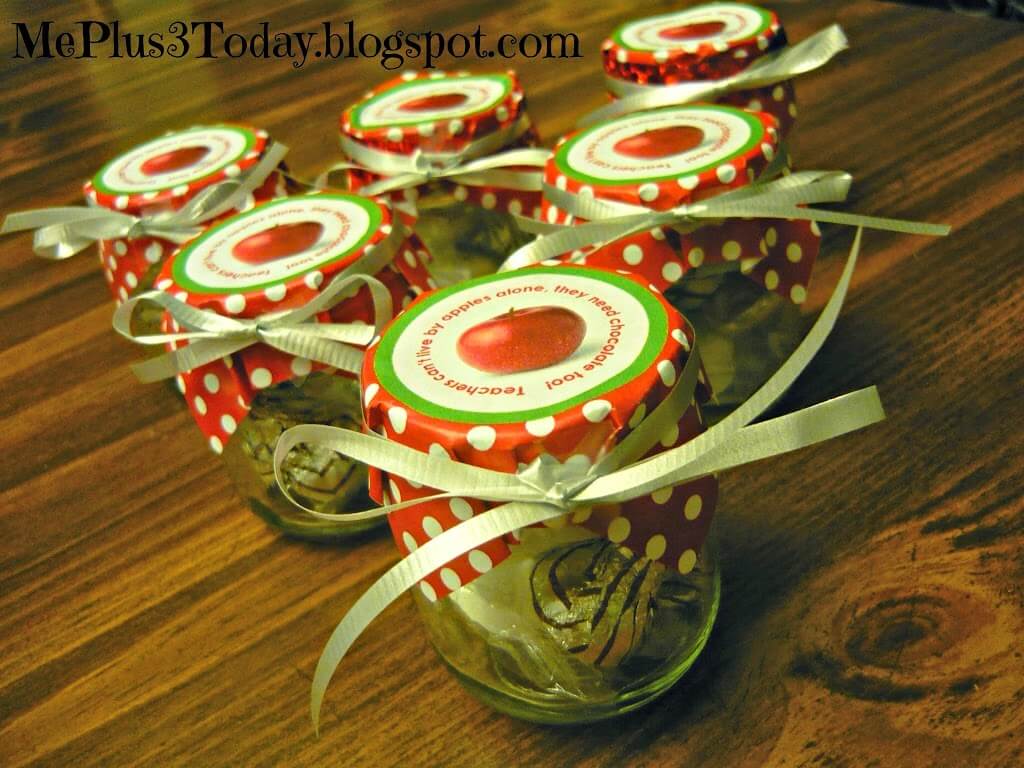 I found this adorable printable from Nothing But Country that says "Teachers can't live by apples alone, the need chocolate too!" I've also seen printables out there that say "hugs" instead of "chocolate" and I already had Hershey's Hugs on hand, so I had originally planned on finding one of those. But this little printable was a perfect fit for how I wanted to use it!
After Chaz died, we received A LOT of baby food donations. I mean, A LOT ! I didn't have to buy or make baby food for Will EVER, that's just how much we had! We are surrounded by some seriously generous people.
Because of that, I have a ridiculous amount of baby food jars saved.
Yeah, I know they can be recycled, which I am in total support of. But I think it's even better to upcycle or reuse them because it uses less energy. So that led me to saving all these jars, "just in case."
And here was a perfect "just in case" opportunity! I upcycled the baby food jars into cute little gift containers! Inside, I put the Hershey Hugs that I already had in the pantry from an after holiday clearance sale. I thought I had a full bag, but I had actually used half of them in a neighbor gift! Ah! So, I didn't have enough to completely fill the jars. 🙁 I ended up adding some Lifesaver mints as a "filler" which worked out fine.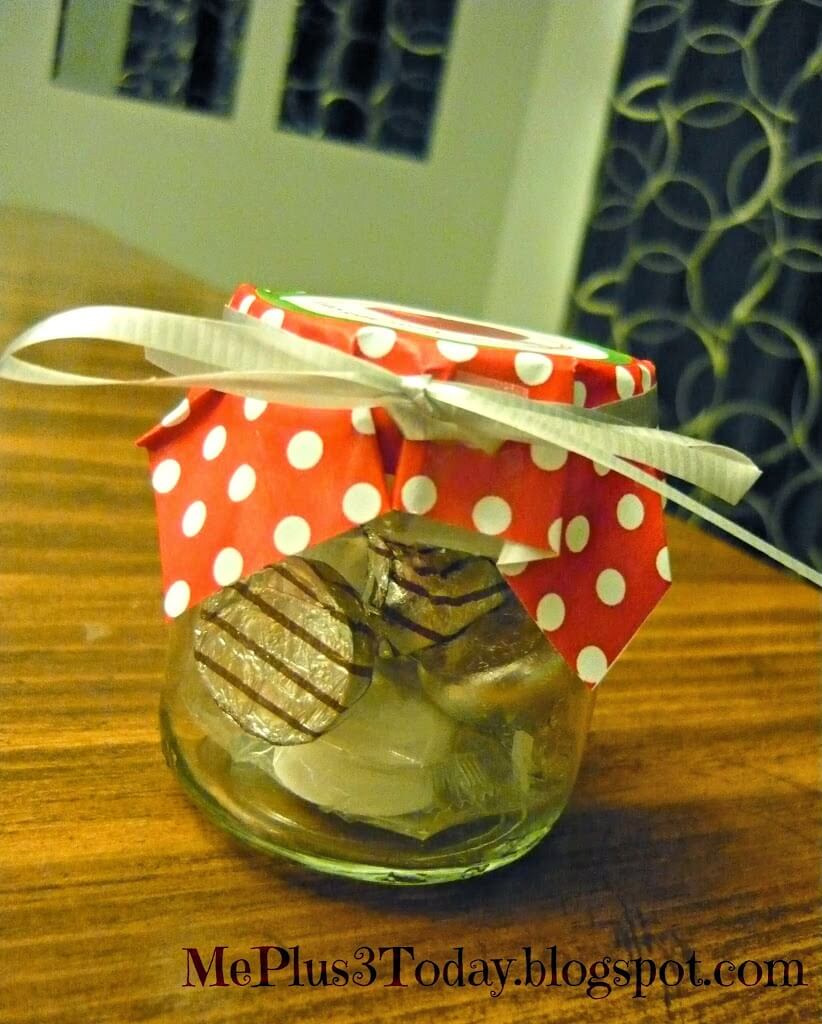 The printable I had found was in the shape of a square, with the circle in the middle. I simply glued the circle on the baby food jar lid (I used a hot glue gun because that is what I had available), and folded down the rest of the square around the edges to make it look like a super cute jar topper!
I had printed it on regular ol' paper, so it took some finagling to get it to bend and fold the way I wanted it. And it took a few tries on how to get it to stay down before I landed on hot gluing the paper to the edges of the lid as well…
But once it was down, I tied a little bow using some curling ribbon I already had (as you can see, I use curling ribbon a lot!), and… Voila! A cute little candy gift jar for our 3rd daycare teacher appreciation gift!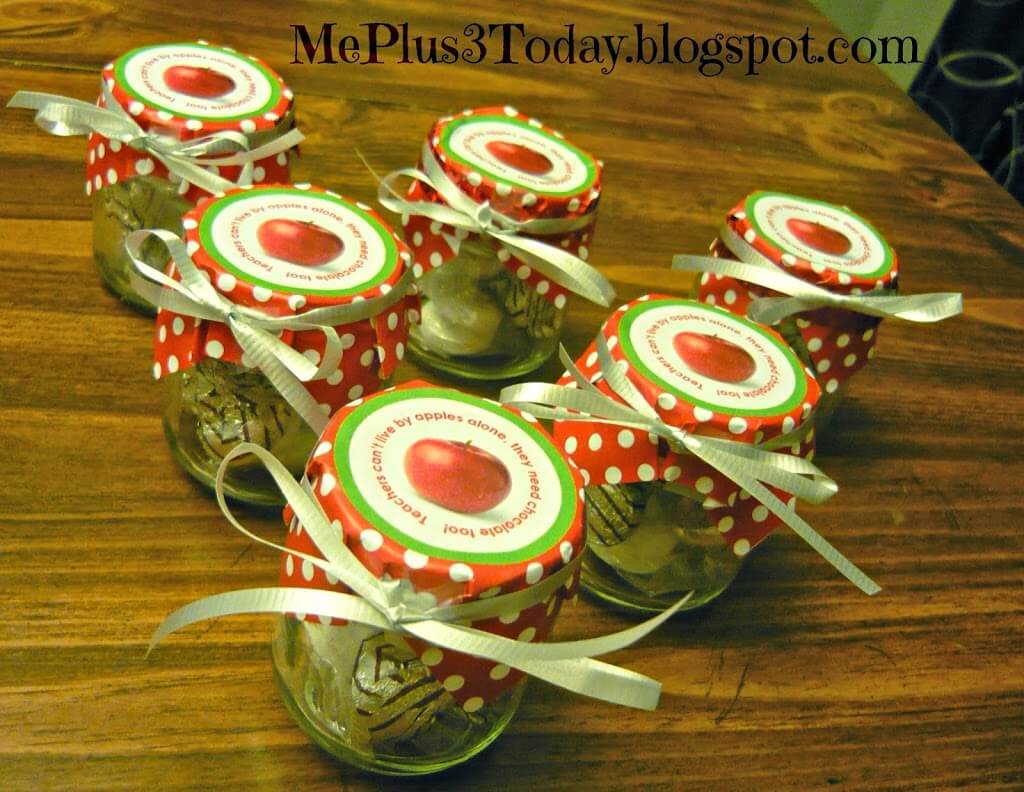 Because I had all the supplies on hand, and I had purchased the candy on clearance, this was an inexpensive gift, and I stayed right on budget!
But I was perplexed on what to do for ALL the teachers. I wanted to do something unique, but also easy and cheap! 🙂
I decided to bring in a container full of fortune cookies, with a small sign that said: "We are so FORTUNATE to have such great teachers!"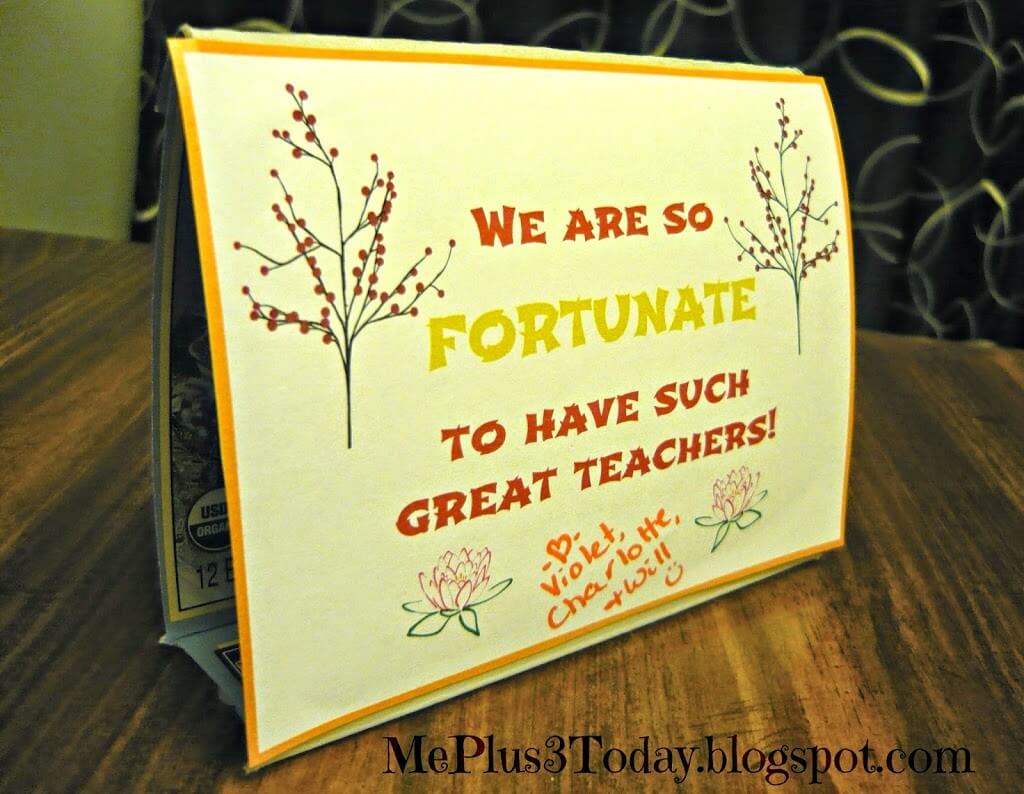 Do you think it's cute? If you do, I've included a link below for a FREE PRINTABLE! 🙂
Our daycare sets up a little "Teacher Appreciation Station" for parents to drop off goodies at, so that it is away from all the kids. I wish I had taken a picture of it! But basically, I just put the container of fortune cookies out with this little sign by it! Fun, right?
I even upcycled the sign holder… I just cut out the sides of a paperboard box, and flipped it inside out (you can kind of see that it's an Earth's Best biscuit box). Then I just glued on my printable! Easy and eco-friendly! 🙂
And no, I did not just go to a lot of Chinese restaurants to get a bunch of fortune cookies. We have a Gordon Food Service store near us, so I was able to buy a big ol' bag of fortune cookies for about $5. And, as you can see from the picture that I just took, I actually have a lot of fortune cookies left that I plan on bringing in to share with my co-workers next week.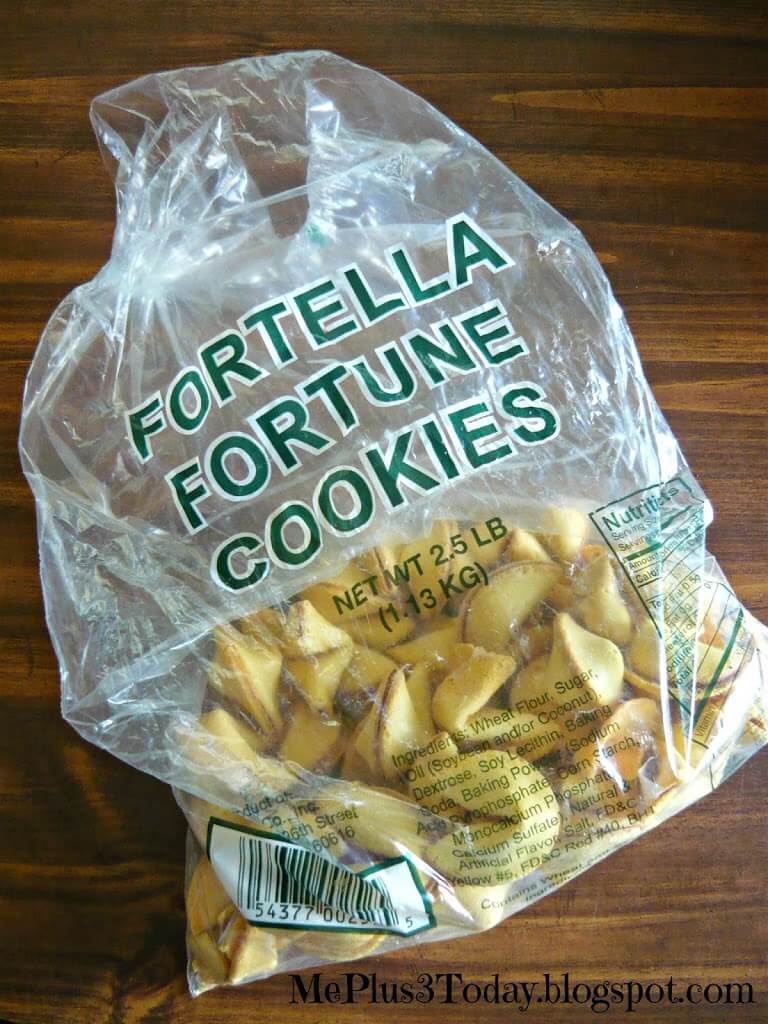 So again, I was able to give a little something to ALL the teachers at our daycare for less than $5! I think that is a pretty darn good deal! I'm always the thrifty one! 🙂
If you liked the small sign I created, here is a FREE PRINTABLE for you! NOTE: It will not print with my blogs watermark on it. I just included it on the blog post images.
Also, please note that this printable is for PERSONAL use only and cannot be sold or distributed in any way besides directly visiting this blog post. You are welcome to share this post or write about it, just please send people back to this post and give proper credit to Me Plus 3… TODAY! Thanks in advance! 🙂
Well, that's everything! This wraps up my Daycare Teacher Appreciation Gift Idea Series! I hope you liked these ideas, and maybe even plan to use one (or more) of them yourself! I received great feedback from our teachers, so maybe your teacher(s) will like them too! 🙂
What have you done for your children's teachers during Teacher Appreciation Week?
And if you liked this Teacher Appreciation Week gift idea, please pin it!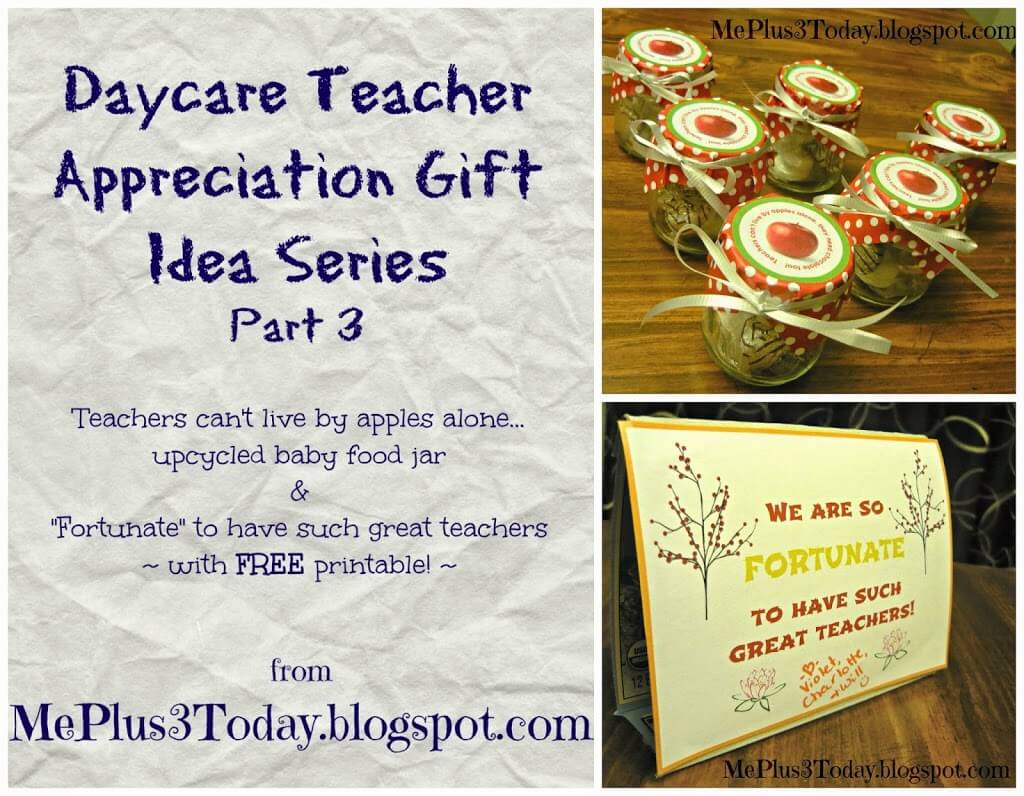 And that's what Me Plus 3 are up to TODAY!


This post was linked to: