For your convenience, this Baby Boy's First Birthday post contains affiliate links from which I may make a small commission at no additional cost to you. Thanks!
It's crazy to think about, but Will is going to be turning 1 next week! I can't believe it!
It's with mixed emotions that I am celebrating his first birthday. I actually think I am having just as hard of a time with this as I did with Christmas. I actually started talking about his approaching birthday in therapy about a month ago! I've been "dreading" it since then!
It is so incredibly painful that Chaz won't be here to celebrate his son's first birthday. There are really no words that can adequately describe how it feels. So, I fall back on what I always say when I can't come up with the right words: It just really sucks!
Then, there is this crazy mommy emotion, that I can't believe my baby boy is growing up! They aren't lying when they say that "it goes by so fast." It really does!
And while Chaz REALLY wasn't here for most of Will's first year, I almost feel like I was BARELY here. I was in my own emotional state of chaos, and I feel like I missed out on really bonding with Will. I feel like I am just now starting to be "present" in his life, to actually look at him and really see him… Instead of just watching him and interacting with him through a fog of despair, or as I like to call it, being a "surface parent." I'm there to provide for his needs and care for him, but there wasn't a deep connection, it was just all on the surface.
But of course, I wanted to celebrate his first year in this big, scary world! He really got a bum deal with his first year, and I wanted to make his birthday feel special. This was a holiday I couldn't ignore!
So, I set up a small birthday party, with my side of the family. I know it's tough for Chaz's side of the family to get here, so I didn't want to require them to be here on a specific day. They will be visiting soon, and we'll have another little celebration then!
I scoured Pinterest for cute little boy 1st birthday party ideas. Wow, there is A LOT of cute stuff out there! I mean, A LOT. I can't believe how creative and organized some people are. It's really amazing!
Unfortunately, I am NOT organized. In fact, I'm pretty sloppy. And while I can be crafty, I don't consider myself too creative. So while some birthday parties on Pinterest look amazing with amazing photos of everything, I would say that the one I set up for Will was just "average" in comparison, with less than average pictures… But I am totally OK with that! It just works for our family, and it still seemed special for us! 🙂
I did, however, borrow a bunch of ideas from all those amazing birthday party pins. So thank you to the incredible, crafty, creative folks out there, for helping to make our son's first birthday feel special! Seriously, you guys rock! 🙂
And if you'd like to see the great ideas that I find and pin, click here to follow me on Pinterest!
My Baby Boy's First Birthday Extravaganza!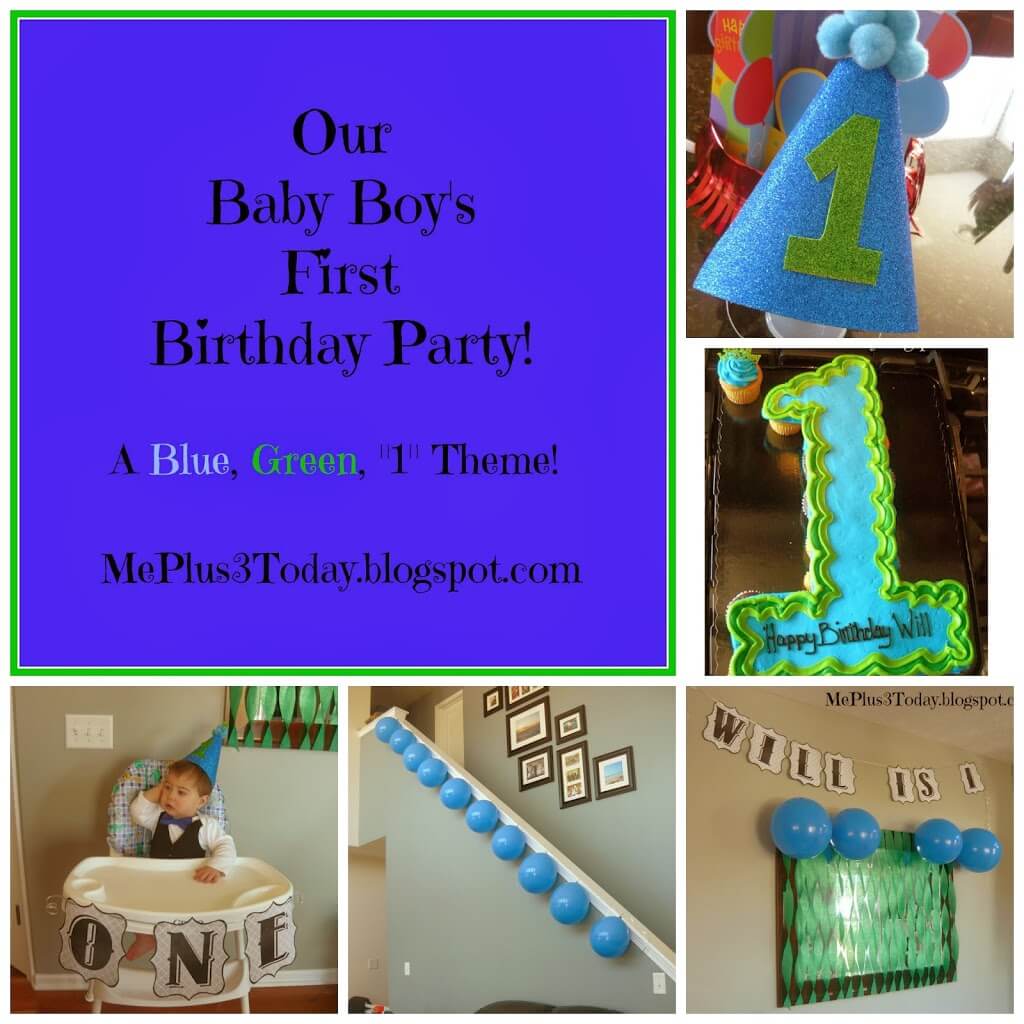 I didn't really have a "first birthday theme." I guess I picked "central colors" that I wanted to use, which were green and blue. And I guess I stuck with "1" in most areas of the decor too, since it was his first birthday and all! 🙂 But really, it's just kind of a mish-mash of stuff I found at the dollar store or on clearance, along with some Pinterest ideas!
The Food
The party began at noon, so I made sure to serve lunch to everyone. I ordered a sandwich party platter from Meijer. It was really good and a decent price. It was turkey and ham on Kings Hawaiian Rolls, along with sliced cheese. I also picked up some potato salad and chips. Very simple, low maintenance, and no prep-time for me, which was exactly what I needed!
Here's our little man about to enjoy his lunch!
The Outfit
I ordered his adorable outfit from Noah's Boytique. Thier products are awesome because white onesie bodysuit is made with special snaps to attach suspenders or a vest and a bow-tie. It makes it really easy to dress a little boy. And, since it was his FIRST birthday, I purchased both suspenders and a vest because they were just too cute! BONUS: I see that Noah's Boytique sells on Amazon now, which is super convenient! Just click here to see all the options!
The Hat
So, what do you think of his hat? 🙂 I made it! Well, sort of… It's basically just an embellished party hat out the package I bought from the dollar store. The rest of the hats in the package were for our guests to wear.
I happened to have sparkly foam sheets and puff balls on hand for craft projects with the kids. I just used regular old Elmer's glue, and glued a piece of blue sparkly foam sheet around the party hat. It didn't quite cover the whole hat, but you don't see the back of the hat in pictures anyway, so I didn't think it was a big deal. I also used the sparkly foam sheet to cut the number "1" from. I glued on some puff balls to cover the top of the party hat that the foam sheet didn't cover.
And… Voila!!! My masterpiece! 🙂 I almost spent $7.99 to buy a "1" birthday hat from the store! I'm so glad I was able to make this for just pennies! 🙂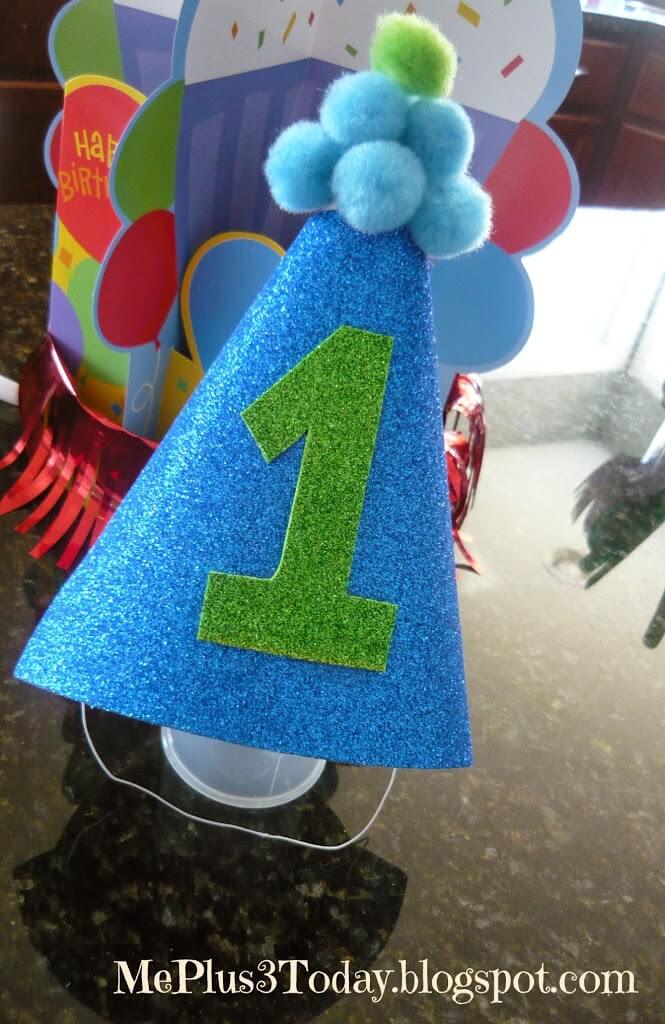 The Decorations
I was inspired to put the O-N-E on the front of his high chair from a pin I found that pointed to the blog Choosing to Be Colorful. She had some great pics of her nephews first birthday party. That's also how I got the idea for his "chair backdrop" that you'll see in a picture below.
I found the DIY Swank blog that had printables of all the letters, numbers, and some symbols. You can find the blog and printables by clicking here. I liked these because they were BIG, and they were a unique shape, not just the typical bunting style that I've seen quite a bit.
Like I was saying earlier, I got this cute idea for a backdrop that you see in the following pic from the blog Choosing to be Colorful. I wanted Will to sit in front of that while he was eating, so the pictures would look super cute… However, I forgot to move his high-chair in front of it! He was over to the side the whole time…
Oh well, it was still festive decorations! 🙂
And it goes along with the whole "blue, green, and 1" mish-mash theme. These are the same printable letters from DIY Swank. I punched holes in them and threaded some curling ribbon through, to make it easier to hang on the wall.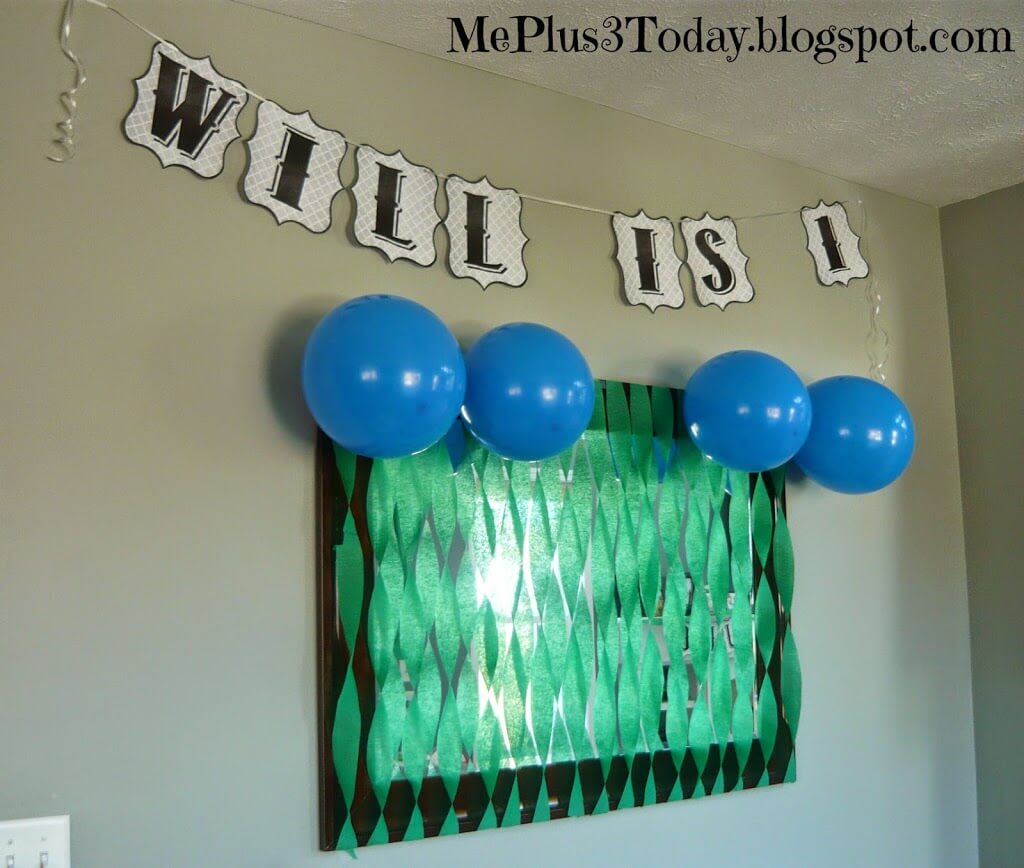 Click here to go to the DIY Swank blog for the free letter printables!
Will is actually named after Chaz (who is named after his dad, his grandpa, and great grandpa), and his real name is Charles (Will goes by his middle name). So, Will is actually Charles V! When I was pregnant with him, someone started calling him "Cinco," and the nickname has kind of stuck! So this is just my silly little spin on his nickname using those printable letters again!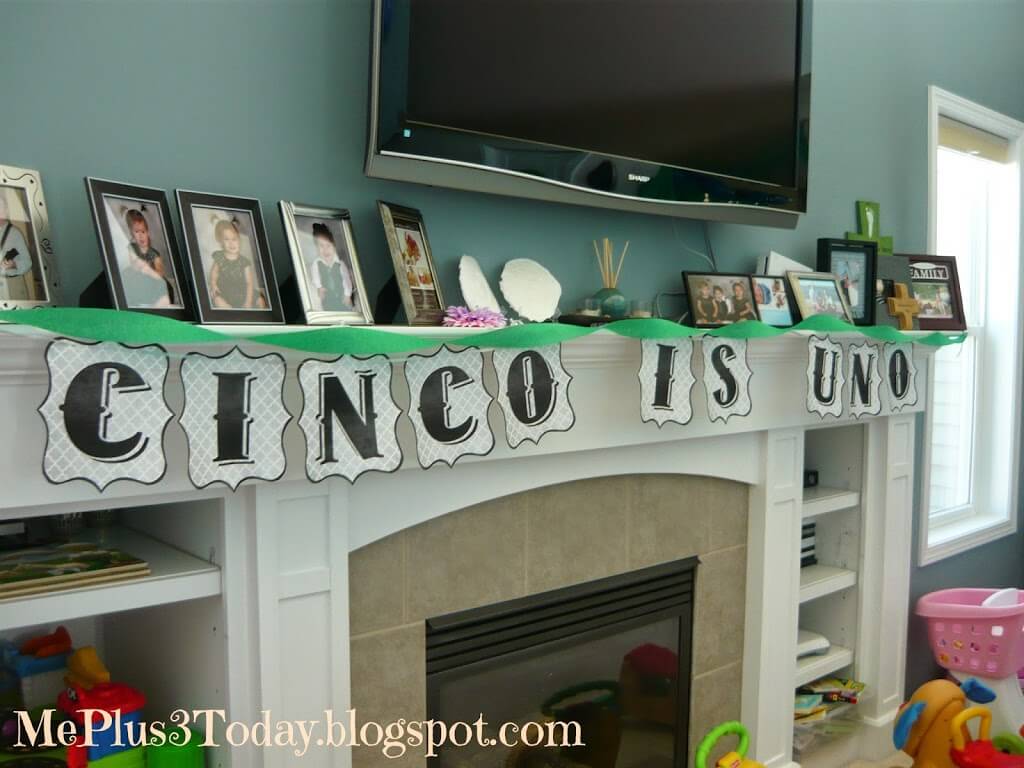 Click here to go to the DIY Swank blog for the free letter printables!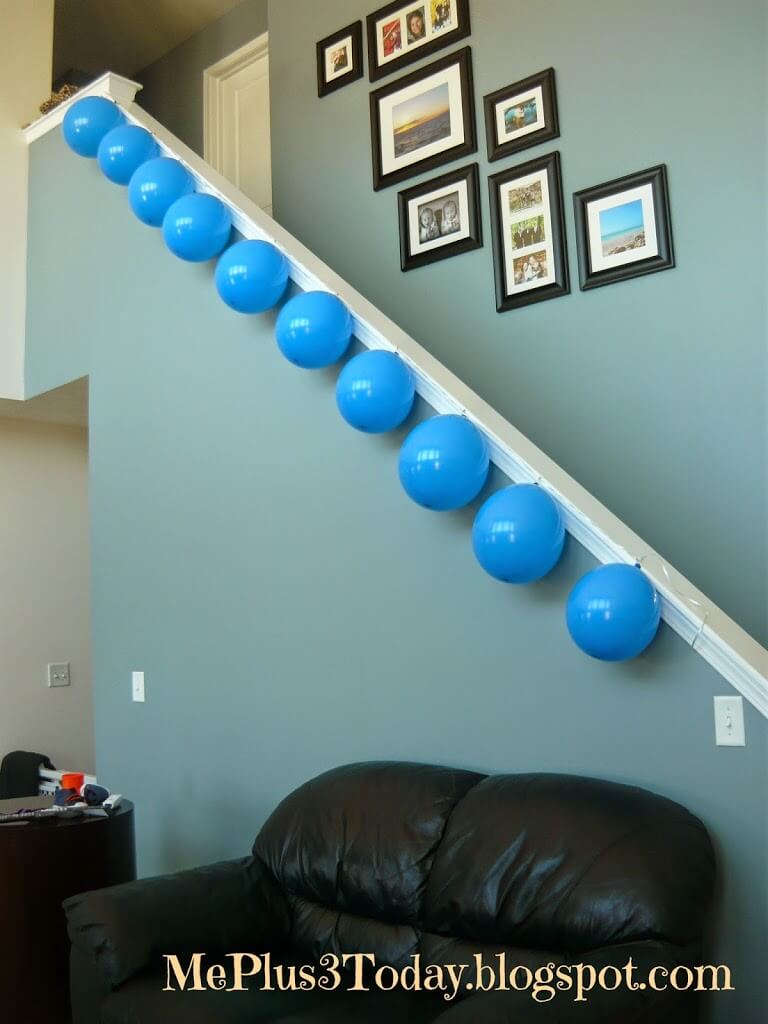 I used 2 green, plastic tablecloths for a unique archway decoration. I got this idea from the blog That's My Letter. Her's definitely looked a lot nicer. I just tied the 2 tablecloths together, which happened to create the big bow in the middle of the archway. And since I didn't have tulle, I used my good ol' curling ribbon to gather it in the corners. Again, not perfect, but it's better than nothing, right? 🙂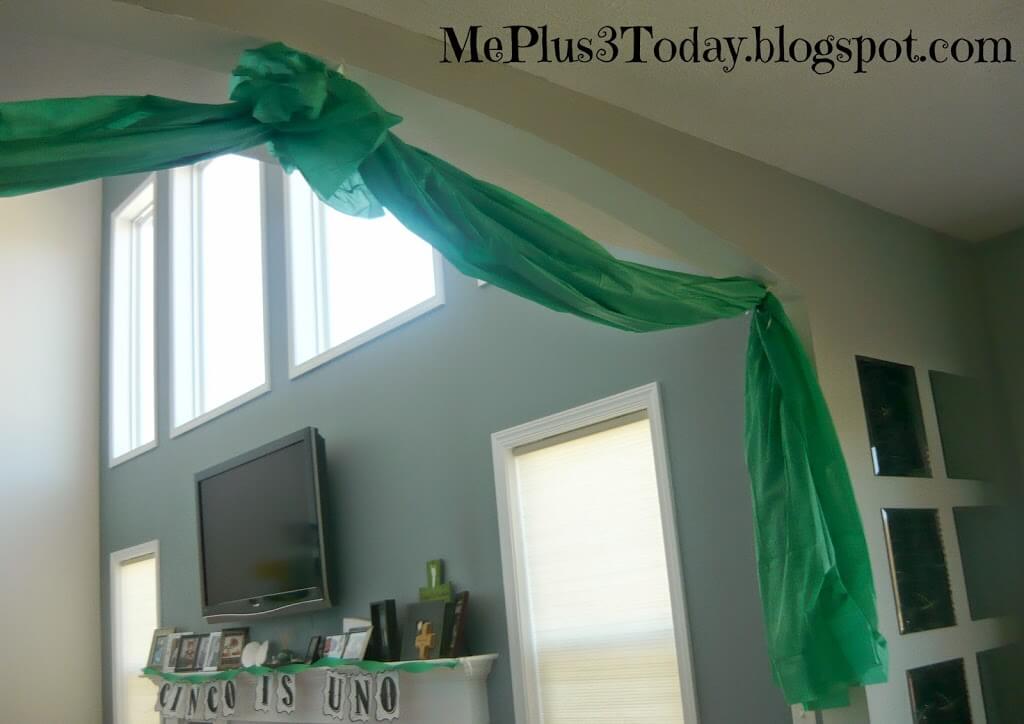 The Memories
Like I've said a bunch so far, thanks to Pinterest, I found this cute idea of having all our party guests sign the Dr. Seuss book, Happy Birthday to You . It's been pinned about a million times from all different places, so just search Pinterest if you are wondering what I'm talking about.
I did, however, find the Make it Cozee blog that provided a free printable of the Dr. Seuss Happy Birthday to You instructions for our guests. She has a boy or girl version, and even includes instructions on how you can personalize with your child's name! But I was too lazy to do that. 🙂 Anyways, check it out by clicking here. I've seen people use this really nicely, putting it in a frame and having a nice little setup. I just had ours sitting on the kitchen table. 🙂
I really think this added a really special touch to his first birthday! And I plan on this being another tradition for all his birthday's to come! We can keep signing the same Happy Birthday to You book, and just think of what a great book full of memories he'll have when he grows up! (I'm going to start one for each of the girls for their next birthday too!)
The Cake
And now, let's get to the REAL fun! THE CAKE! 🙂 I just ordered a cupcake cake shaped like the number 1 from the Meijer bakery. It was half chocolate, half vanilla. Yum yum! They even provided a single cupcake off to the side, which we used for Will to "blow out the candle" and for his cake smash! Again, it incorporates my blue, green, "1" theme! 🙂 See, I really DID have a theme! Yay me! 🙂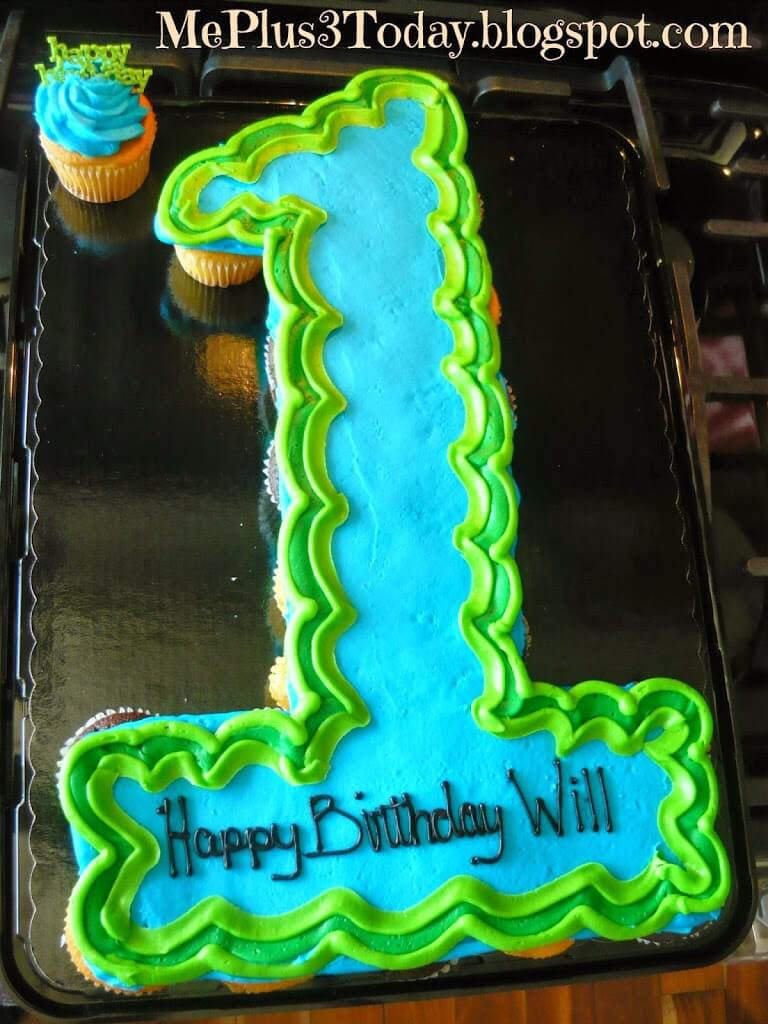 Here we are singing "Happy Birthday" to Will. He looks completely terrified! But still oh so cute!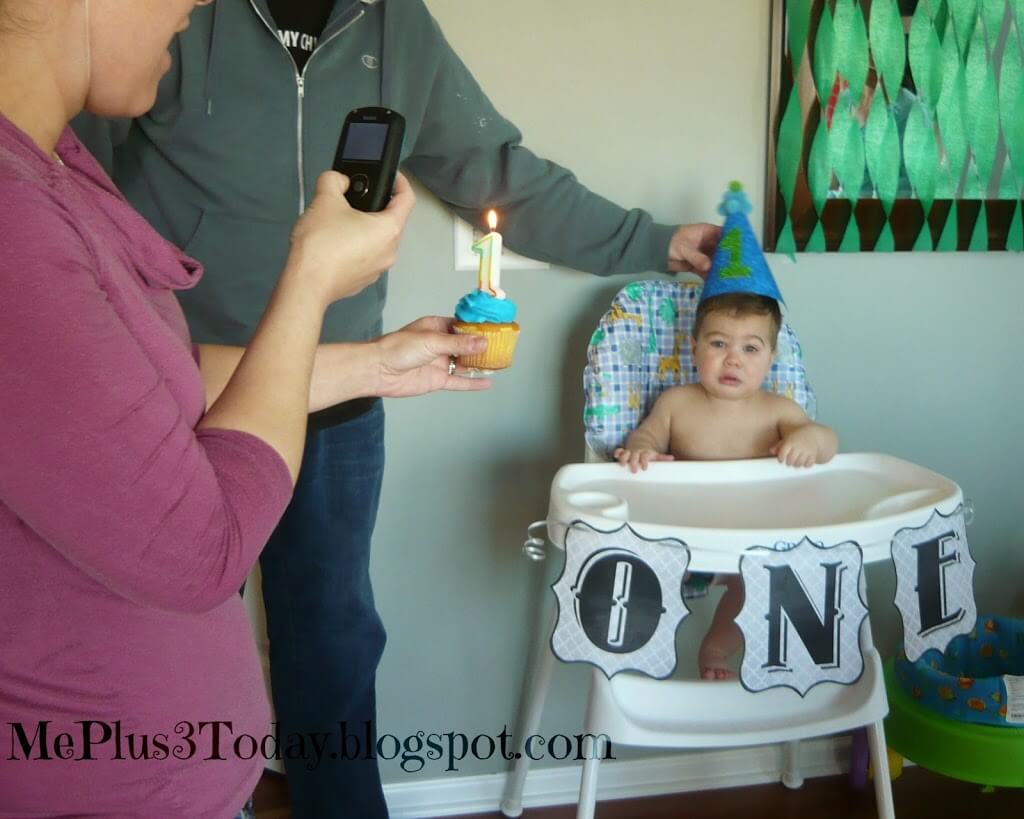 He LOVED the frosting! I actually ended up scooping a bunch off the cupcake because I was like, hmmm… He is going to get a serious sugar buzz from all of this!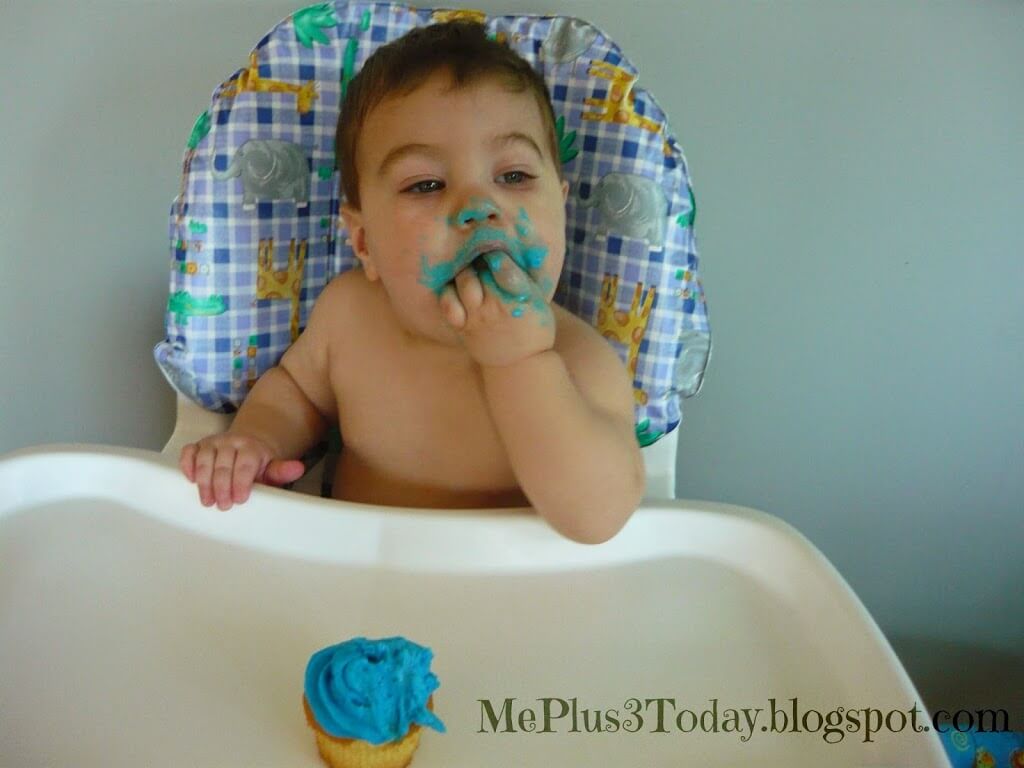 And now he's finally digging in to the cake… He's not really sure what think…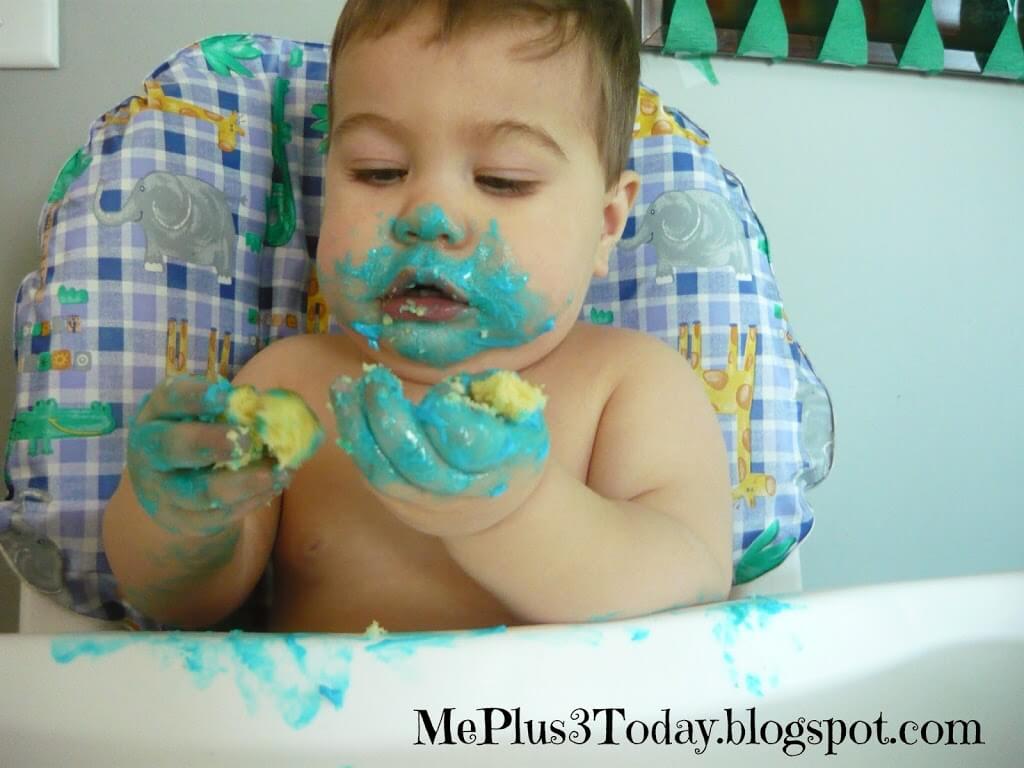 Wait for it…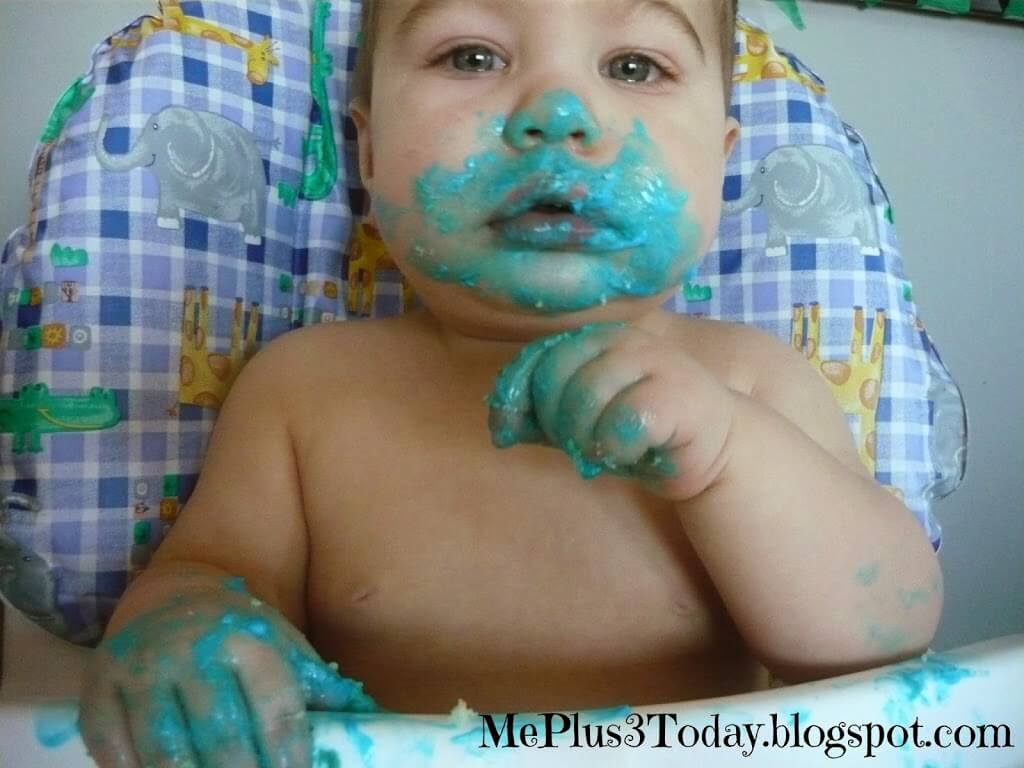 .
.
.
.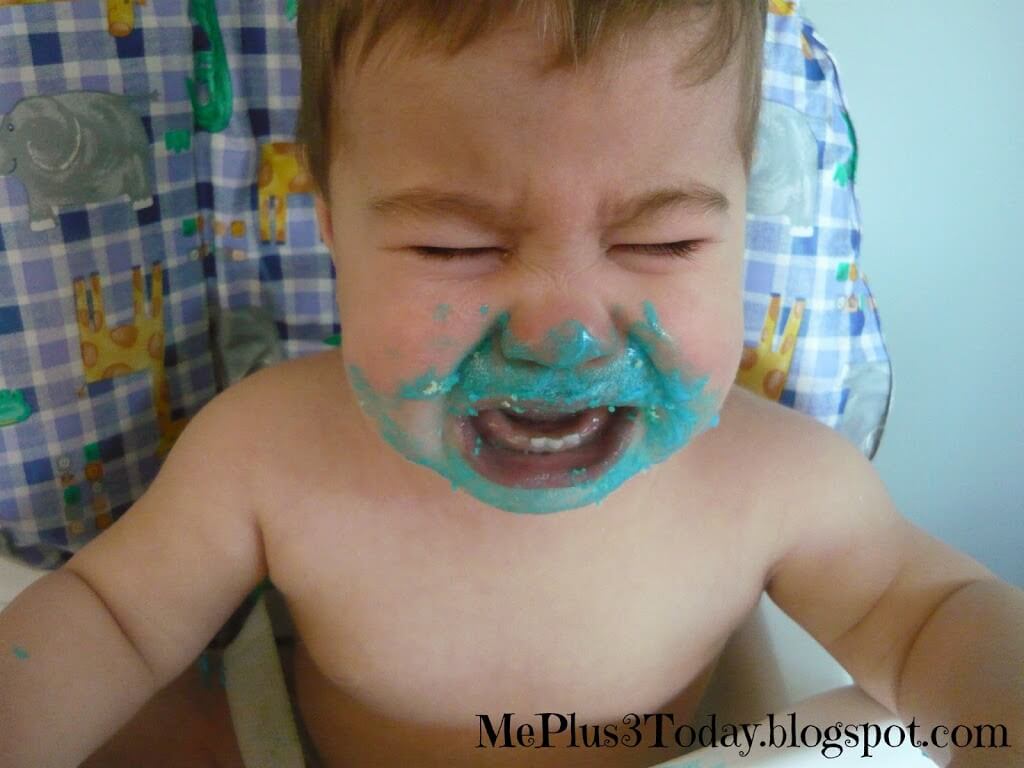 Yeah, he wasn't so much a fan of the cake! Or maybe he was just overwhelmed by this point! Who knows!?!?!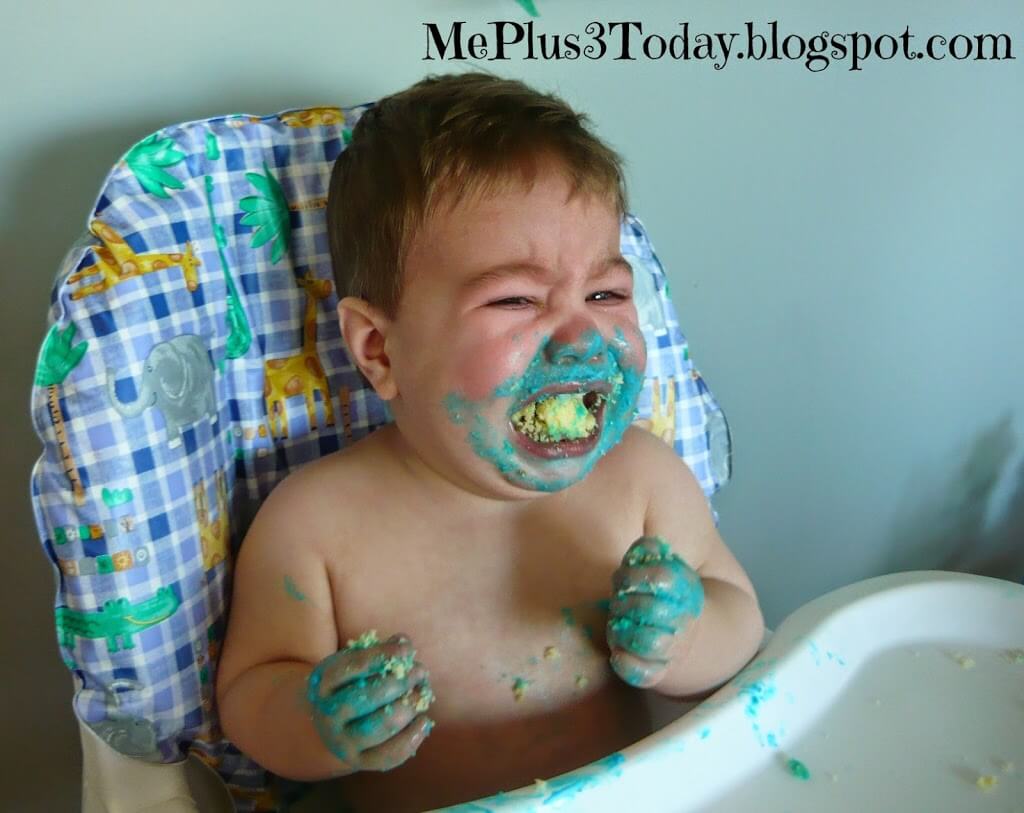 The funny thing is, despite crying his head off, he just kept shoveling his face full of cake! It was so silly! But I'm so glad we got some great pics of his first adventure with cake! That's definitely a 1st birthday tradition I didn't want to miss!
Well, I think that about covers our baby boy's first birthday party! Here's Will saying "Thanks so much for reading all about my 1st birthday party!" 🙂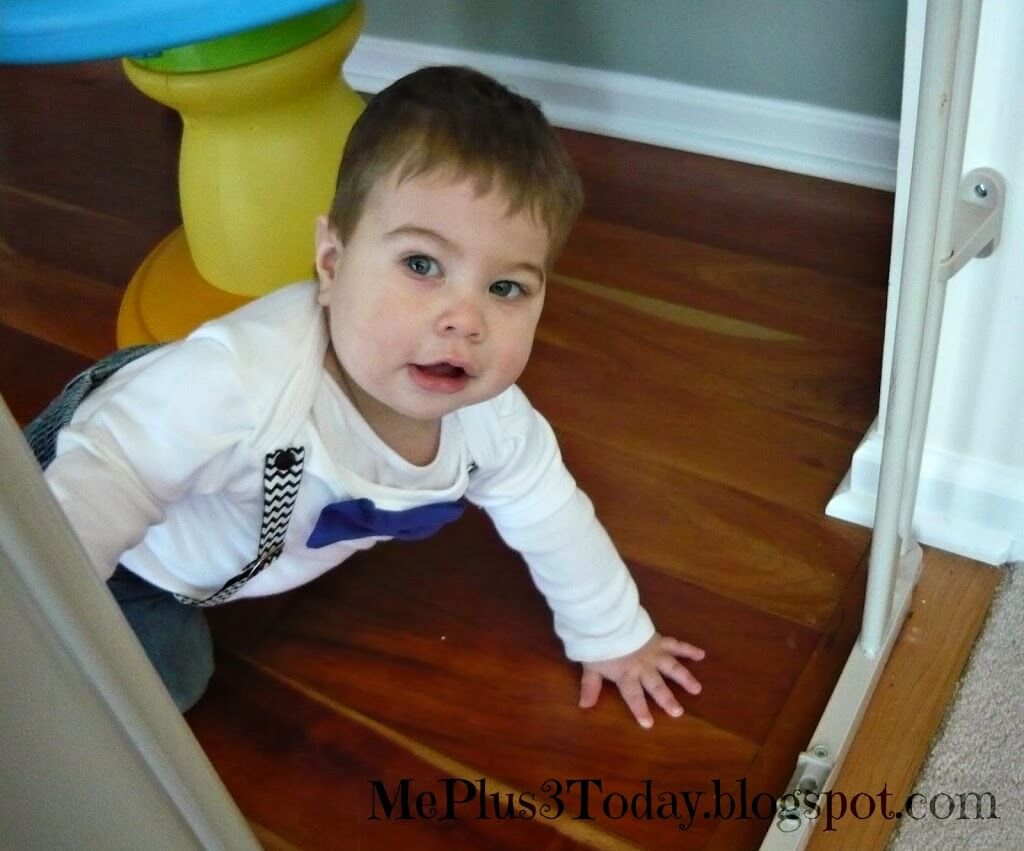 And that's what Me Plus 3 are up to TODAY!
What great party ideas have you FOUND on Pinterest? And what great party ideas have you USED from Pinterest? I'd love to see them, and pin them myself!

If you want to hear more from Me Plus 3 Today, click here to 'Like' me on Facebook! Then click here to follow me on Pinterest!