So this blog is only about 3 weeks old now. And when I look back and read my first few posts, I am just not happy with them.
They are not what I envisioned this blog to be.
But I am also a widow. A young widow. A young widow with young kids.
And that undeniable fact is in every ounce of my being. It seeps into all my thoughts. It pollutes all my interests.
And as much as I hate that word, it is who I am. Now.
When I first decided to start this blog, I mostly wanted it to be about my life as a young widow. The few ups and the many downs. The endless struggles. And how I was "coping" with it all. How I was managing my children. What we were doing to get through each day.
But so far, it's not. My first few posts are somewhat of an illusion. Smoke and mirrors. Yeah, I touch on the subject of widowhood in a few spots, but I don't feel like I am telling the whole story. The true story.
And the truth is: Being a young widow SUCKS!
It
absolutely,
positively,
SUCKS!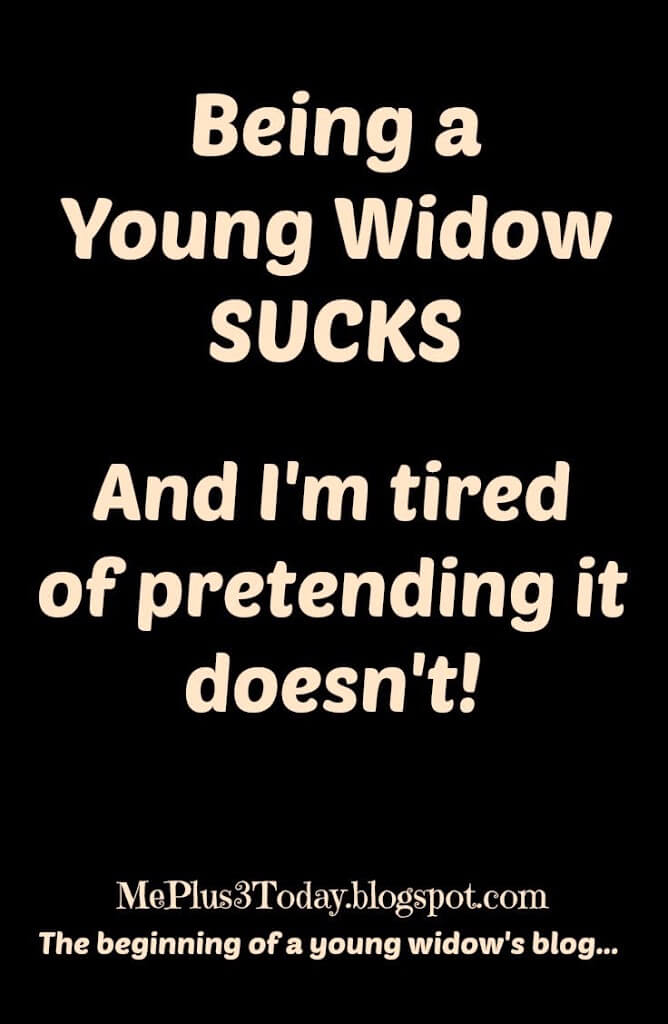 And that isn't even the best term to describe it. I don't think there is a word in the English language that adequately encompasses what this horrible situation is really like.
So, until I discover the right word, I just say "sucks."
When I was writing my first few posts, I was writing for others . Other people who might not understand what it is like to be a widow. Might not understand loss. Might not understand the depth of this pain.
So, I was editing it for them. Sugar-coating it. Because I didn't want to offend anyone. I was writing from the surface. The false surface, or mask, that I put on each day for the rest of the world.
I didn't want to be all TMI, and get too deep into my feelings. I didn't want any readers to wonder why I was sharing this wretchedness so publicly.
But ya know what? That's not what this is all about. I want to be honest. I want to be REAL. I am so sick of pretending.
And I think that by being real, by not wearing a mask when I write this blog, I will be able to accomplish what I had intended in the first place.
What did I intend, you may ask?
I intended to share my story. My TRUE story.
And in doing so, find others who can relate to this horrible situation. Find others like me. And I hoped by finding others, I wouldn't feel so alone, so isolated in this horror story that has become my life.
I also thought that maybe this blog might even help someone else. I would share our daily life, and maybe it would help some young widow out there just get through "one of those days." Because I've had many, many of those days…
Because as much as we wish the world would stop turning the minute our husbands died, it didn't. Time keeps moving.
And we keep going on because we HAVE to.
That's right we HAVE to. We don't get to crawl into a hole and cry for the rest of our lives. We HAVE to get up, take care of our kids, go to our jobs, clean our houses, pay our bills, and just fall back into the life we were living before, even though it is a life that will never be the same again.
So there you have it. That is my reflection of the early posts of this blog. And it is the new original direction that it is headed in.
From now on, no more sugar-coating. I will be REAL. I will be HONEST.
I WILL write about what being a young widow with young children is ACTUALLY like.
And that is what I am thinking about TODAY!

Is there any young widow out there reading this? How do you cope? Do you wear a mask too? I'd LOVE to hear from you.