And right now, I'm only doing it part time. I really WANT to do it more. I so WISH I could do it full time! But obviously I need to gain more experience and build a presence before I can take that giant leap.
Hopefully someday… sigh…
Well, in my research of How to Blog, I've discovered a few Link Parties. I had wanted to wait until I had more content and felt that my blog was more established before I started giving those a try…
But as I talked about in my recent Act of Kindness post, I am participating in a service challenge. When I emailed the post to the blog author who had organized the challenge, she said I could add it to the Make a Difference Monday Link Up. I was really nervous about it, but I took a deep breath, and decided to try it out!
And then I started to think, "Why am I waiting to try others link ups?!?" I bet some of these other bloggers might have some really great advice on how to build and grow this blog. It seems like bloggers like to help other bloggers!
Each week, Cee asks 4 questions so we can "Share Our World" and help everyone get to know each other better. It sounded like such a fun idea, I decided to give it a try. It's a great way to expand my "About Me" by sharing things I never would have thought about without these prompts!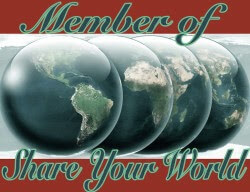 And I would love to get to know YOU better too! Who's reading this? Is anyone reading this? Bueller? Bueller?… 🙂
If you're out there, please leave your answers to these 4 questions in the comments section. It'll be fun! 🙂
What are some words that just make you smile?
Oh gosh, apparently I have the humor of a 12-year-old, because the first words that came to mind were fart and balls. I should probably be embarrassed for even writing that… 🙂
When you lose electricity in a storm, do you light the candles or turn on the flashlight? How many of each do you own?
My mother-in-law actually just got me 2 emergency flashlights
that don't require battery power (you just shake them or something), and also 2 emergency lanterns
for Christmas! We haven't had the power go out yet (knock on wood), but I used the lanterns during Earth Hour (which you can read more about by clicking here).
What is the longest book you ever read?
I love to read! I used to be in 2 different book clubs, before we had kids. I think the longest might have been The Pillars of the Earth
by Ken Follett
. Almost 1000 pages… yowza! I also read A Game of Thrones (A Song of Ice and Fire, Book 1)
by George R. R. Martin
which is almost 900 pages I think.
So you win a pet monkey at a fair, but this isn't just any old monkey. It can do one trick for you whenever you want from getting a pop out of the fridge to washing your hair. What would be the trick?
Cook all the meals for my family! I'm just not a big fan of cooking, so monkey, please take over! 🙂
Bonus question: What are you grateful for from last week, and what are you looking forward to in the week coming up?
I am grateful for the time I was able to spend with my children, teaching them kindness (click here to read about it) and playing outside (Yay Spring!). I'm looking forward to the possibility of going to a neighbors house for drinks this weekend. I still need to find a babysitter though… eeek!
And there you have it! Don't forget to share your answers in the comments!
Well, that's just a little bit about Me… TODAY!
*Post contains affiliate links.