Disclosure: For your convenience, this post with Disney Vacation Shirts contains affiliate links to support Me Plus 3 Today at no additional cost to you. Thanks!
"I'm going to Disney World!" Are you lucky enough to be saying that classic phrase?
I'm pretty sure that I will be soon. Now that my kids are a little older, I have been doing A LOT of research into planning a Disney vacation.
Fortunately, there are a lot of "experts" out there who share all sorts of tips and tricks to make a vacation to Disney World one to remember.
While I'm researching the actual planning aspects, like where to stay, eat, and what to do while we are in Disney, I can't help but get distracted by all the adorable Disney swag that is available out there.
Like Disney vacation shirts!
I love the idea of having matching or coordinating shirts as a family while we are there. Or at least something Disney related to wear! Not only will it help us recognize each other in the crowd, it is probably one of the few times where we could actually pull something like that off without looking really silly… At least, that's what I tell myself… 🙂
There are countless Disney vacation shirts out there, but I thought I'd share a few of my favorites with you here. I hope you like that as much as I do!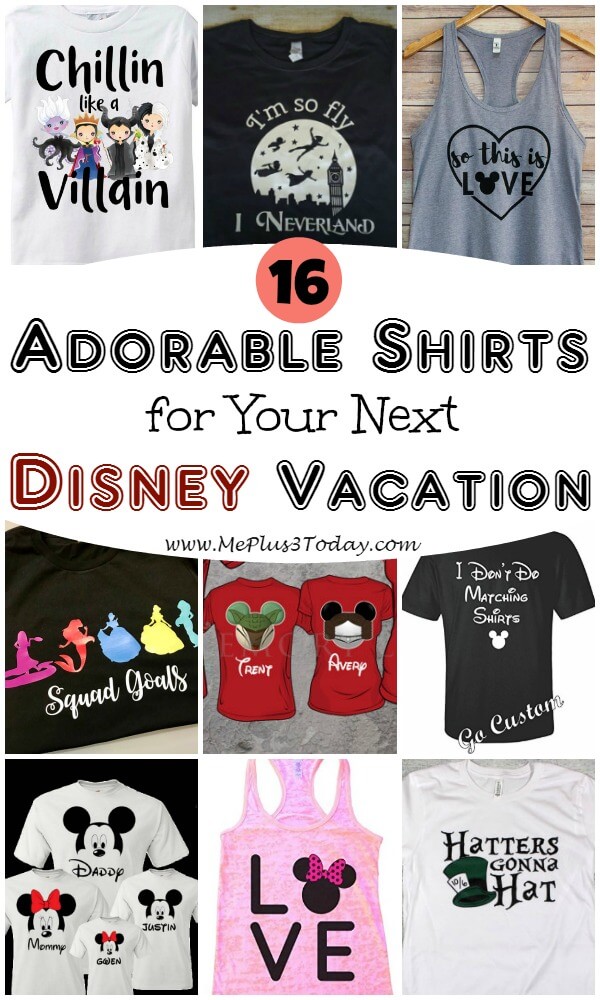 Adorable Disney Vacation Shirts
1. Classic Mickey Mouse or Minnie Mouse Family Shirt
I wanted to start out sharing this classic look. I love the simplicity of these Mickey and Minnie Mouse shirts that you can customize with names or family members. If these doesn't say "Disney Vacation Shirts," then I don't know what does!
2. Star Wars in Mickey Ears Family Shirts
Now here is classic with a twist! Where are the Star Wars lovers out there? I love how these Disney vacation shirts incorporate the Star Wars characters into the Mickey Mouse ears! In fact, this entire Etsy shop has so many great ideas of characters shaped as Mickey ears that it was hard for me to choose just one! BONUS: Now through June 30, 2017 you can get FREE SHIPPING on these shirts and everything else at Emory Lane Studios using coupon code MePlus3Today. Click here to shop!
OK, just admit it, you chuckled a little when you read this. Me too, hence I'm sharing it here. (Yeah, I said hence…) This one is available in kid sizes only, but since it's on Etsy, you should be able to customize it to an adult size too!
Because obviously food is a big part of any Disney vacation! I found this design or others like it in any size on Etsy.
5. Customizable 2017 Shirt w/ Mickey Ears & Castle
This shirt is awesome because it's available in 4 colors and in sizes from toddler all the way to adult. That way you can have matching and coordinating Disney vacation shirts for everyone in your family! I love how the numbers in the year are incorporated with different Disney characters. Plus, these can be customized with each person's name!
6. Family Vacation Shirt w/ Mickey Ears
These are more classic Disney vacation shirts. I think these would be so cute to wear on the first day at Disney World. I love seeing the pictures of families actually wearing them at Disney that people posted in the "reviews" section where you can purchase these shirts.


7. "So this is love" w/ Mickey Ears Tank
I can just hear Cinderella and her prince singing this right now… And I'm sure you will be singing it all day long when you wear this on your Disney vacation!
This is another one that made me laugh a little. I haven't seen a lot of Alice in Wonderland shirts so I love how unique this Mad Hatter reference is!
9. All that and a bag of Chips
Get it? I love this pun! If you were wearing this on your Disney World vacation, I'm sure you'd get quite a few laughs!
It's not always easy to find products with any of the Disney villains on, so this shirt is extra special! I love the adorable play on words too! I think it would be cute to wear these as a family and have a different villain on each person's shirt. I'm sure you could get something like that custom made on Etsy!
11. Christmas Mickey Family Shirts
Anyone going to Disney around the Christmas holiday? Then these family Mickey Ears shirts with Christmas details would be perfect! There is one for everyone in your family!
12. LOVE with Mickey Ears Tank Top
I just "LOVE" this racer back tank top with the Mickey Ears instead of an "O." It's available in 7 different colors in women's sizes, so I'm sure you could find on in your favorite color!
13. LOVE with Minnie Ears Tank Top
The "LOVE" shirt comes with Minnie Mouse Ears too! So are you team Minnie or Mickey? Take your pick!
OK, so this obviously isn't a shirt. But from what I've read about visiting Disney World in Florida, rain storms tend to pop up quickly. So why not be prepared with a fun poncho like this one with Mickey Mouse shorts and gloves on it! They have one with a Minnie Mouse bow too!
Are you an "Incredible" family? Even if you don't have super powers, your family can look like you do in matching Incredibles shirts! You can find them in sizes for the whole family!
16. Disney Princess Squad Goals
For all the princesses out there! There are a lot of Disney Princess #squadgoals shirts out there on Etsy, but I loved this one in particular because it had Rapunzel on it. My daughter is a HUGE Rapunzel fan so anything that has her on it is perfect for our family!
17. I Don't Do Matching Shirts
And of course, for all the party poopers out there, I had to include this one! 🙂
**********
So which one is your favorite? Leave me a comment and let me know!
You May Also Enjoy: