You may or may not have noticed that I've been on a blogging hiatus for the past several weeks. Well, I'm finally here to explain why!
The plain and simple explanation is that I was burned out .
At the beginning of the year, I announced that I was to quitting my job and launching a virtual services business. The financial impact of this monumental decision meant that my kids would no longer be able to attend daycare and would be staying home full-time with me.
All I can say is, "Wow." Just, wow.
I thought I could pull off being a work-at-home mom with 3-year-old twin girls and an almost 2-year-old little boy.
For the first month or so, I did. But as I accrued more clients and projects for my virtual services business, I started to feel the burn.
It may have been noticeable by the fact that, for the past few months, I had only been blogging once per week. I was simply keeping up with the Make a Difference Monday Link-up because that was my only official commitment for the blog. Except for that, all other posts were put on hold so that I could meet deadlines for my business.
Between this blog, my business, and life in general, I was living in a constant state of distraction. I was beginning to check email and social media accounts more frequently. I'd try to squeeze in a few minutes of work here and there while the kids were occupied with toys, or more likely, the TV.
When I was spending time with the kids, I was never fully with the kids. I would always have a constant to-do list running through my head. I was consumed with thinking about what I should be doing, instead of just actually doing.
When I finally put the kids to bed each night, I was almost too exhausted to effectively work. I would work into the wee hours of the morning every day, but I never felt caught up. Actually, I felt like I was falling more and more behind.
Basically, I had taken on more than I could handle, and it was beginning to take its toll on me.
When I was deep in the midst of what I've termed "my funk," it finally hit me that this was not right. I was not living the life I had intended by making this leap of faith into a new venture.
Something had to change.
That is when I sat down to think about what needed to happen so that I could get back on track. Here is how I did it: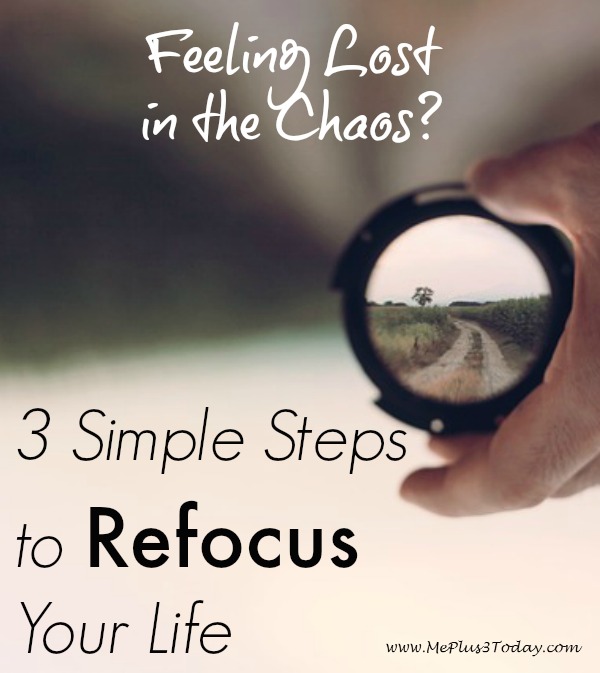 3 Simple Steps to Refocus
1) Write a list of what feels chaotic to you, or what is currently going on in life that is making you unhappy.
My list consisted of the following items:
Living constantly distracted
No longer excited about or feeling fulfilled by the work I'm doing
Lost focus on the reason for my work
Focused too much on income and growing versus helping others
2) Write a second list with what you can do to fix the items in the first list.
My second list was somewhat generic:
Refocus priorities
Free up time
Ask for help
Live in the present
Get rid of clutter
3) Take action on your second list.
This 3rd step is probably the most difficult because this is where you get specific about how you are going to accomplish your second list.
For me, "free up time" is an obvious solution and easy to write down, but really doing it as a completely different story. I had to find things that I was spending time on and eliminate them from my routine.
In addition to a few other actionable tasks, it was this that led me to making the decision to take a step back from my blog for a several weeks.
While I love blogging and it is a very small source of income for me, based on my state of mind at the time, the rate of return was just not worth the time invested. I chose to take several weeks off, with plans to return in June. This also affected my Facebook, Pinterest, and Twitter accounts related to the blog. While I stayed somewhat active on social media to prevent my accounts from completely tanking, I definitely dialed it back quite a bit.
***************
It's as simple as that! By sitting down and intentionally completing these 3 steps, I was able to refocus my life and priorities. It reduced the amount of chaos I had constantly been feeling, and I now feel like I'm heading in the right direction again.
I'm confident that I am not the only one who has every felt lost in chaos. It probably happens quite often where we get caught up in the rat race of life. There is so much "go, go, go" that we don't take the time to pause and evaluate if all the "going" is really getting us anywhere.
I think taking some time to reflect is important for all of us to do. It might seem very business-like, but I believe reassessing the state of our lives every few months would be very beneficial to our mental health. It is definitely something that I plan to do from now on to prevent falling into such an exhaustive state of chaos again.
How are you feeling about what's going on in your life right now? Would you give this a try? Leave a comment below and let me know how it goes. I'd love to hear from you!
Now it's time for the Make a Difference Link-Up.

Make A Difference Mondays is a weekly linkup designed to encourage and inspire us to live each day on purpose by making a meaningful difference in someone's life in even the smallest of ways. Read on to learn more about our vision, mission, and how to link up!
Mission
Our mission is to provide a consistent gathering place for like-minded women to build online connections, share inspiration, and provide mutual encouragement and accountability as we seek to live intentionally and make a difference in the lives of those around us.
Vision
Every Monday we will invite bloggers to link up any blog post that encourages women to live life on purpose. This could include testimonies or goals from your own life, small acts of kindness or service, creative tips or ideas for showing consideration to others — the possibilities are endless. Our objective is to use our God-given time and resources to His glory!
Also, just a heads-up: we have created two fun new ways to keep us all connected! Now we have our own Facebook community group to stay in touch beyond the blog posts AND we also have a new #MADMlinkup group Pinterest board and we will be pinning our favorite posts from the linkup that inspire and encourage us to make a difference. We are so grateful for you and would love for all of you to join us for fellowship in the above linked community group and you can follow the Pinterest board right here to watch for your posts: