The links in this post contain affiliate links and I will receive a small commission if you make a purchase after clicking on my link. Thanks!
Have you ever walked in to a Target store with the intention of picking up a pack of diapers, and walked out with a cart full of items from the Dollar Spot, a pair of clearance shoes, face moisturizer, and curtains for your bedroom? Don't feel bad, we've all been there! That is why I am so glad I have a Target REDCard!
I absolutely love shopping at Target, and I finally decided to get a REDCard shortly after the girls were born. We are big fans of the Up & Up diapers, so it just made sense for us to get the REDCard. Even if you only shop at Target on a few occasions each year, it is still worth it to sign up. Let me tell you why.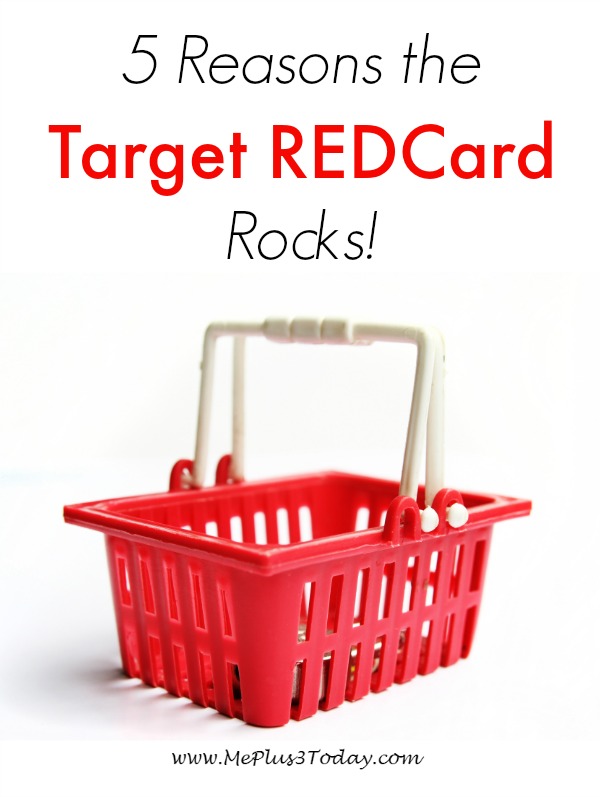 5 Reasons the Target REDCard Rocks
1. When using your Target REDCard, you get 5% off your purchase EVERY DAY! That's right, no coupons needed. Whether you are shopping in-store or online, 5% gets taken off your total after swiping your card! This was the main reason we signed up and that extra savings has really added up over the years.
2. With your Target REDCard, you get FREE SHIPPING at Target.com with no minimum purchase requirement. This is another awesome benefit. I typically see the biggest savings on this when I am holiday shopping, but it definitely helps when I have small orders throughout the year. I hate paying shipping costs! Combine the savings of not having to pay shipping with #1 above, it almost seems silly NOT to have a REDCard.
3. It is simple to manage your Target REDCard online. I have it automatically set up to pay the balance each month, so I never incur any interest costs, which would eliminate any savings I may have had. I can easily check my balance and see what charges were made by logging in. It is really convenient.
4. Another one of my favorite features of the Target REDCard is that 1% of purchases goes back to a school of your choice. It is easy to designate which school you support, and it can be changed at any time. Plus, you can log in and see how much you have contributed. I love being able to make a difference through normal every day activities, like shopping for diapers!
5. Lastly, the online application process for debit or credit REDCard has immediate approval (except for a few debit applications that require a few days to confirm a bank account). So you could apply today and be ready to save!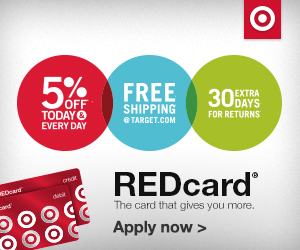 Like I said before, I am so glad I have a REDCard. Every time I walk out of the store, I look at my receipt and can see my yearly savings total. When I'm buying items that we need, like diapers, toilet paper, and food, it just makes sense to have that added savings available. It's astonishing what a difference 5% can make. I think it helps me afford that pair of clearance shoes that magically ended up in my cart!
Click here to apply for a Target REDCard today and begin enjoying the benefits. You'll be glad you did!