I'm super excited to announce that I will be co-hosting the Make a Difference Mondays weekly link-up! Each week it is full of inspiring posts that I enjoy reading. This has actually been the one link-up that I've followed since it started. So I am incredibly honored that I am now able to co-host it!
For the non-bloggers out there, you might be wondering what a "link-up" even is… Well, it's a place where bloggers from all over can come share their best posts that go along with the link-up's theme. That means it is a "one-stop-shop" for readers because they can check out a variety of blog posts about a topic they enjoy, all in one spot! I hope you enjoy them as much as I do!
Also, as I mentioned in a previous post, I've set a New Year's Goal to perform 100 Good Deeds as part of the #DeedADay movement. And while the ideas for some good deeds come easy and are just common courtesy (holding the door open for someone, letting another car in during traffic, etc), there are still times when I need a little inspiration.
So I am going to list my 4 FAVORITE PINTEREST BOARDS that share some amazing ideas for acts of kindness and service projects, which of course fall into the category of "Good Deeds." They are definitely worth checking out!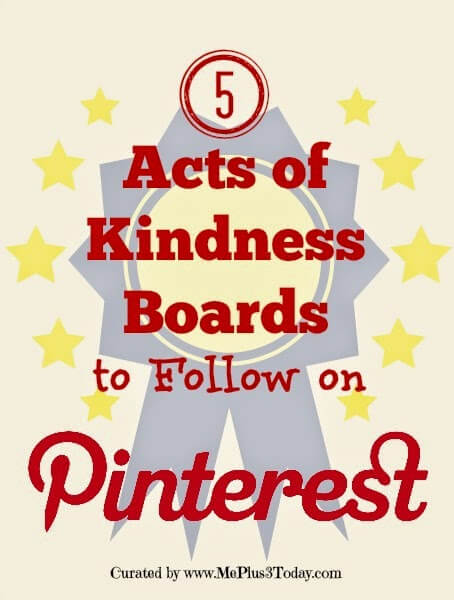 In general, all of Sheila's boards are great for inspiration regarding service and kindness. Better yet, her entire blog is about service projects that kids can do. You should probably just go pin every single one of her posts!
I have discovered a lot of great ideas from what Megan pins. She also has an entire category on her blog dedicated to Acts of Kindess.
Leanna also has a series on her blog about Random Acts of Kindness that is worth checking out.
Of course, what better place to find kindness ideas than a Pinterest board from a foundation dedicated to it?
OK, so I had to throw in a little self promotion here! Technically I said that I was listing my 4 favorite Pinterest boards. And I'm throwing mine in as a 5th act of kindness Pinterest board, because I'd love to have you follow me and see what ideas I share with my followers. 🙂
And now on to the link-up! Make sure you come back often to see all of the inspiring posts that get added throughout the week!

Make A Difference Mondays is a weekly link-up designed to encourage and inspire us to live each day on purpose—making a meaningful difference in someone's life in even the smallest of ways. There will be five women regularly co-hosting this link-up that will appear on all five of our blogs and we also have three wonderful co-hosts who will fill in as guest hosts on the occasional day that a regular co-host is not able to post. Read on to learn more about our vision, mission, and how to link up!
Our mission is to provide a consistent gathering place for like-minded women to build online connections, share inspiration, and provide mutual encouragement and accountability as we seek to live intentionally and make a difference in the lives of those around us.
Every Monday we will invite bloggers to link-up any blog posts that encourage women to live life on purpose. This could include testimonies or goals from your own life, small acts of kindness or service, creative tips or ideas for showing consideration to others — the possibilities are endless. Our objective is to use our God-given time and resources to His glory!