This post contains affiliate links. I may earn a small commission from purchases made via these links. See full disclaimer here. Thank you!
Have you ever had someone say something to you that turned your day around, for the good? Whether it was a complete stranger, friend, or family member, did they take the time to comment and it just made you feel absolutely awesome?
Well, a couple of months ago, something like that happened to me!
In order for me to get a little one-on-one time with the kids, my mom watches 2 of them, while I bring the third with me grocery shopping. It's a rotation schedule, so that each week I bring a different child.
This has become a nice little treat for them to go to the store alone with me! It's a win for them to have one-on-one time, and a win for me because it's much easier to go out with just one. Plus their behavior is usually pretty good because they know it's their special time.
But obviously they are toddlers and they aren't perfect. It is inevitable that they will get antsy after a while. And they definitely don't like it when I tell them "No" because they can't have a particular item they saw on the shelf.
A couple months ago, it was Violet's turn to go with me and we were almost done, just waiting in the checkout line. After sitting in the cart for the entire shopping trip, she was starting to get pretty fidgety. But I didn't want to take her out in such close quarters and with so many little objects in easy reach (like candy)! Then she saw a Cinderella PEZ Dispenser
. And she wanted it! I knew she wasn't going to easily take "No" for an answer, but I also knew there was no way I was going to buy that PEZ Dispenser
!
So, before a meltdown and power struggle could really get going, and with nowhere to go, I started using the first parenting technique I could think of: Distraction.
On the other side of the checkout line were the magazines
and I pointed them out to her. She had been (and still is) learning her letters. At the time, she definitely knew the first letter of her name. So I asked her if she saw any "V's" on the magazines
? She pointed one out. Then she saw another letter she recognized, "L is for Lane!" And another, "H is for Hannah!" Those are some of her friends names.
As we waited, I continued on with this "game," asking her if she saw a letter that some of her other friends' names started with. As I was finally able to begin loading our groceries on the belt, the women who was finishing up checking out in front of us turned around and said to me: "Don't stop doing what your doing!"
I looked at her with a complete "Huh?!?" face. What in the world was she talking about?
She then said, "I'm an English teacher. And I think it is so great what you were doing with the letters and your daughter. Keep it up!"
It took me by complete surprise. All I could do was smile and say, "Thanks so much!" As the woman was finishing paying for her groceries, I turned to Violet and do what I always do when someone does something good: I said, "High-five, Violet!" And we gave each other a high-five!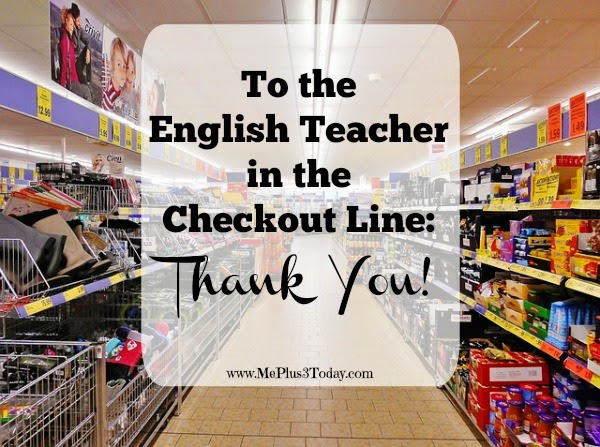 Seriously, just those few words made me feel incredible! In the middle of all that I worry about that I'm doing "wrong" with my kids, it made me feel like there was one thing that I was doing right! And I wasn't even trying. I was just trying to keep my kid occupied and prevent a crazy tantrum!
But that woman helped restore some of the confidence that I've slowly been losing over the past 1.5 years. Now I worry that my response wasn't appreciative enough, and I hope it doesn't discourage her from taking a moment to say nice things like that to others out there!
Because it really was amazing!
So to the English teacher in the checkout line: Thank you! You made my day!
I hope this story also encourages you to say a nice comment to someone when you see something good. Even if their response isn't what you expected and you feel totally awkward, it still might have made their day!

Make A Difference Mondays is a weekly link-up designed to encourage and inspire us to live each day on purpose—making a meaningful difference in someone's life in even the smallest of ways. There will be five women regularly co-hosting this link-up that will appear on all five of our blogs and we also have three wonderful co-hosts who will fill in as guest hosts on the occasional day that a regular co-host is not able to post. Read on to learn more about our vision, mission, and how to link up!
Our mission is to provide a consistent gathering place for like-minded women to build online connections, share inspiration, and provide mutual encouragement and accountability as we seek to live intentionally and make a difference in the lives of those around us.
Every Monday we will invite bloggers to link-up any blog posts that encourage women to live life on purpose. This could include testimonies or goals from your own life, small acts of kindness or service, creative tips or ideas for showing consideration to others — the possibilities are endless. Our objective is to use our God-given time and resources to His glory!