This post was featured: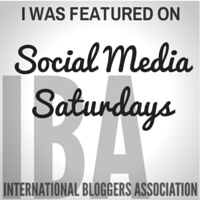 With the technology that now exists, and the different work styles that are developing, the boundaries between work and life can become very blurred. Is this something you struggle with? Because I sure do!
When I'm at work, my mind always wonders towards my responsibilities at home, and when I'm at home, I constantly have the nagging guilt that I should be doing more work to help my colleagues.
And that, my friends, is just not right!
The topic of work-life integration (or you may hear it more often referred to as 'work-life balance') is important not only for the health of our families, but for productivity in the workplace as well!
Are you wondering why I use the term "integration" versus "balance?" It's because of what I mentioned before. Technology has blurred the boundaries to a point where work and life tend to integrate with each other, versus existing as 2 separate entities that can be balanced.
Did you know that October is National Work & Family Month in the United States? And it has been federally recognized as such since 2003.

If you didn't know, don't feel bad! I actually just learned about this a few months ago because I am on a work-life integration team through my employer.
I've learned a lot from being on that team and now I'm here to spread the word!
National Work & Family Month was created by WorldAtWork's Alliance for Work-Life Progress. It is actually a campaign geared towards employers, reminding them that implementing work-life programs is actually beneficial to their business because it can improve employee productivity.
Employers can celebrate the month in a variety of ways. For example, they could offer weekly work-life topics, host events and speakers, and spend the month highlighting what programs they currently have available that support work-life integration for their employees.
So, why am I sharing this with you? I am obviously not an employer, and this blog isn't necessarily targeted towards employers either!
Well, I thought it might be a good idea to look at this month from the opposite perspective. I plan to share experiences and helpful tips from an employees point of view in managing their work-life balance.
So I'm really excited to announce that during the month of October, I'm hosting a "Work-Life Wednesday" series on the blog. I've called in help from some of my blogger friends in order to provide a diverse perspective on this topic! And I'm really hoping that this type of information will be beneficial for you!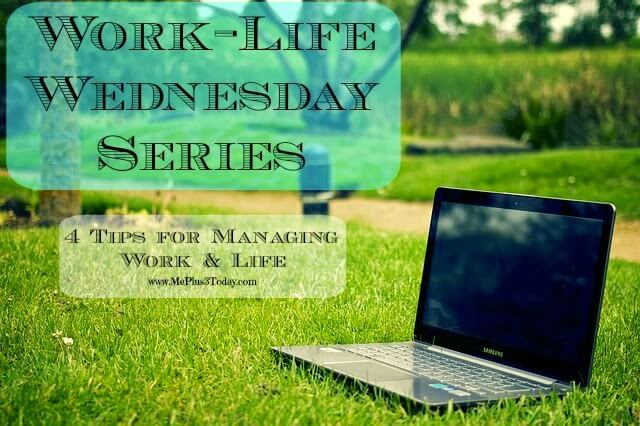 4 Tips for Managing Work & Life
As the first post in this series, I would like to direct you to a series of short video e-lessons from Life Meets Work. Each is only 5 minutes long, so you can listen to it as you brush your teeth and comb your hair in the morning! I'm telling you, they are worth a 5-minute investment!
1) Values-Based Decision Making
The first e-lesson is on Values-Based Decision Making. This is something I wholeheartedly believe in. I started doing a form of this after my father passed away in 2009. It was a time where I was really reflecting on what I value. And now, more than ever, I have been running many decisions through this screening process.
2) Outsourcing and Delegating
The next e-lesson is on Outsourcing and Delegating. This is an important skill to develop because of how it can help your stress levels. I've been working on what this lesson has to say for that past year. It's difficult, but I can tell that it makes a difference in my anxiety and stress, which makes me a better mom to my kids.
3) Maintaining Boundaries when you Work from Home
The third lesson deals with Maintaining Boundaries when you Work from Home. Because I don't work much from home, I personally didn't find it beneficial. But are you a WAHM (work at home mom)? Take a few minutes to listen and please let me know if it was worthwhile for you. I'd love to gain some perspective from that point of view.
4) Managing Elder and Child Care
The fourth lesson is about Managing Elder and Child Care. This was another lesson that didn't make much of an impact on me, but I wanted to share in hopes that it may make a big different for you!
So, as I begin this series, I'm curious as to what the term "Work-Life" means to you? I also really want to hear from SAHMs (stay at home moms), where there are NO boundaries between work and life, because life is your work. How would you approach this topic? Leave me a comment and let me know!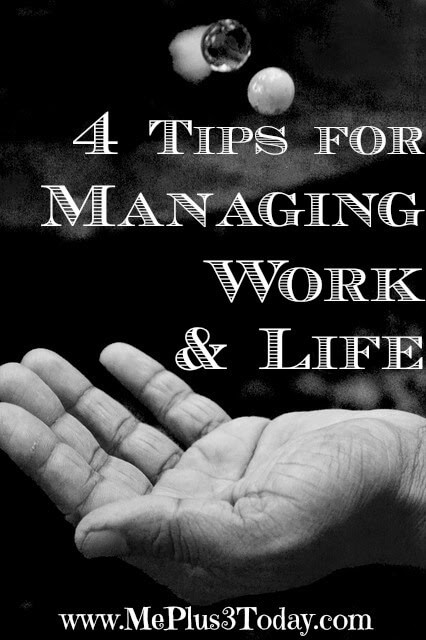 Make sure you stop by every Wednesday during October to read a guest post about balancing work and life. If you don't want to miss it, subscribe to have the latest post from Me Plus 3 TODAY delivered straight to your inbox!
Enter your email address:
Delivered by FeedBurner
Also, follow me on Facebook and Twitter, where I will be starting some discussions on this topic throughout the month!