Disclosure: For your convenience, this post may contain affiliate links.
If you read my Summer Bucket List post, you probably saw that berry picking was an activity I wanted to try. I had never been before, and it seemed like something the kids might enjoy.
So around the end of June, at the peek of strawberry season in our area, we ventured out to a local u-pick strawberry patch!
It really was quite the adventure! I think it was one of the first times since Chaz died that I took all 3 kids out, by myself, to a place that wasn't a grocery store. This meant they wouldn't be contained in a shopping cart. They would be free-range! Eeeek!
It was actually a spur of the moment decision to go. I knew that strawberry season would be ending soon, it was a gorgeous day, and I just wasn't in the mood for hanging around the house.
So I asked the kids, "Do you guys want to go pick strawberries?!" Of course they replied, "Yeah!!" Even though they probably had no idea what exactly it entailed.
We went. We picked. We left.
The whole event probably lasted an hour! I think we only actually picked for 10-15 minutes. Let's just say, it was quite the learning experience for me!
If you haven't been berry picking before, I compiled a list of the 7 tips I learned from our first berry picking experience. I hope you find them helpful. I really wish I had known these, or at least thought about it, before our spontaneous adventure!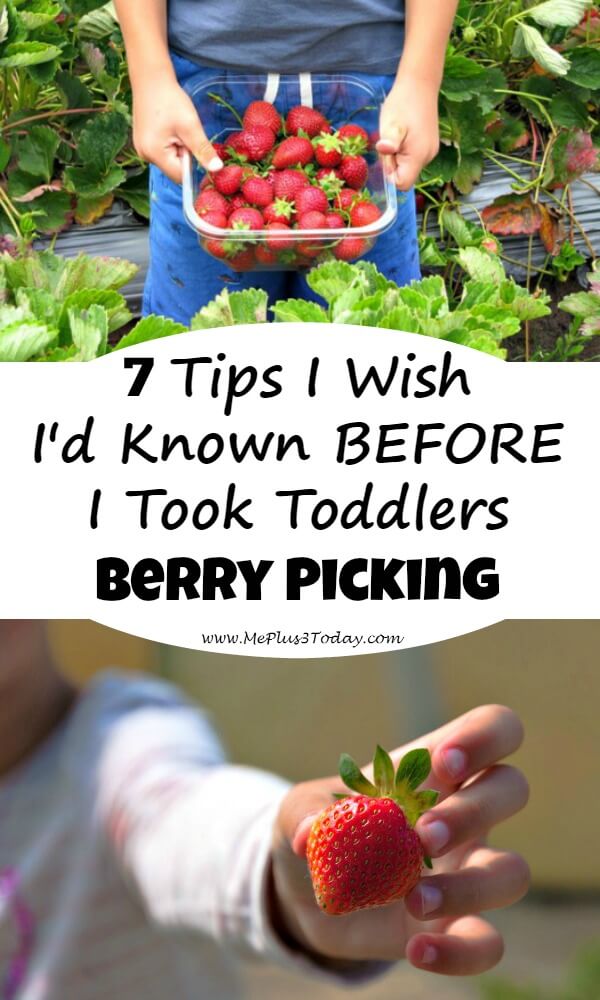 7 Tips I Wish I Knew BEFORE I Took Toddlers Berry Picking!
1) Bring your own bucket or basket.
The thought never occurred to me about where we would put the strawberries we picked, until I pulled into the parking lot. I saw EVERYONE walking in had a bucket or basket with them. Of course, I began to panic! I had no idea it was BYOB (Bring Your Own Bucket)! 🙂
Despite worrying about not having anything to store our strawberries, we still ventured in. Fortunately, the operators of the u-pick strawberry patch did have small baskets, or huge boxes that pickers could use.
I didn't plan on picking a massive amount of strawberries, so I opted to grab 3 of the small baskets of each kid. The downside was that the provided baskets didn't have handles. It wasn't ideal for the kids to carry, but they were able to manage.
Next time, I plan to bring our own buckets though, just to make it that much easier!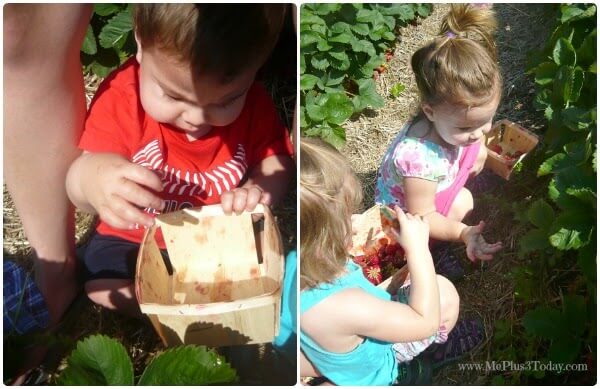 2) Don't bother with a stroller.
As we drove to the field, I decided that I was going to put Will in the umbrella stroller, and let the girls walk. Like I said before, this was my first outing with them not being contained, so I was hoping to at least keep one kid corralled, so I could wrangle the girls in if needed. 🙂
After I parked, I suddenly had the realization that maybe strollers weren't allowed. But after a quick scan of the parking lot, I noticed other families with young kids also using a stroller.
But once we got to the actual picking, it was useless. The stroller was the width of the small walkway between rows of strawberry plants. This made it impossible to get by other pickers, or for them to get by us. I had started out down the row before realizing this, and I couldn't even turn around. We had to back the stroller out. I ended up abandoning it at the end of our row, and just letting Will walk to our picking spot. He was still really new to walking at that point, so it was a slow go, but we finally made it!
So for me, using the stroller was actually just a waste of time and energy. It was difficult to push around on the uneven ground, and it was another thing to keep track of. But I understand if other people still prefer to use one. I just wanted to share my experience with it!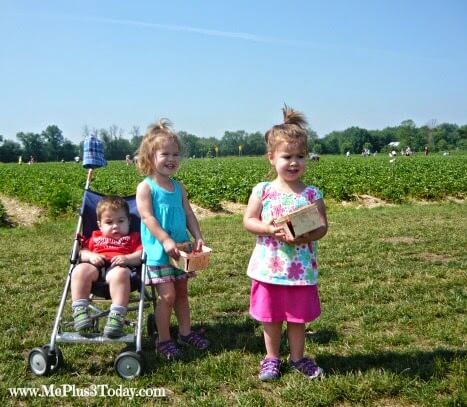 3) Ask to be away from other berry pickers.
If you are bringing very small children to go berry picking, try to ask if you can be away from other pickers. It might not be allowed, but it doesn't hurt to at least ask.
We were put right next to some seriously hardcore, get down to business, pickers. I do not think they appreciated us coming in like a tornado! I was trying to manage all 3 kids, make sure they weren't ruining the plants, they weren't eating the strawberries (or at least too many of them), and they weren't taking off running somewhere.
And of course the kids were loud, telling me about the strawberries and everything else they saw. So it probably wasn't a very peaceful experience for those nearby.
That was the main reason why I cut our picking session short, and decided to leave after only 10-15 minutes. It was stressing me out more to worry about the other pickers around us, than it was to be worrying about my kids. Because of that, I'm definitely going to ask to be away from others to hopefully make it a more enjoyable and less stressful experience for everyone.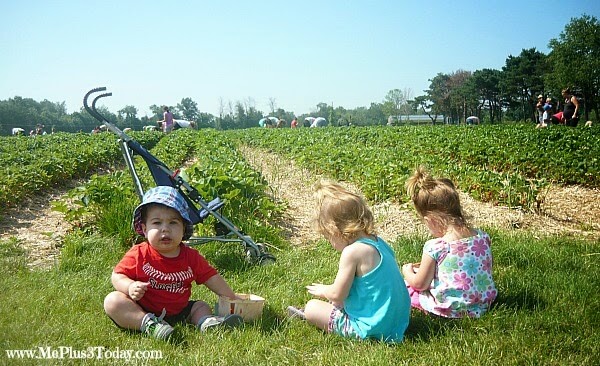 Can you see all the pickers in the background? Some were very "business-like" about it!
4) Explain to the kids what to do before you go berry picking.
Since I had never been before, I had no clue what to expect. But I still probably could have done more to prepare them for what to do BEFORE we actually got to the strawberry field.
For example, I could have told them to only pick the red strawberries. I could have told them to try not to squeeze too hard. Or I could have told them to not eat any berries. It might have been a good idea to have given them a plan that I would hold out the clump of berries on the plant while they picked them off.
They definitely could have been more informed before we got there.
Instead, I was trying to tell them all of these tips AFTER we were down our row of plants and beginning to pick. For some strange reason, I assumed they would know what to do, and just let them go. Once I saw what they were doing, I realized I needed to explain everything. I was also trying to monitor Will, who was eating every strawberry in sight – good or bad, ripe or unripe – it didn't matter to him!
Needless to say, it was slightly chaotic. Hopefully next time, I'll be more prepared.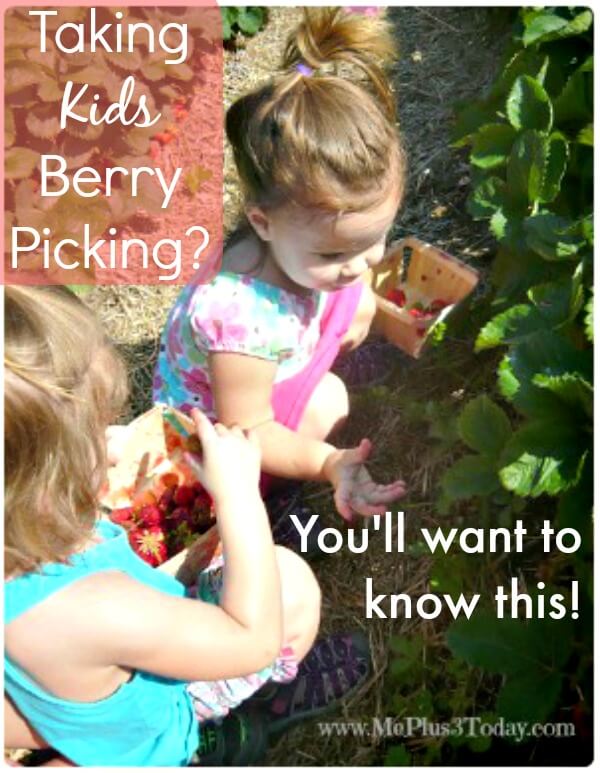 5) Bring wipes while berry picking!
I feel like that should be obvious. But clearly it wasn't for me!
Like I said in #4, Will was eating EVERYTHING. He started out by eating strawberries. Then he decided to give some of the leaves and the straw covering the ground a little taste. His face and hands were covered in smeared dirt and strawberry juice. And there was nothing I could do about it.
I had left the diaper bag in the car, thinking I wouldn't need it while we were out picking. If they needed a diaper change, we could just go back to the car and take care of it. I just thought it would be another thing to carry. I was kicking myself for that decision!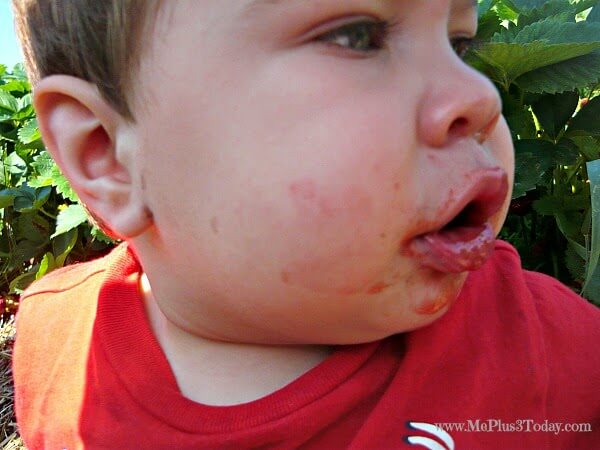 The girls hands also got very sticky, as they squished almost every strawberry they picked.
Next time, I plan to bring a little zipper-baggy full of wipes that I can shove in my pocket. That way, we can at least hide a little evidence of how many strawberries the kids actually consume!
6) Bring cash.
If you're anything like me, you probably don't often have cash with you. I typically use plastic, because it's accepted almost everywhere, it can be cancelled immediately if it's lost, and it's just less bulky to carry around.
So cash was another thing I began to panic about as we drove into the parking lot. I suddenly realized that we were basically in the middle-of-nowhere, and they just had a little farm stand set up to weigh and pay for your berries. What if they don't accept plastic?!
Before we got out of the car, I was able to scrounge up about $5 in cash from miscellaneous pockets of my purse and wallet. This was another reason why I cut our picking time short, I wanted to make sure we didn't get too many strawberries, so I could actually pay for them!
I think they did actually have a credit card machine in the farm stand, but I still ended up using the cash I'd been able to find. But I wanted to give you a reminder that it's probably a good idea to have a little cash on you, just in case…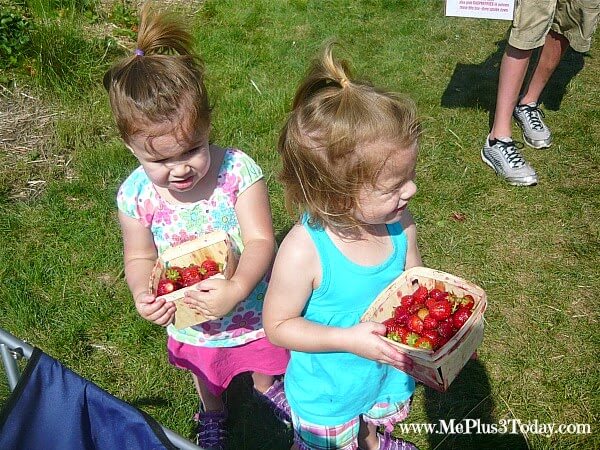 Waiting in line to pay for our haul!


7) Have fun and just roll with it!
I tend to be a little, okay A LOT, stressed out when I'm anywhere with the kids. I just feel like I don't have enough hands and eyes to keep track of all 3 of them! It can definitely be overwhelming when I am so outnumbered by toddlers, who aren't always the most rational people to deal with.
But I tried to keep reminding myself that we were doing this for fun ! That it wasn't a big deal if the kids were dirty and I couldn't clean them up. It wasn't a big deal if every strawberry was smooshed. It wasn't a big deal if we had rotten and unripe berries in our basket. It wasn't a big deal if the other pickers were annoyed with us.
Because this is what it was really all about: the experience .
So what if weren't able to eat any of the strawberries we picked? So what if we spent 45 minutes getting ready to only pick for 15 minutes? So what?
I still had my moments of irritation and frustration, and we were still pretty chaotic, but we did have fun! The kids were SO PROUD of their baskets of strawberries. They didn't want to put them down, even once we got in the car to go back home!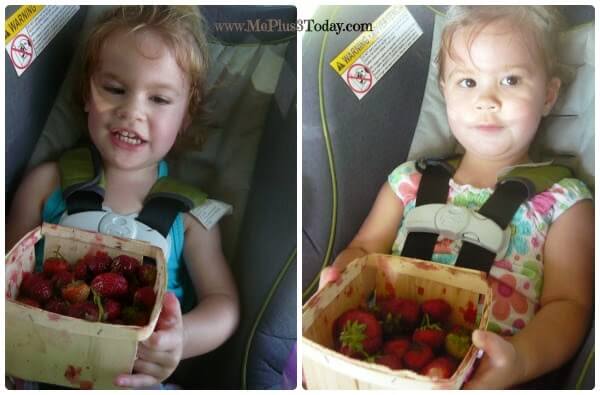 If you're bringing toddlers with you strawberry picking, I can only assume that you are also doing it for a fun experience too. So even if you have to have these constant reminders running through you head, just try hard to relax, have fun, and just roll with it!
From our little adventure, we managed to pick a whopping $2.47 worth of strawberries! I tried my best to pick out the rotten ones that made it into the basket before it was weighed, just to save a little money!
When we got back home, I picked out the rest of the yucky ones, washed them, and we ate them all with our lunch. Strawberries can't get much fresher than that! They were delicious!
Well, I hope these lessons I learned from our first time berry picking will be helpful for you. I know this outing was all about strawberry picking, but I bet a lot of these tips could be applied to blueberry, raspberry, or any other berry you might pick with toddlers!
Have you ever gone berry picking with little ones before? What was your experience like? Do you have any other tips to share? Leave a comment and let me know!
Like it? Please pin it!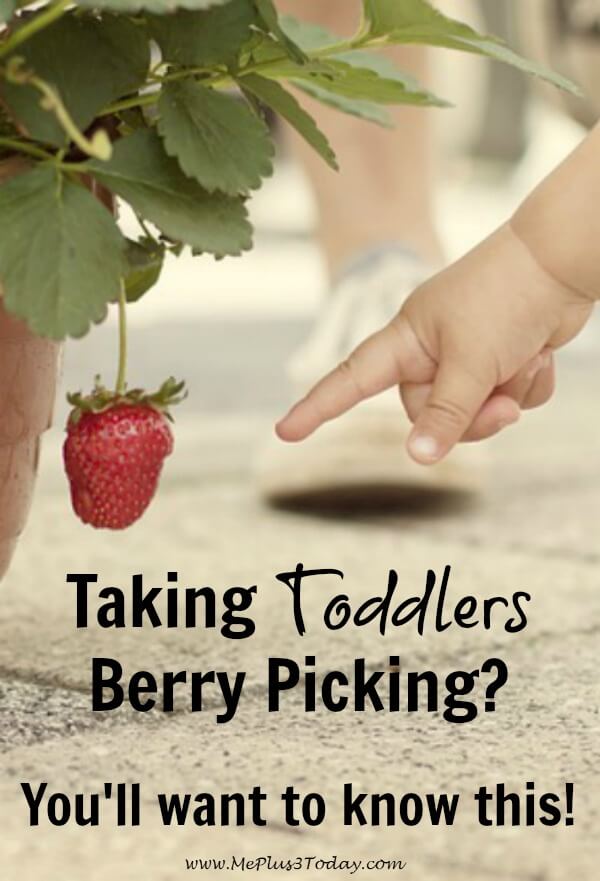 Follow my "Tips for Moms" board on Pinterest to find more great tips!