As always, it's been a busy week. But I'm squeezing in some time to write a post for this week's Mommy Reality Challenge!

I missed last week's challenge, which was Life Hacks, and I actually had a great one to share! I'm bummed that I forgot to write a post for it, but I may still write about it eventually… So stay tuned for that!

If you haven't been following my posts for the Mommy Reality Challenge, you can check them out by clicking the following links:

The Mommy Reality Challenge is hosted by the wonderful women from A Lavender Life , JENerally Informed , and Leapfrog and Lipgloss .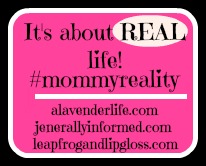 This week, it's all about capturing those awesome food faces our little ones can get. Like spaghetti sauce covered cheeks, oatmeal in their hair, or even a cheerio in their fat, little neck! [All of which have happened here!]
Honestly, kids can end up with food in the craziest places!
Which leads me to my "Food Face Photo!"
Well, it's not exactly face … More like belly button …
A few weeks ago, my mom took Will's shirt off after dinner because she was just going to bring him straight to the bathtub for his evening "spa."
[That's what we call "bath" in our family. Instead of saying, "It's time for a bath!" we say, "It's time for a spa!" My mom started it with my nieces and nephews, and it's just stuck ever since!]
Well, I heard her start laughing, and turned around to see what was so funny. He had a pea stuck in his belly button!
So, that's where he hides his food he doesn't want to eat! Or maybe he was just saving it for later? 🙂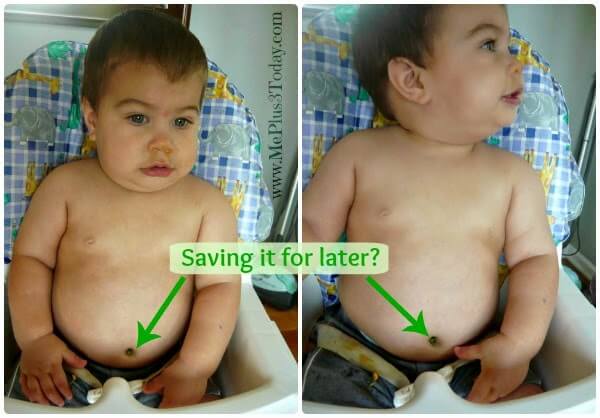 Of course, I had to immediately grab the camera to capture this moment. And if you want a closer look at his not-so-secret hiding spot, here it is! You can run, but you can't hide, little pea! 🙂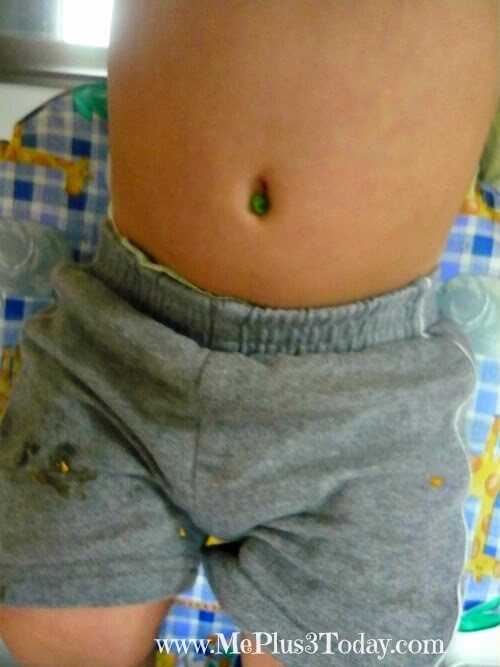 Obviously, I have WAY more pictures of different food faces, but this was one of the funniest that has happened lately.

So there you have it! My Mommy Reality Food Face = Pea hiding in a belly button!

Where is the craziest place food has ended up on one of your kids, and what was it? Share you stories in the comments section below! I can't wait to laugh with you!

And that's just a little bit from Me Plus 3… TODAY!



{Affiliate Link. Read full disclaimer here.} Are you or is someone you a know a college student? Did you know college students can get a FREE TRIAL of Amazon Student, which includes unlimited FREE 2-day shipping, special deals and promotions, and earn money for referring friends? Click to find out more information: Join Amazon Student FREE Two-Day Shipping for College Students