If you don't know what I'm talking about, click here to read the article before you go on, otherwise this post probably won't make much sense to you.
I know I'm in a very small minority with my thoughts, but I'm not entirely sold on this article. And this is coming from
me
, who needs a "village" now more than ever.
I just think the author paints a very pretty picture, but was the "village" she's referring to really like that? I think for many of us, if we were in a time like that we'd be "missing" the modern conveniences we "never had." It's like they say, "The grass is always greener on the other side."
I'm not sure if the author literally means she wants the fairy tale she describes, because in my opinion that's what it is, just a fairy tale. I just don't think the humble world she describes was
truly
what life was like in the times and places when "villages" existed.
So maybe what she is really missing is just comradery, friendship, and support.
For many, that could be easier said than done. It comes natural to some, while others struggle.
I am part of the latter group. I would definitely say, as a shy introvert, building my own village is quite difficult. But that doesn't mean it's impossible.
I've learned that the sense of community is not going to just knock on my door. A village can't build itself. I have to do something to get it! I literally have to force myself to get out and socialize, because I know that is the only way that I will make those bonds that I want and need. Nobody is going to do it for me, but myself.

Nobody is
forcing
you to have these "blinking devices." So put down the smart phone. Turn off the TV or computer, and instead of watching what is happening in your town or city, go out to experience it for yourself. Because you can't build a village without
other people!
Then take a deep breath, and introduce yourself to the mom at the park, to your neighbor, or whoever. Be honest when you approach, say that you want to make a new friend. What's the worst that will happen? She says "No" and thinks you're crazy? Oh well, then that's not the type of friend you were looking for.
I recently emailed a woman I met once in a meeting at work and said, "Would you like to have lunch sometime to chat. It would be nice to make a new friend here." If you know me, that's pretty monumental that I was able to do that. So if I can do it, you can do it.

Because how else will change happen if we don't start it ourselves. And what's even better is that our children will see what we are doing. They will learn from our actions and probably continue the movement into the next generation. And maybe that idealistic village will actually return someday!
But for now, maybe your "village" isn't full of people that you cook with and clean with. They aren't there all day, every day. But you can still find members of your village that you can call at 5pm on a Sunday evening, when you haven't showered in 2 days, are still in your jammies, your kids' entire dinner has ended up on the kitchen floor, there are toys everywhere, and you just don't think you can make it through another minute on your own.
They'll show up with a pizza in hand, ready to clean up the kitchen. They'll pick up the toys and read to your kids. They'll even offer to keep them occupied so that you can shower in peace. They'll see you at your worst, but they won't judge. And the members of your village don't even need to be mothers! [True story.]
And you know what? You would do the exact same thing for them.

That is what the modern "village" looks like.
So in case you haven't understood what I'm suggesting, this is the moral of the story: Stop wishing, stop talking about what your missing, and try to build your own village!

And that's a little bit about Me… TODAY!



If you liked this, please subscribe to have the latest posts from Me Plus 3… TODAY! delivered straight to your inbox. Just fill out the form below.
Enter your email address:
Delivered by FeedBurner
This post was featured on: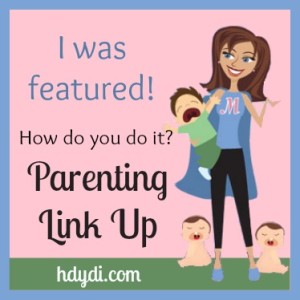 This post was linked to: