*Post contains affiliate links. Click here to read disclaimer.
When the girls were about 6 months old, I discovered that there were some freebies out there for parents of twins and higher order multiples!
Did I hear that right? FREE stuff for twins?!?!? Um, can you say awesome?!?!!
I dabbled in blogging before, and fortunately, I wrote all about my experience during that time (I wasn't the most consistent blogger back then!). So you can read more details about how I learned about twin freebies by clicking here.
And then you can find all the information regarding the free stuff and coupons I received by clicking here! If you are expecting twins, or know of somebody who is, then I would definitely recommend checking it out!
Well, all of this seemed to apply only to newborn twins (or at least twins younger than 1 year old).
So, I had wondered if there was anything cool like that available for older twins, since the girls are now almost 2 and a half!
A wonderful person (TwinMama421) left a comment on the post I mentioned above, that they were able to get 4 free cases of the Enfamil Toddler Milk!
I know some people out there don't feel that Toddler Milk is really necessary, and I am actually one of those people! I was fine giving the girls regular old Vitamin D milk and then switching to 2% when they were a little older.
But hey, you can't beat free! Even if I just supplemented it for one glass of milk every other day, it would make the gallons of cow milk I buy last a little bit longer. In other words, save me money!
Who doesn't love to save money?!?! 🙂
Well, like TwinMama421 said in the comments, I asked our pediatrician's office to speak with their Enfamil representative to see if that program was still available. They called back and left a voicemail saying that we were being sent 2 cases of the ready-to-drink Enfagrow Next Step.
Woohoo!!!! 🙂
A few weeks later, this showed up on our front porch!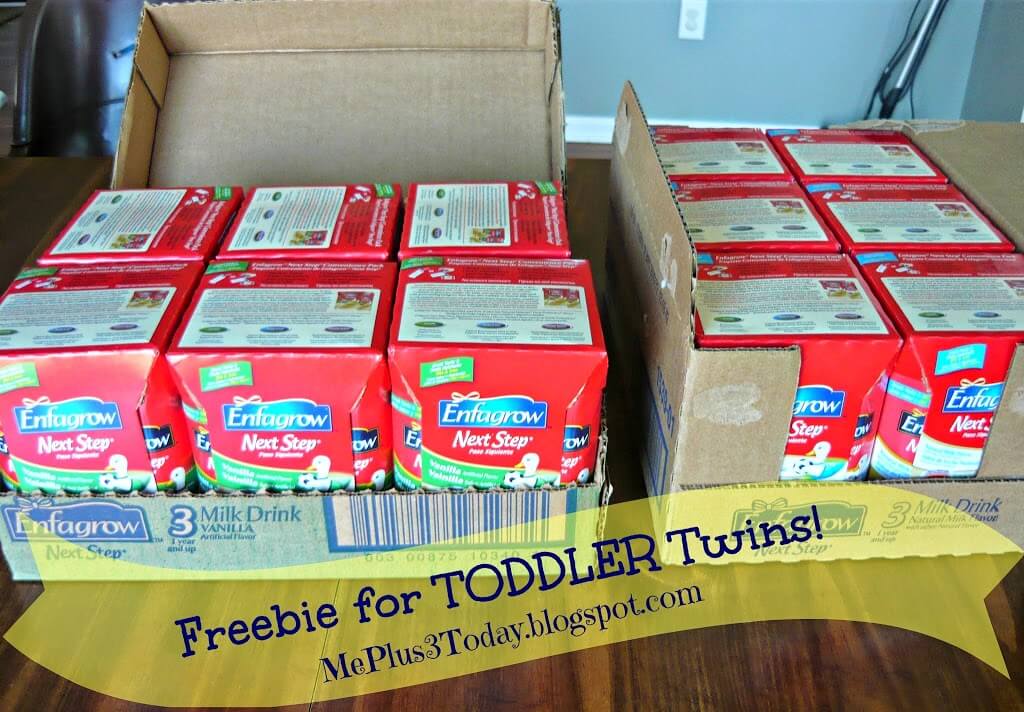 As you can see, 2 cases of the Enfagrow Next Step
is equivalent to 12 packages. These packs contain 4 of the 8.25oz drink boxes. We received the vanilla flavored drink
, and it also comes in natural milk flavor.
I was nervous that the kids wouldn't like it, but all 3 of them have enjoyed it! And, you can read in my most recent Act of Kindness post, that I actually donated one of the packages to our local Center for Women in Transition as well!
Obviously, I was pretty pumped about getting such a great freebie! I hope you are also able to take advantage of this program!
PLEASE let me know if you come across any other great freebies or deals for parents with toddler/older twins and multiples! I'm always on the lookout! 🙂
And that's what Me Plus 3 are up to TODAY!
If you want to hear more from Me Plus 3… TODAY!, click here to 'Like' me on Facebook! Then click here to follow me on Pinterest!

This post was linked to: