*Post contains affiliate links. Read disclaimer here.

Since Chaz died, the kids and I have been surrounded by so many kind and generous people. I never realized just how many lives both Chaz and I had touched before his death. I'm sure he had no idea either.
We've had help from our family and friends, of course. But then there was Chaz's current co-workers, his co-workers from a previous job, college classmates, my co-workers, our daycare center, and our neighbors. There was even a local church, that neither Chaz nor myself were affiliated with, that threw a MAJOR benefit event for our family. This list could go on and on and on…
Our support network has been HUGE. It's all really amazing if you think about it.
Pictured below is just a small example of the support that was given to us. This is 3 DIFFERENT loads of diapers, wipes, and baby supplies that was donated to us. We received even MORE than this! I didn't have to buy diapers for almost 9 MONTHS! With 3 kids wearing them!!!! And I still haven't had to buy wipes yet, and won't likely have to for a very, VERY long time!

I've struggled because this "terrible, horrible, no good, very bad"
thing happened to us, but we've also been incredibly blessed. It's tough to wrap my head around those 2 extremes.
But I am determined to pay these blessings forward. Like I said on my About Me page, I am passionate about helping others. And these recent events have strengthened that passion.
One way that I am paying these blessings forward is by participating in the Mommy & Me Monthly Service Challenge hosted by Trust Me, I'm a Mom.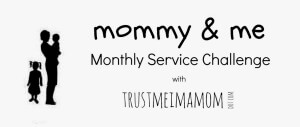 For the month of May, the service challenge theme was "women," which was fitting since Mother's Day is during May. (You can read what we did in April by clicking here!)
She listed a lot of ideas for how to serve women. And going into this month, I had a few ideas up my sleeve too!
However, one opportunity just happened to fall right in my lap! 🙂
I was at work one day, and as I was dropping my lunch off in the refrigerator in the kitchen/break area near my desk, I saw a collection basket on one of the tables. I read the sign, and I knew that this was how we were going to serve women!
The collection was for our local Center for Women in Transition. From their website: "The Center's mission is to respond to, reduce, and prevent domestic and sexual violence against women. This mission will be achieved through education, collaboration, and advocacy, with crisis and supportive services to victims and survivors."

They were collecting simple things, like toiletries (shampoo, tampons, etc.), household items (dish soap, laundry detergent), medicine (ibuprofen, etc), and baby items (wipes, diapers, forumla, etc).
They use these items to make "gift baskets" from the women at the center. Because these things that many of us use without much thought, are actually luxuries to them!
Well, I happened to have a lot of that stuff available to donate already!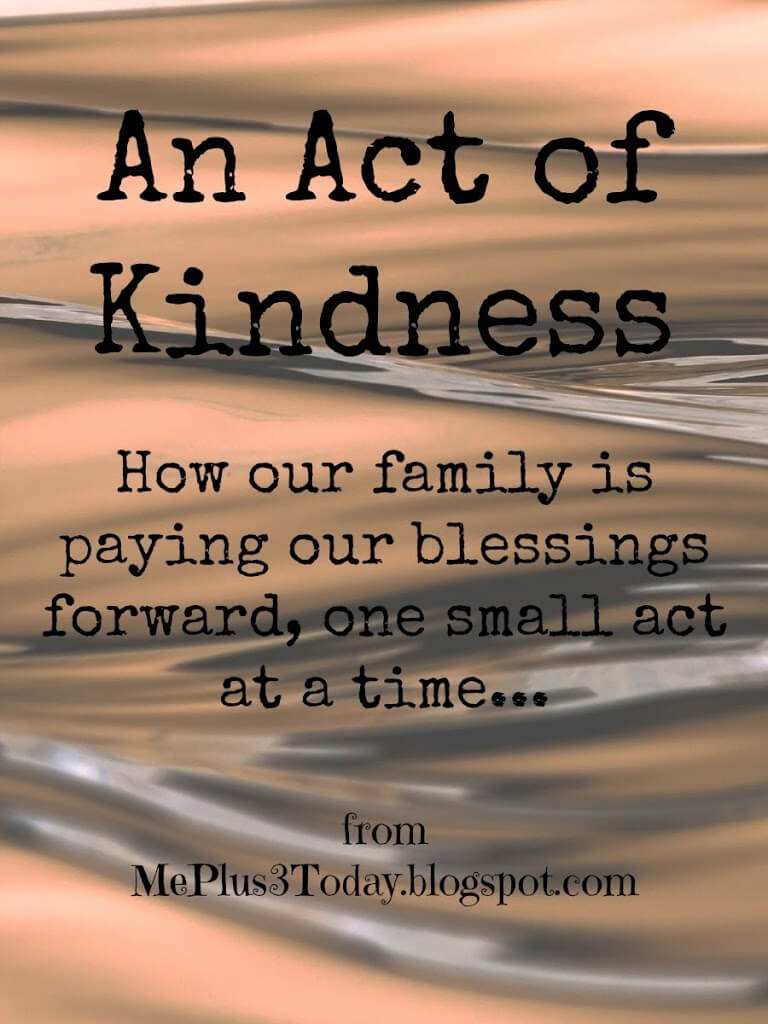 Here's how:
First, I had actually been stocking up on baby formula with the intention of donating it. I get the $5 Enfamil
checks in the mail (as I'm sure many other mothers of infants do). At my local grocery store, they happen to sell a 13oz can of formula concentrate for only $4.98! I use those checks to get FREE formula! Sure, it's not much in a can, but it's FREE!!!
So every time I go grocery shopping, I get one of those cans to donate!
Next, I also sign up for a lot of free samples for "stuff." Companies will often offer a freebie every once in a while, so I fill out the form, and in a few weeks a sample arrives. I usually do it for some type of toiletry item.
I also do this with the intention of donating it. My mom is from the Philippines, and she still has A LOT of family over there. These items are also luxuries to them. Every Christmas, my mom packs up 2 or 3 HUGE boxes of stuff, and ships it over to them. Seriously, these boxes are HUGE! Once she has them packed, they can only be moved with a dolly, people can't pick them up they are so heavy! They are shipped via boat (in other words, very, very, very slow), so the shipping cost isn't high, and there is no weight limit.
Anyway, it's early enough in the year that I could part with the samples I received so far in order to donate them to the CWIT.
I also take any of the shampoos and soaps and whatnot from hotel rooms that I stay in for that same purpose.
Chaz worked at a pharmaceutical company that manufactures generic medicine (both OTC and prescription). They have a company store where we can get stuff like cough medicine, acetaminophen, and ibuprofen (both children & adults) for free or really cheap (by cheap, I mean like 50cents per bottle!). So, we always have a supply of that type of stuff, which again, typically gets put in the box for the Philippines.
Lastly, we received A LOT of donations of baby items after Chaz died (did you see the picture up there?). We used most of it, but I still had a lot of children's electrolyte (think Pedialyte
) drink that we wouldn't use, as well as a some baby food.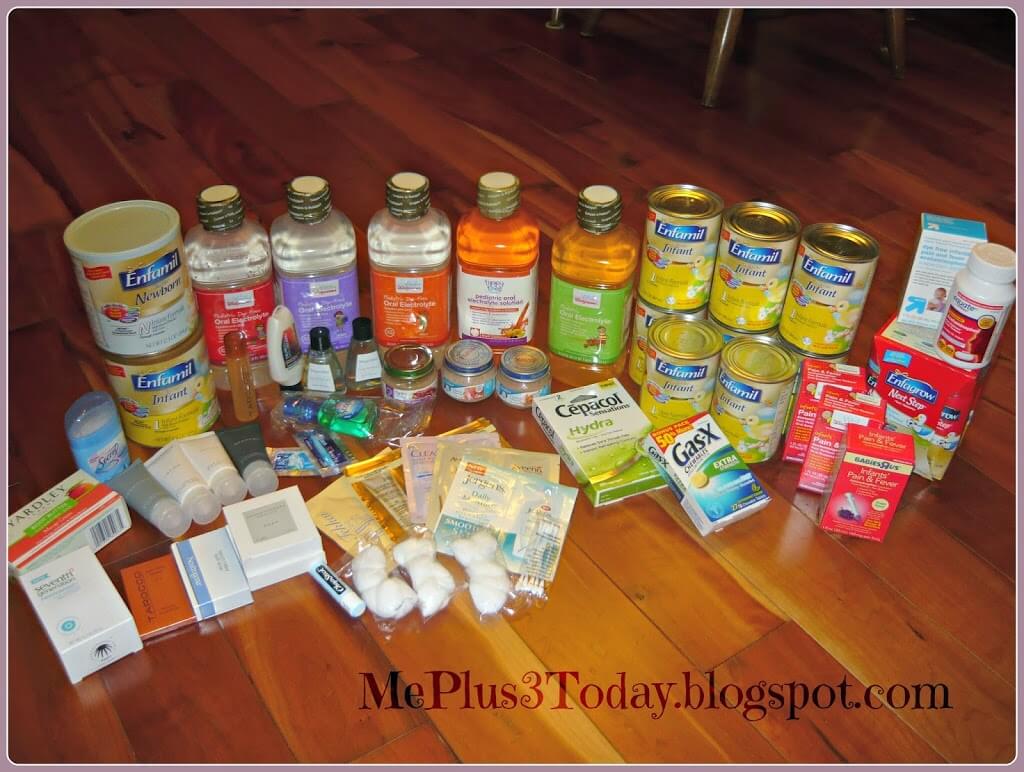 Our donation to our local Center for Women in Transition.
So, I gathered all of that up and had the kids help me pack it into 2 huge reusable grocery bags! I had planned on getting pics of them "working," but the whole thing was a fiasco, with them wanting to play with the stuff, and trying to rip things open…
But I wanted to at least attempt to get them involved in this project. I told them we were giving it to "other momma's" so we had to keep it nice. Unfortunately, my explanation went in one ear and out the other! Oh, toddlers… 😛
Well, I brought the bags to work the next day and put them in the collection basket.
And that was that! I hope our contribution was helpful and some woman (or women) were excited about what they received!
Pretty much everything I donated was free to me, via samples, coupons, or in our special case, donations.
I think that sometimes (or maybe a lot of the time), the people who really need these things aren't aware of the little freebies they can get. So, if you happen to see a freebie offer, or find a really great deal with coupons, I encourage you to take advantage of it! Even if you don't plan to use it, someone else might need it!
And as you get it, put the stuff aside in a box in a closet somewhere. And when you get a chance, donate it to a local women's center or any other mission in your area! I'm sure they'd be glad to have it!
Every little bit helps, right?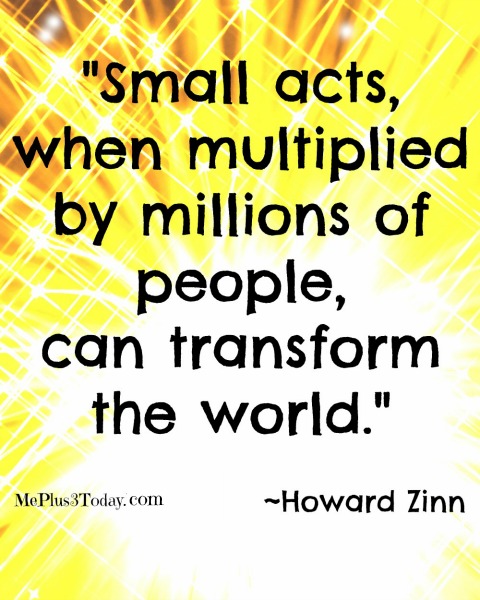 Do you have any other ideas of how to collect free or cheap items for the sole purpose of donating it?

If you liked this idea, pin it please !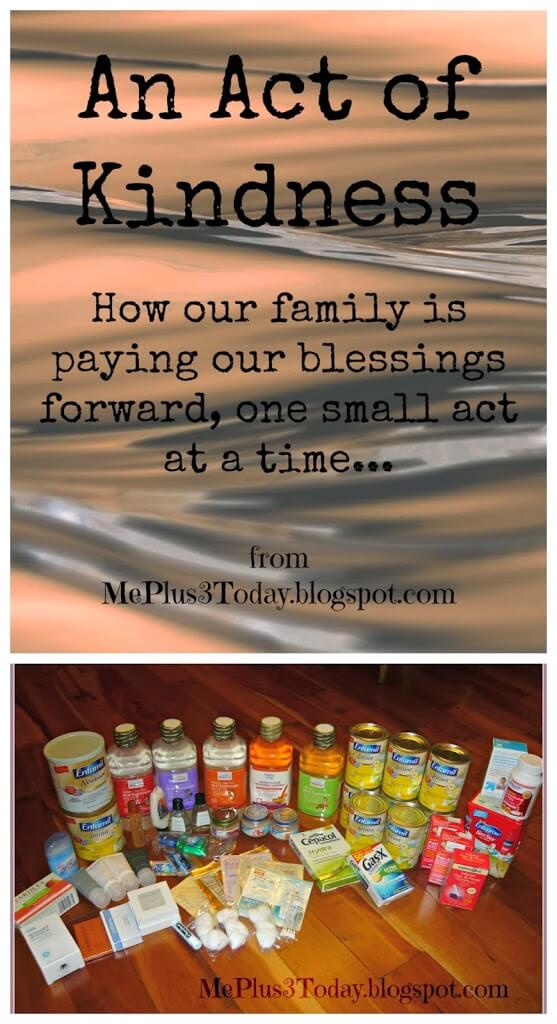 And that's what Me Plus 3 are up to TODAY!


This post has been linked to: